After reading the headliner of this article, you might find yourself asking, "Does it really matter what cheese I serve at Christmas Dinner?" Ask any cheese enthusiast, critic or connoisseur and they will tell you that, without a doubt, it does matter what cheese you serve at your Christmas dinner to garner the best results from your guests. Cheese has a multi-faceted purpose… that is, it its own taste that it brings to the table and the immense taste it aids in bringing out in other foods at the Christmas dinner table. That said, if you are thinking of putting just any type of cheese out on the dinner table this Christmas, you might want to reconsider using some of the cheese options listed below:
Isle of Mull

An excellent sharp cheddar with bite that finished off with a mellow taste, native to Scotland. Coming in various sizes, this is an ideal cheese to include on your Christmas Dinner table or cheese platter.
Colston Bassett Stilton

Is this a cheese or a military general? Quite the mouthful if you ask me, but if you consider the taste it packs, it might just be a mouthful… of taste! A quintessential part of any British Christmas, this stilton is one of the premier cheeses, with its creamy and crumbly texture and perfect balance of flavor, that can be paired with just about any port (wine) or enjoyed straight-up.
Clava Brie
A lighter and more delicate cheese than its French counterpart, this particular version of Clava Brie is native to the Moray coastal region of Scotland. This cheese would be perfectly paired with the more delicate dishes at the Christmas dinner.
Eve
Enjoy a little brandy with you cheese? Then Eve is for you. A cheese made from goats' milk, Eve is soaked in a cider-based brandy and wrapped in a vine leaf. Different from other goats' cheeses is Eve's pungent aroma. Similar to other goats' cheeses is its delicate and creamy texture.
Smoked Ardrahan
Any fan of bacon would be a fan of this cheese. Its soft, cold smokiness intertwined with a smokey bacon flavor makes this cheese a literal "standout" at the Christmas dinner table.
Grimbister
Another excellent option to have on the Christmas table, native to the Orkney Islands of Scotland. If you are a fan of Wensleydale, a cheese native to England, you will surely love Grimbister at your Christmas dinner table.
Source: http://i3.cdnds.net/13/51/618×824/screen-shot-2013-12-20-at-115342.jpg
When you think of wine, what is the first thing that comes to mind? No, not getting intoxicated from it after a long, frustrating day at the office. I'm thinking more along the lines of cheese. And when you think of cheese, what is the first thing that comes to mind? Wine! Wine and Cheese, Cheese and Wine… they are nearly inseparable and the quintessential marriage of two dynamic worlds. Wine and cheese work off each other and benefits from each other's flavors. When drinking wine after cheese, cheese helps bring out the taste and texture of the wine, while at the same, the wine brings out the immense flavors of the cheese. More times than not, the wine will expel a myriad of flavors from the cheese. Am I getting you hungry and thirsty now? Well, that was the goal, ha!
Everyone loves a good party, whether it's a last-minute party or a party that has been planned for months. A common theme for many parties is, you guessed it, a "Wine and Cheese" party. I mean, who doesn't love a good wine and cheese party, especially when you can have a wine tasting party. Often times though, the biggest dilemma comes with the cost it takes to throw a wine and cheese party. Certain cheese can run a hefty price, while certain wines can carry a steep price tag as well. But, having both is critical to a wine and cheese party as it just sounds awkward to have a wine party (wait, that doesn't sound so awkward, especially when you're in the mood for wine, ha) or a cheese party (unless you're a cheese fan, like we are.
While wine prices, especially rarer, sought-after wines, can be quite soaring, keep in mind, there are still great, fabulous wines out there that won't break the budget. We understand that many folks are not looking to spend $500 on a bottle of wine, but maybe more like $30. You are in luck! There are many selections of wine ranging anywhere from $10 to upwards of around $150. A number of these wines are imports too, which is amazing in and of itself! Contrary to the infamous $1,000 bottle of Dom Perignon, these wines cost pennies on the dollar while delivering an exquisite wine-tasting experience. Below is a list of some of the most popular imported wines ranging from $10 to $150. The cost for each bottle of wine could vary from store to store and with currency rates continually fluctuating, prices could vary across different parts of the world as well.
Source: Wine Searcher (www.wine-searcher.com/topvalue.html)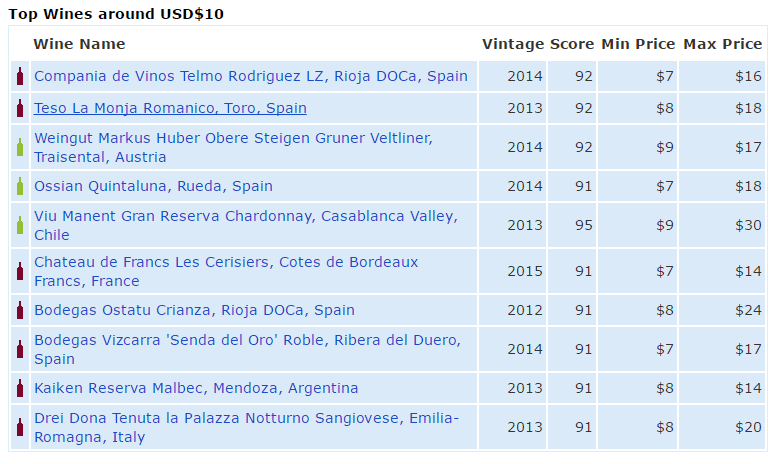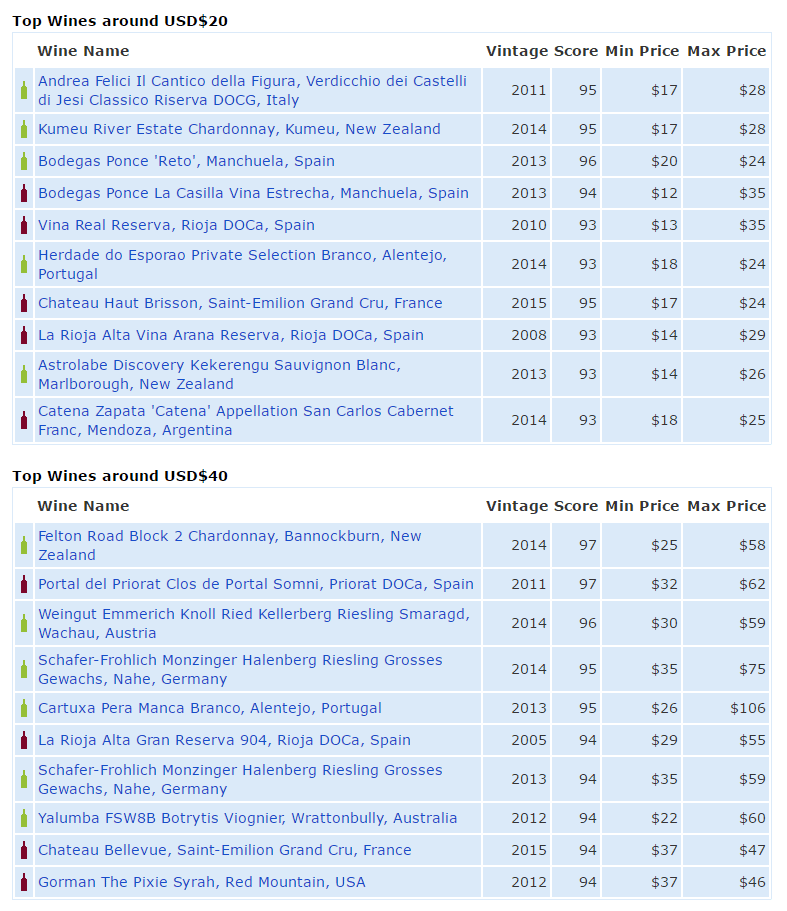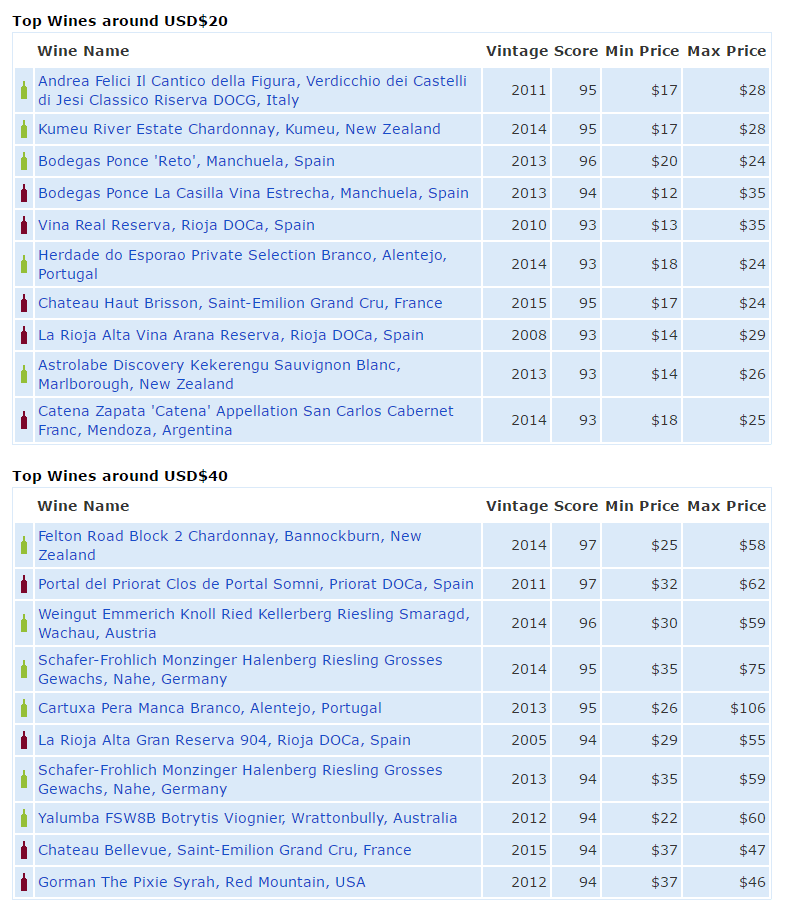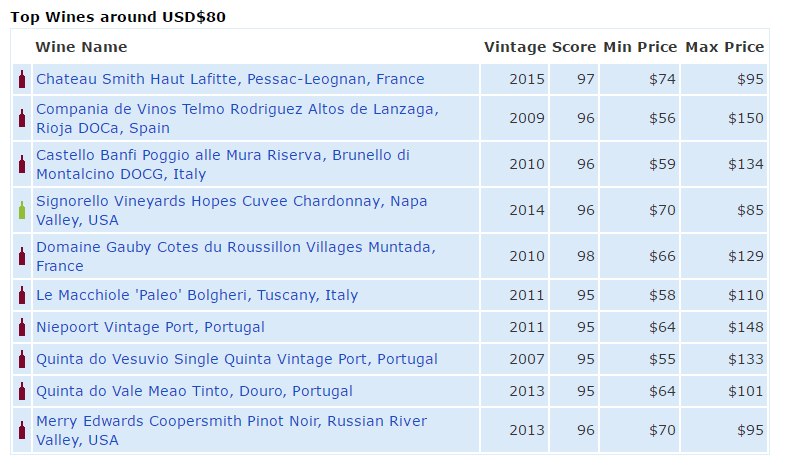 To place things into perspective, here is a list of the world's top-priced wines… and yes, these will break the budget or four budgets. Warning: NOT FOR THE FAINT OF HEART
When you think of foods that promote and maintain healthy living, you think of salads, fruits, vegetables and grains among other foods. Unbeknownst to many, though, are the enormous health benefits of cheese. Contrary to the common view that cheese contains fat and less known for its health benefits, cheese can indeed "right the ship" in terms of bodily health. Cheese contains a number of nutrients, proteins and essential vitamins and minerals. Among these are Vitamin A, riboflavin, calcium, phosphorus, zinc and Vitamin B12, among others.
The benefits of cheese are numerous. Below, you'll find the biggest, overall benefits in promoting health.
Dental Hygiene
When it comes to dental hygiene, cheese serves as the proverbial "one-two punch" in fighting germs. Given that is contains rich amounts of calcium which is vital for good dental hygiene by building strong teeth, cheese is an ideal candidate for thwarting cavities and plaque build-up. Also known for its low levels of lactose, cheese just adds to its repertoire of promoting those healthy, pearly whites as too much lactose content can promote cavities and plaque.
Cancer Prevention
When cheese comes to mind, one benefit of cheese that likely does not come close to striking the mind is the benefit it can have in cancer prevention. In fact, cheese can prevent the growth of cancer. A few byproducts of cheese-making include conjugated Linoleic Acid and Sphingolipids which are instrumental in cancer prevention efforts. A critical vitamin found in cheese is Vitamin B which can protect the body and its immune system when fending off potential diseases.
Maintaining Body Balance
Some cheeses contain low levels of fat content which can help regulate body fat in an effort to maintain good, healthy body balance. These cheese also assist in the development of muscle mass and increase bone density through fats, calcium, proteins and vitamins and minerals.
Bone Strength
As noted before, cheese contains a good number of calcium and Vitamin B which is essential for the development of healthy bones among elderly folks, children and pregnant women. As cheese is consumed, the Vitamin B in the cheese absorbs and distributes the calcium within the body.
A Good Heart
It is fairly common knowledge that high intakes of sodium and cholesterol can lead to poor heart health and high blood pressure. Cheese that contains low amounts of sodium can reduce the threat for heart disease, similar to the means in which Vitamin B reduces high blood pressure levels.
Pregnancy Benefits
Cheese can promote a healthy pregnancy through its calcium content which can aid in the stimulation of contractions during labor. The good amounts of calcium found in cheese can also be beneficial for women when breastfeeding as this helps in proper breast milk production.
Healthy Skin
Vitamin B, found in cheese, is known to be a premier contributor to healthy skin as it is beneficial in maintaining silky, smooth and glowing skin.
Migraine Prevention
Again, the calcium content in cheese can be beneficial in preventing or relieving migraines.
Counting Sheep
Found in cheese is an amino acid called Tryptophan which can stimulate one's sleeping patterns by lowering stress and aiding in inducing better sleeping patterns.
Great Hair
Are you a fan of cottage cheese? Well if you are not, you might want to reconsider, especially if you love your hair. Cottage cheese with low-fat content contains a lot of protein and a tremendous amount of calcium which promotes and maintains healthy hair.
Cheddar and Bacon Stuffed Chicken Breasts
So it's about the end of the day at work and you're struggling to come up with ideas of what to make for dinner. Not only that, but you also want to try to deviate away from the norm and let your taste buds reach a new level of extreme tastiness. Here is a recipe that will truly satisfy those taste buds without breaking the wallet and with simple, easy to find ingredients at the grocery store.
Cheddar and Bacon Stuffed Chicken Breasts combines the best of several worlds as it provides you with a serving of dairy, poultry and of course, bacon… because who doesn't love bacon? This dish is a harmonization of cheese, bacon and chicken, a dish that you cannot go wrong with. This dish could be made for lunch or dinner as there really is no incorrect choice.
Cheddar-And-Bacon-Stuffed Chicken Breasts
Ingredients
1) 6 slices bacon
2) 2 boneless, skinless chicken breasts
3) Salt and pepper
4) 2 teaspoons Dijon mustard, if desired
5) 1/4 cup grated cheddar cheese
Preparation
Preheat oven to 300 degrees.
Cook bacon on stove in oven-safe skillet until cooked but not crisp. Transfer to a paper towel-lined plate.
Flatten chicken breasts to about 1/4- to 1/8-inch thickness, and lightly season with salt and pepper.
Spread a teaspoon of Dijon mustard on each chicken breast, if desired.
Lay three pieces of bacon on each chicken breast, and top the bacon with the cheddar cheese.
Roll up each chicken breast, being careful to keep the bacon and cheddar tucked inside, and secure each with toothpicks.
Place the chicken rollups back in the pan with bacon grease and cook on the stove over medium heat, turning frequently, just to brown all sides.
Transfer the pan to the oven, and bake for 25 to 30 minutes, until chicken is cooked through. Feel free to baste the chicken with some of the bacon grease while it's baking. (I warned you this was not diet food.)
Serve hot, preferably with some of these pretzel rolls.
Reviews: Here are what folks have to say about this particular dish…
"This is a huge hit with my family. Instead of making the filling myself, I use chives and onion cream cheese. I also flatten out chicken. I usually omit the salt and pepper. I also don't fry the bacon first. The bacon gets fully cooked in the oven. If I want it crisper, I just pop it in the broiler for a few minutes."
____________
"This was a great recipe. I have never wrapped chicken around the breast before baking, but it sounded good. I added some jalapeno peppers and mozzarella cheese to the cream cheese mixture and WOW!! It was wonderful!!"
_____________
"Made this for my family and they all came back for seconds. My hubby even said he did not know I was gourmet. It was so very, very good. I placed the finish chicken over noodles. Yummy"
_______________
"Wonderful! Even my kids loved this. I pounded the chicken breasts down with a mallet prior to stuffing them. And for the cream cheese mixture, I only put salt, pepper and garlic powder in it. I didn't have any chives on hand. I also added some minced garlic on top of the chicken after I wrapped them in the bacon. Excellent! Can't wait to serve this again!"
A Collection of The Best Sweet Treats for The True Chocolate Lover! 
Heggy's Candy Company has built a rich tradition of premium hand crafted chocolates and candies throughout the United States for over 9 decades. Founded by Ben Heggy in 1923, Heggy's Chocolates remains one of the premiere candy companies in America.
Over the years, Heggy's Chocolates has remained a family owned and operated business and today they maintain a high level of commitment to their customers and the community.
While the art of handcrafting quality candies and chocolates has been discarded by most candy producers, Heggy's Chocolates has withstood the test of time. They still use the care and patience necessary for Heggy's Chocolates unique savory taste.
Heggy's Chocolates has built a devoted following of candy lovers in the US over the years, and we at Shisler's have created a special Chocolate Lover's Valentines Gift Box made primarily from Heggy's Chocolates.
The Valentine's Chocolate Gift Box Includes:
Heggy's Solid Milk Chocolate Heart
Chocolate Cheese
Heggy's Milk Chocolate Turtles
Chocolate Covered Fruit
 
Custom designed for the sophisticated lady!This package includes

Havarti Cheese

, Heggy's Solid Milk Chocolate Heart, Strawberry Cheesecake Swirl Fudge, Strawberry Caramel Creams, and Yogurt Covered Cranberries.  Best Enjoyed with a glass of wine and a warm hug!

 

For the man in your life.  Flowers and candy just don't work as well for men.  So why not let him indulge in what he truly loves!  This collection includes a ring of Troyer's Genuine Trail Bologna, Ohio Swiss Cheese,  Pepper Jack Cheese, Clem's Hot Pepper Relish, Shisler's Private Label Mustard, and Carr's Table Water Crackers!  

 
[youtube=http://www.youtube.com/watch?v=WgNHGwlyEtM]This is our Christmas radio spot from 2009, during Matt Patrick's last two weeks with WKDD. Matt may be semi-retired, but his words here still ring true.