Seeds: How to Eat More of these Superfoods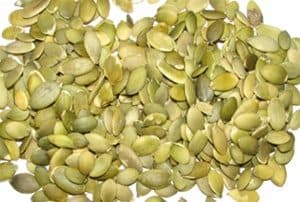 Did you know that seeds are incredibly good for you?
Seeds contain high levels of essential fatty acids as well as lots of vitamins and minerals that can help to keep us healthy. Because they are so nutrient-rich, you don't need to eat a lot each day to get the health benefits of them. A tablespoon a day is more than enough.
We've put together a list of ideas to help you eat more and get the goodness into your diet. We stock both sunflower and pumpkin seeds which will both work well in any of the options below.
Seeds: On Cereal
Start your day with a spoonful of seeds sprinkled on top of your usual cereal. Even better, you could have seeds as part of a bowl of granola or muesli. You can easily make your own granola by choosing a selection of oats, nuts, and seeds and gently roasting them in the oven. Drizzle them with honey or maple syrup if you like them to be slightly sweet, or mix in a selection of dried fruit before storing the granola away.
On Yogurt
Yogurt can be a great healthy snack if you choose one that is low in sugar and fat. It is full of protein and when sprinkled with seeds will give you the energy to take you right through the day. If you find yourself experiencing a mid-afternoon moment of tiredness then why not pack a pot of yogurt and a small tub of them to enjoy wherever you happen to be?
Stir Fry
Next time you whip up a quick stir fry of your favorite meats and vegetables, add a spoonful towards the end of cooking. Not only will they add a crunchy texture, but they'll toast beautifully and add plenty of nutty flavor to your dish. Just be careful not to burn them.
Salads
Of course, salads had to be on this list. You always want to be adding texture and protein to your salad and seeds are a quick and easy way to do this. If you are often making a quick lunch at the office, keep a pot of them at your desk or in your car so that you can quickly add them without any fuss.
Soups
Instead of a swirl of cream, try a smattering of seeds! They're better for you and add both texture and flavor to your dish. Even if you haven't made the soup from scratch yourself, you can make it seem like a put together meal.
Trail Mix
This is another option that you can make yourself with all of your favorite ingredients, but if you need a quick and easy option then our diet trail mix contains nuts, seeds, and fruits to give you a boost of energy.
We hope that these handy tips will help you to get some of those essential fatty acids and vitamins into your day to day meals. How do you like to eat seeds? Let us know in the comments!