With many of us back at school and work after a fun summer, many of you will be thinking about options for packed lunches. There's nearly always someone in the household that needs to take lunch with them in the morning.
Packed Lunch Ideas: Warming Lunches for Fall
As it starts to get cooler, you're probably going to want something warming at lunch. Why not take a delicious soup, hearty stew or even a rich pasta dish with you to keep the cold at bay. There are so many options for food containers that will keep your lunch hot as you work or learn these days. Not only that, but taking your own along reduces the environmental impact of packaged foods.
Packed Lunch Ideas: Baking Mixes
Our range of quick baking mixes will help you to whip up something quick for tomorrow's lunch that feels truly homemade.
We have bread baking mixes for Beer Bread, Golden Cornbread, or Red Hot Cornbread. Our Cheesy Biscuits Baking Mix is sure to please someone hungry for lunch!
For the sweet tooth, we have a great range of muffin mixes. These include strawberry, apple cinnamon, chocolate chip, pumpkin raspberry, and "bran"ana.
Packed Lunch Ideas: Trail Mix
We've got a trail mix to suit every taste here at Shisler's Cheese House!
Banana Split Mix: Cranberries, banana chips, almonds, chocolate covered peanuts, chocolate drops, pineapple tidbits, raisins, yogurt covered peanuts, peanuts, and yogurt drops for those of you looking for a fruity sweet treat.
Amish Hot Mix: Hot Cajun sesame sticks, taco sesame corn sticks, redskin peanuts, pretzel twists, and chili bits for spicy food lovers.
Buggy Trail Mix: Butter toffee peanuts, honey roasted sesame sticks, cheddar crackers, pretzel nuggets, and wheat crackers for anyone who loves a bit of crunch.
We also have a Diet Trail Mix, Mikey's Mix and a basic Trail Mix. You could even combine some of these to create your ultimate trail mix. This is a great snack if you're sending hungry kids to school. Just be sure to check whether the school has any allergy requirements as you may not be able to send snacks containing nuts.
Packed Lunch Ideas: Dried Fruit
Another great healthy snack is dried fruit. We stock Think Fruit: a fab dried fruit snack. Try pineapple, blueberries, cranberries, peach slices, cherries, and cinnamon apple slices to discover your favorite.
We hope some of these ideas will be useful to you as you plan your lunches in the coming weeks. Something that you might find useful is creating a meal plan so that you always know what's coming up for lunch and which snacks you need to stock up on. You could even cook batches of meals ahead of time and freeze them for later. A couple of great soups and stews frozen in portions can save a lot of time and headaches later!
What do you like to take for your packed lunch? Let us know in the comments!
Today we're sharing ideas for using dried fruit in your recipes. Whether you've got some left over from Christmas baking or you're looking to get some more healthy snacks into your day, we've got ideas for you. Dried fruits are rich in fiber, vitamins, and minerals, making them a great addition to a healthy, balanced diet. They're also super tasty, portable and versatile, as we hope you'll see if you read on!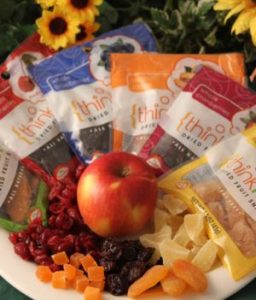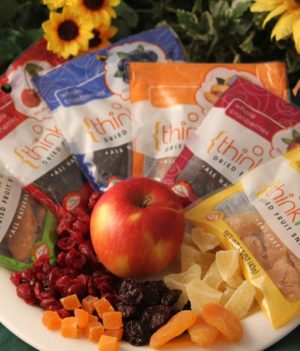 Snacks
We stock Think Fruit Dried Fruit Snacks which are perfect if you need a quick bag of energy to throw into your bag as you head out of the door. We offer pineapple, cranberry, peach, blueberry, cherry and cinnamon apple pieces. We also offer a variety of trail mix options if you're heading out on a hike and want to combine your fruits with nuts and other snacks.
Granola
A great way to use up dried fruit or add it to your diet is to make your own granola. Not only does this reduce the cost of your breakfast, but you can also add only the ingredients that you really like. We know how annoying it is to find that your granola has one ingredient that you don't want to eat, so why not make your own? Check out our range of nuts to help you with this. Roast them and mix with dried fruits and any spices that you like such as cinnamon, vanilla, or cardamom. Make sure that you store your granola in an airtight container to keep it fresh.
Compote
It's really easy to create a compote from your favorite dried fruits, which you can then enjoy on top of yogurt or oatmeal. Put your dried fruit in a bowl with any spices that you want to use to flavor them, such as cinnamon. Pour over 3 fl. oz. of boiling water and 3 fl. oz. of juice (apple or orange work well) for 2 oz. fruit. Cover the bowl and pop it in the fridge overnight. In the morning you will have soft, broken down fruit ready to spoon onto your breakfast! You can experiment with different combinations of fruit to find the best one for you.
Desserts
You can add dried fruit to many different desserts, such as cobbler or crumble, to add an extra element of texture or flavor. Simply mix them in with the fresh fruit that you are using. You can also bake dried fruits into bread or cakes. For best results, soak them in some hot water or juice before using so that they do not affect the moisture of the cake. Be careful to seek out a bread recipe that includes dried fruits as they will affect the rise of the dough.
Salads
We really love adding dried fruit to salads. It adds a burst of sweetness, extra flavor and a pop of color as a feast for the eyes. Our favorites are cranberries or cherries as their tartness works well against fresh vegetables. Add some seeds or croutons for extra crunch and you'll have a well-balanced salad.
How do you like to eat dried fruits? Which is your favorite? Let us know in the comments!