Enjoy this Easter Sunday with a delicious, traditional Easter meal. A sweet-hot plum-glazed traditionally baked ham. Classic creamy casserole of scalloped potatoes and tender Asparagus Amandine to round out this deliciously pleasing family meal. Sliced strawberries and spiced pecans to create a wonderfully colorful Baby Blue Salad- a holiday favorite! Hope you're not too full for dessert because you would not want to miss out on this irresistible coconut cake!
Image Source: thespruce.com/
Is your mouth watering? Find out how to create this perfect Easter meal for your family, below! (Serves 8)
Sweet-Hot Plum-Glazed Ham

Image Source: pinterest.com/pin/547468898422365369/
What You Need
1 cup plum preserves
1/2 cup orange juice
2 tablespoons lime juice
1 tablespoon yellow mustardH
1 tablespoon honey
2 teaspoons minced fresh ginger
1/2 teaspoon dried crushed red pepper
1 (7-lb.) smoked fully cooked, bone-in ham
Garnishes: pineapple, kiwifruit, green onions, black sesame seeds
What To Do
1. Firstly, stir together the first 7 ingredients on the list, in a saucepan over medium-high heat, bring them to a boil, while stirring constantly. After bringing to a boil, reduce heat to medium-low, continuing to stir. After preserves are melted and the mixture is blended, pour half of mixture into a microwave-safe bowl.
2. Trim excess fat on ham to 1/8- inch thickness. Place ham on a wire rack in aluminum foil-lined roasting pan. Brush ham with a portion of plum preserve mixture from the saucepan.
3. Bake ham uncovered at 350 degrees on lower oven rack for 1 hour and 30 minutes, basting with remaining plum preserve mixture in saucepan, every 30 minutes. Loosely cover with aluminum foil, and bake for 1 hour and 45 minutes or until thermometer registers 140 degrees, basting every 30 minutes. Let stand for 15 minutes before slicing. Garnish as desired.
4. Microwave the other plum preserve in the bowl on high for 1 minute and serve ham in with the warm mixture.
Classic Parmesan Scalloped Potatoes

Image Source: oprah.com/food/scalloped-potatoes
What You Need
1/4 cup butter
2 pounds Yukon gold potatoes, peeled and thinly sliced
3 cups whipping cream
2 garlic cloves, chopped
1 1/2 teaspoons salt
1/4 teaspoon freshly ground pepper
1/4 cup fresh flat-leaf parsley, chopped
1/2 cup (2 oz.) grated Parmesan cheese
What To Do
1. Melt butter in a large dutch oven over medium-high heat. Stir in potatoes and the next 5 ingredients on the list and bring to a boil. Reduce heat to medium- low, and cook, stirring gently for 15 minutes.
2. Spoon mixture into a lightly greased 13 x 9-inch baking dish and sprinkle with cheese.
3. Bake at 400 degrees for 25 to 30 minutes. Remove to a wire rack and let stand for 10 minutes before serving.
Asparagus Amandine

Image Source: closetcooking.com/2007/06/asparagus-amandine.html
What You Need
2 pounds fresh asparagus
2 tablespoons butter
1/4 cup sliced almonds
2 tablespoons diced red bell pepper
1 tablespoon fresh lemon juice
1/2 teaspoon salt
1/2 teaspoon pepper
What To Do
1. Snap off tough ends of asparagus. Cook in boiling salted water to cover in a large skillet for 3 minutes or until crisp and tender. Then drain.
2. Plunge asparagus into ice water to stop cooking, then drain.
3. Melt butter in a large skillet over medium heat, add almonds and saute for 2 to 3 minutes. Add asparagus and red bell pepper and cook for 3 to 5 minutes. Toss in lemon juice, salt, and pepper.
Baby Blue Salad With Fresh Pears

Image Source: showmetheyummy.com/pear-blue-cheese-candied-pecan-salad/
What You Need
2 (5-oz.) packages gourmet mixed salad greens, thoroughly washed
2 large Bartlett pears, cut into thin slices
1 qt. strawberries, quartered
4 ounces blue cheese, crumbled
What To Do
Place greens on 8 individual serving plates. Top evenly with pears and strawberries. Sprinkle with cheese and pecans. Serve with Balsamic Vinaigrette.
Lemon-Coconut Cake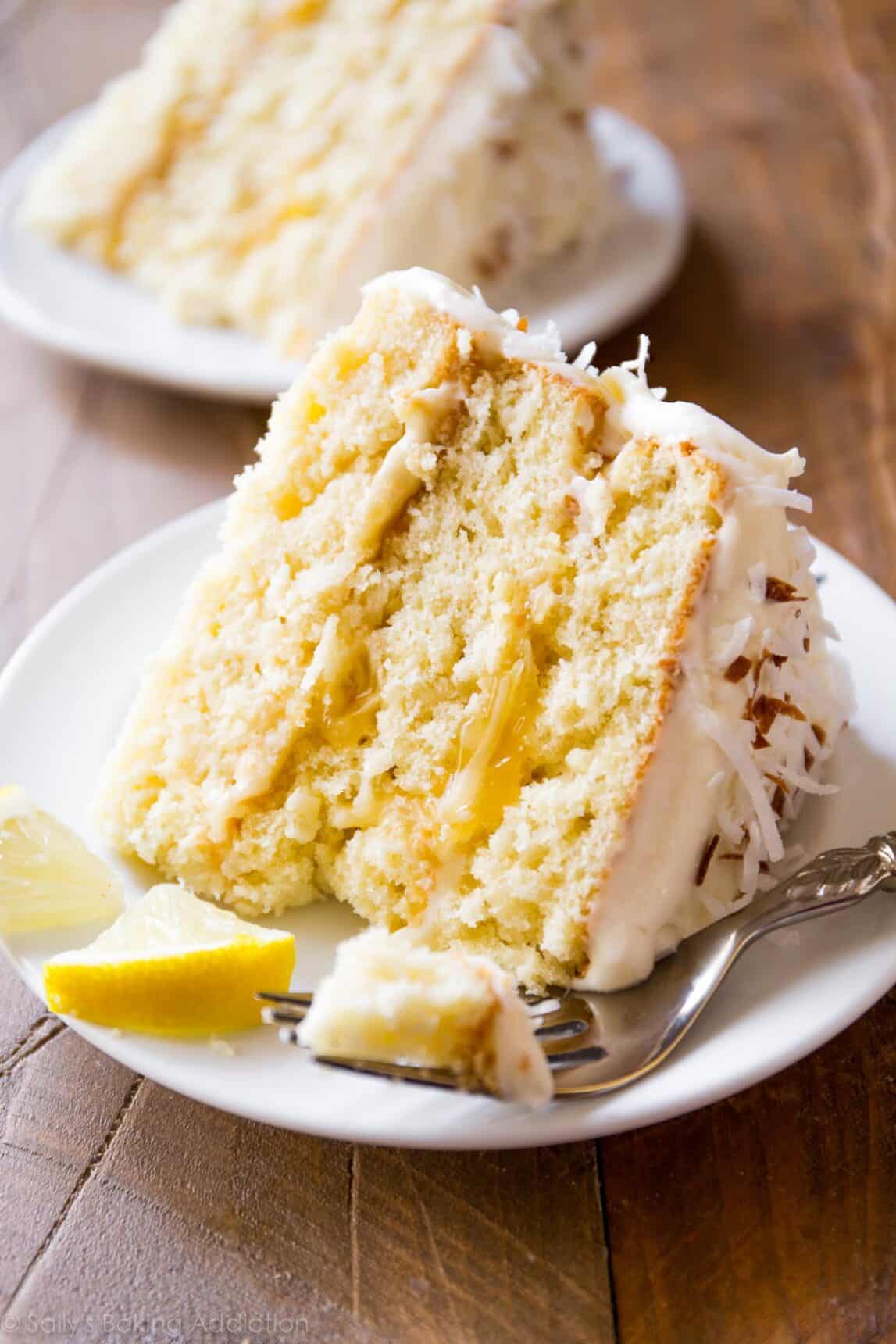 Image Source: sallysbakingaddiction.com/2016/03/05/lemon-coconut-cake/
What You Need
1 cup butter, softened
2 cups sugar
4 large eggs, separated
3 cups all-purpose flour
1 tablespoon baking powder
1 cup milk
1 teaspoon vanilla extract
Lemon Filling
Cream Cheese Frosting
2 cups sweetened flaked coconut
Garnishes: fresh rosemary sprigs, gumdrops
What To Do
1. Beat butter at medium speed with an electric mixer until fluffy; gradually add sugar, beating well. Add egg yolks, 1 at a time, beating until blended after each addition.
2. Combine flour and baking powder; add to butter mixture alternately with milk, beginning and ending with flour mixture. Beat at low speed until blended after each addition. Stir in vanilla.
3. Beat egg whites at high speed with electric mixer until stiff peaks form; fold one-third of egg whites into batter. Gently fold in remaining beaten egg whites just until blended. Spoon batter into 3 greased and floured 9-inch round cake pans.
4. Bake at 350 degrees for 18 to 20 minutes or until a wooden pick inserted in center comes out clean. Cool in pans on wire racks 10 minutes; remove from pans, and cool completely on wire racks.
5. Spread Lemon Filling between layers. Spread Cream Cheese Frosting on top and sides of cake. Sprinkle top and sides with coconut. Garnish, if desired.
Easter is a very important Christian festival in which we come together and celebrate the resurrection of Jesus Christ. While it has great religious significance, it can always be an exciting time of the year, celebrating by coloring and decorating Easter eggs, enjoying special Easter Baskets and eating our body weight in chocolate!
Here at Shisler's Cheese house, we have the answers to all your Easter food needs! Be it a beautiful Easter basket unlike any other, or a tasty Chocolate Bunny, we have what you want!
Tired of the same old boring Easter gift baskets? Send unique Easter gift baskets from Shisler's Cheese House this Easter Season and surprise those that are special to you. If you would like to use your own unique Easter Basket Ideas, we also have custom baskets available. Just give us a call or stop by at one of our Cheese Houses!
Standard Easter Baskets Include:
– Marble Cheese
– Dried Fruit Chips
– Yogurt Pretzels
– Heggy's Chocolates
– Wild Maple Walnut Syrup
– Muddy Trail Mix
Custom Easter Baskets can include anything currently available on our website and in store!
Also available for Easter are a wide selection of chocolate including our extra special Solid Heggy's Chocolate Bunnies!

They are available in either milk or white chocolate and are 20 Oz.
Get your Easter goodies now!
https://cheesehouse.com/
55 Kidron Road
Orrville, Ohio 44667
330-682-2105
It is Easter Weekend this week! What better way to get us ready than explore the world's favorite, traditional Easter dishes? You never know, you just might find some tasty ideas for your own Easter meal!
Image Source: jovinacooksitalian.com/tag/easter/
'Rosquillas' From Spain
A lot of Spaniards will enjoy these special treats at Easter. These donuts can either be baked or fried. They are made from fermented flour and depending on the region, they're either dusted with sugar, flavored with rosemary or some even soaked in anise liqueur.
'Hot Cross Buns' From U.K.
No Easter in Britain would be complete without Hot Cross Buns. This sweet, spiced bun is marked with a cross and has been eaten for hundreds of years in tradition to Easter. Simmel cakes which are fruit cakes topped with marzipan are also popular during Easter and they are made to resemble the Apostles.
'Mämmi' From Finland
Mämmi is traditionally made with rye flour, water, and powdered malted rye. It is also seasoned using dark molasses, dried powdered Seville orange zest, and salt. The name for it in Swedish is Memma.
'Chervil Soup' From Germany
Germans traditionally eat green colored foods on Maundy Thursday because it is known as Gründonnerstag or "Green Thursday". Because of this, Chervil soup is a popular choice.
'Tsoureki' From Greece
This bread is quite like brioche. It is flavored with essence drawn from the seed of wild cherries. It's an Easter tradition mainly because it is often decorated with hard-boiled eggs that have been dyed red, to symbolize the blood of Christ.
'Kulich' From Orthodox Christian Countries
Many families from Orthodox Christian Countries such as Georgia, Russia, and Bulgaria, are known to bake the Kulich cake during Easter time. Kulich is baked in a tall tin and is decorated with white icing and colorful sprinkles. The cake is also often blessed by a priest after and Easter service.
'Påskeøl' From Denmark
This may not be a dish as such but can easily accompany a great Easter dish because in Denmark, this is a special beer during Easter. It is slightly stronger than regular beer too!
'Pashka' From Russia
This dessert is in the shape of a pyramid, and for all us cheese lovers, it is made out of cheese! This particular dessert is traditionally served during Easter time in Russia. It is often decorated with the religious symbols 'XB', which are from "Christos Voskres", which translates to "Christ has Risen".
'Pinca' From Eastern Europe
Pinca is similar to a large hot cross bun. It is a sweet bread marked with the sign of the cross and is commonly eaten in Slovenia and Croatia to celebrate the end of Lent. In some areas of Italy, it is also enjoyed.
'Paçoca De Amendoim' From Brazil
This tasty Brazilian treat is often served in honor of the Easter festival in Brazil. It is made from peanuts, cassava flour, and sugar.
'Capirotada' From Mexico
Capirotada is a spiced Mexican bread pudding which is filled with cinnamon, raisins, cloves and cheese. It is popular during Easter and is said to that each ingredient carries a reminder of the suffering of Christ. The cloves resemble the nails on the cross, the cinnamon as the wooden cross itself and the bread as the Body of Christ.
'Colomba Di Pasqua' From Italy
Colomba Di Pasqua is very similar in taste to the Italian Christmas bread 'Panettone'. This cake is candied peel stuffed and is often shaped like a dove for religious symbolism.
'Mona De Pascua' From Spain
This popular Easter cake is traditionally cooked in many regions of Spain during Holy Week (Semana Santa). This cake traditionally is what looks to be a large donut which is topped with a hardboiled egg.