Sometimes we like to help you explore our ranges in more detail here on the blog. Today we are looking at Walnut Creek Pickles. Read on to find out all about the range and their many uses. We are a proud supplier of Walnut Creek foods and we think you'll see why.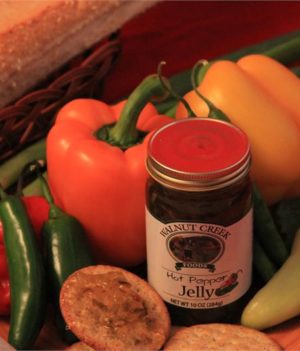 Walnut Creek Foods President, Mark Coblentz, told us: "Honesty and integrity have always been hallmarks of our company. Early on, one of my new customers received a three-cent credit from me. It convinced her that we were a company she wanted to do business with. She became a lifelong fan of Walnut Creek Cheese and a friend of the family. My first warehouse was a couple of refrigerated truck beds and a shed on my dad's farm. In 1984, when more space became necessary, we built our first building in Walnut Creek, Ohio. We attached a retail store to it, primarily so I could justify having personnel to answer the phone for wholesale orders and pick-ups. Although the retail store began as an afterthought, it was the beginning of us becoming a team. In an interesting development, the retail exposure and knowledge of products needed to make retail successful were used to better serve our wholesale customers as well."
Walnut Creek Pickles: Hot Eggs
Pickled Eggs are typically hard-boiled eggs that are cured in vinegar or brine. As with many foods, this was originally a way to preserve the food so that it could be eaten months later. Now, pickled eggs have become a favorite among many as a snack or hors d'œuvre. The shell is removed from the hard-boiled egg and they are submerged in a solution of vinegar, salt, spices, and other seasonings. Recipes vary from the traditional brine solution for pickles to other solutions, which can impart a sweet or spicy taste. For these Hot Pickled Eggs, they have spice added that certainly has a kick to it!
Walnut Creek Pickles: Beet Eggs
We also stock delicious Beet Eggs, which have a wonderful pink color to them and an excellent flavor. Serve these alongside a cheeseboard, crackers, or crudites.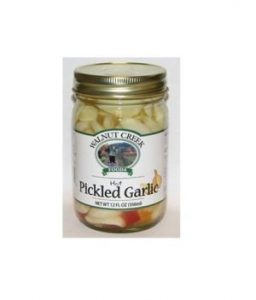 Walnut Creek Pickles: Hot Pickled Garlic
Hot Pickled Garlic is an Amish classic and ours is from the heart of Ohio's Amish Country Walnut Creek. It is delicious as part of a salad dressing or served alongside other pickles.
Walnut Creek Pickles: Baby Beets
These beets are flavored with a touch of cinnamon and spices and make a delicious healthy snack or side dish with salads. Use the juice to make a batch of delicious pickled red beet eggs.
Hot Pepper Jelly
A sweet and spicy jelly, perfect with cheese and crackers. You could also stir it into sauces and dressings to add a spicy kick.
If pickles aren't your thing at all, then Walnut Creek also makes a delicious Amish peanut butter spread. It's perfect for sandwiches, spreading on pancakes or mixing into your baking!
Which is your favorite pickle? Let us know in the comments!