Tag:
All Bran Banana Bread
While historians and banana bread "experts", if there is even such a thing, claim knowledge to the origin and primitive creations of banana bread, the true origins and historical beginnings of this delicious dessert-style bread is not entirely known, albeit large doses of speculation exist at the forefront. What we do know is that banana bread is a a moist and delicious after-meal eat.
One thing we do know is that history of bananas gives us insight that bananas have been around and a mainstay of agriculture for about the last 200+ years.With the birth and inception of such ingredients as baking powder ad baking soda, came the invention of banana bread. When baking banana bread, the ideal bananas are not the green ones that came in just hours ago, but the ones that are soft, yellow and much more ripened and appear golden-yellow in color. Bananas tend to ripen very quickly. A good practice is when you have very green (not yet ripe) bananas, place them in a brown paper bag and they will nearly-instantly begin turning ripe, albeit, by "instantly", we're looking at about 12 hours in a brown bag, rather than 12 minutes.
Essentially, a banana muffin recipe nearly parallels banana bread as it exhorts a very similar texture and flavor. A critical component to both recipes (banana muffin and banana bread) is to mix the ingredients when dry with wet ingredients only until they become blended with each other. Of both recipes, banana muffins seem to be the easier recipe. Banana bread and banana muffins are a great breakfast item and a very easy to grab, on-the-go food. Both recipes are taken to an entirely different level when nuts are added, increasing the moisture and sweetness of the bread and muffins.
Here is some recipes for banana bread, banana muffins and all-bran banana bread:
HOW TO MAKE BANANA BREAD
2 bananas (ripened, yellow-look)
1 cup of sugar
½ cup of oil
2 eggs
2 cups of flour
3 teaspoons of baking powder
1/8 Teaspoon salt
1 Cup chopped nuts
Preheat oven to 350°F degrees.
Grease and lightly flour bread loaf pan.
Mash ripe bananas in a bowl; add sugar, oil, and eggs and beat until smooth.
Sift together the flour, baking powder and salt; stir in the nuts
Combine the dry mixture with the banana mixture and stir in until blended.
Pour batter into prepared pan and bake for 60 minutes or until pick comes out clean.
__________________________________________________
BANANA MUFFIN RECIPE
When I learned how to make banana bread, here is my muffin recipe.
1/3 cup of sugar
1 ¾ cups of flour
2 teaspoons of baking powder
¼ teaspoon of salt
1 beaten egg
½ cup of milk
¼ cup of cooking oil
¾ cup of mashed ripe bananas
½ cup of chopped nuts
Preheat oven to 400°F degrees.
Line muffin tins with paper liners.
Combine in a mixing bowl flour, sugar, baking powder, salt and nuts; Blend and make a well in the center.
Combine in another bowl the milk, egg, oil and bananas; blend well.
Add the banana mixture all at once in the well of the dry ingredients; stir just until moist.
Fill prepared muffin tins 2/3 full and bake about 20 minutes or until pick comes out clean.
__________________________________________________
ALL BRAN BANANA BREAD RECIPE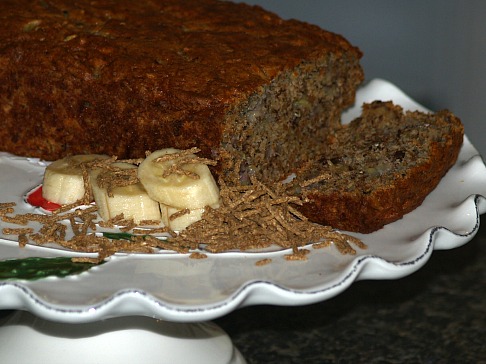 ¼ Cup solid shortening
½ Cup sugar
1 Egg
1 Cup All Bran Cereal
1 ½ Cups mashed bananas
1 Teaspoon vanilla
1 ½ Cups flour
2 Teaspoons baking powder
½ Teaspoon salt
½ Teaspoon baking soda
½ Cup chopped nuts
Preheat oven to 350°F degrees; grease loaf pan.
Sift together flour, baking powder, salt, baking soda; stir in the bran and nuts and set aside.
Cream shortening and sugar; ad egg and beat well.
Add mashed bananas and vanilla; beat until well blended.
Add dry ingredients and mix with a spoon until well blended.
Spoon batter into prepared loaf pan and bake about 1 hour or until the pick comes out clean.
Source: Recipes/photo from http://www.painlesscooking.com/how-to-make-banana-bread.html