Let's be honest… it isn't a party until there's a cheese board included. This season is one of the best for warm cozy nights followed by a bottle of wine with a delicious cheese board amongst friends.
The most important part of a Fall cheese board is white cheese, but let's begin with all of the other festive components of our board that is needed before assembling.
The first component is honey. At Shisler's Cheese House we stock Pure Clover Honey Comb which is perfect for this board. It pairs well with many different kinds of cheese, especially goat cheese.
Fresh fruit definitely gives a fall vibe and flavor. Using a fresh mix of figs and grapes give that whole harvest feel and they go well with cheese.
Nuts is another important component of our board. There are no specific nuts advised, it is all based on your personal preference. Personally, we like to add some Marcona almonds and candied walnuts to our cheese board. The almonds give off a savory flavor whereas the walnuts have notes of sweetness to them from the candying process. This makes them a match made in cheese board heaven.
We always need something a little brim on our board, Olives add that perfect effect. Castelvetrano Olives, in particular, tend to be a good pick.
Finally, crackers and breadsticks. Can't go wrong with cheese and crackers. Going back to childhood, cheese and crackers were always a delicious snack- nothing changes! Pick out a few different types of crackers in all shapes, flavors, and sizes to give the board some personality.
Now to get into the cheese! Each board needs a variety of cheese.
Firstly, aged cheese. An aged White Cheddar from our website is a delicious addition to our Fall cheese board. The little crystals that develop within the cheese during the aging process give the cheese an extra crunch, which complements the next cheese in particular, really well.
Next, we need a soft cheese. Goat cheese is ideal for this. You need to absolutely try this cheese with the honey, it will change your life!
What is a cheese board without a Blue Cheese? Exactly. Any blue will work for this addition, but at Shisler's we recommend our Danish Blue. The flavor isn't completely overwhelming and makes a perfect contrast to go with the other cheeses.
The last cheese needed for a cheese board is, of course, a firm one. A particular favorite to use is our Smoked Cheddar. The flavor is sharp and pungent with a firm texture. Not only that, it adds some Fall color to the board, which is perfect as it is a Fall board after all!
Now that you have all you need, you can get started assembling your board! Get yourself a big board and start arranging it how you like. It's important to keep the presentation simple and bountiful. Tuck the cheeses into each other and then add your fresh fruit when you need to add some color. Your board is then ready for all of your Fall entertainment!
Halloween is one of the best times of the year. What better way than to enjoy it by exploring all the different ways you can make spooky Halloween snacks. Be it for a Halloween party for your kids, an adult get-together or a spookily themed dinner with the family, these extra cheesy recipes- with a twist will be a cheese lovers heaven this Halloween!
Not only are these Halloween recipes for cheese lovers, but they are quick and easy to make. So, if you have work on Halloween, you can quickly whip them in a short amount of time so no one misses out!
Halloween Cheese And Crackers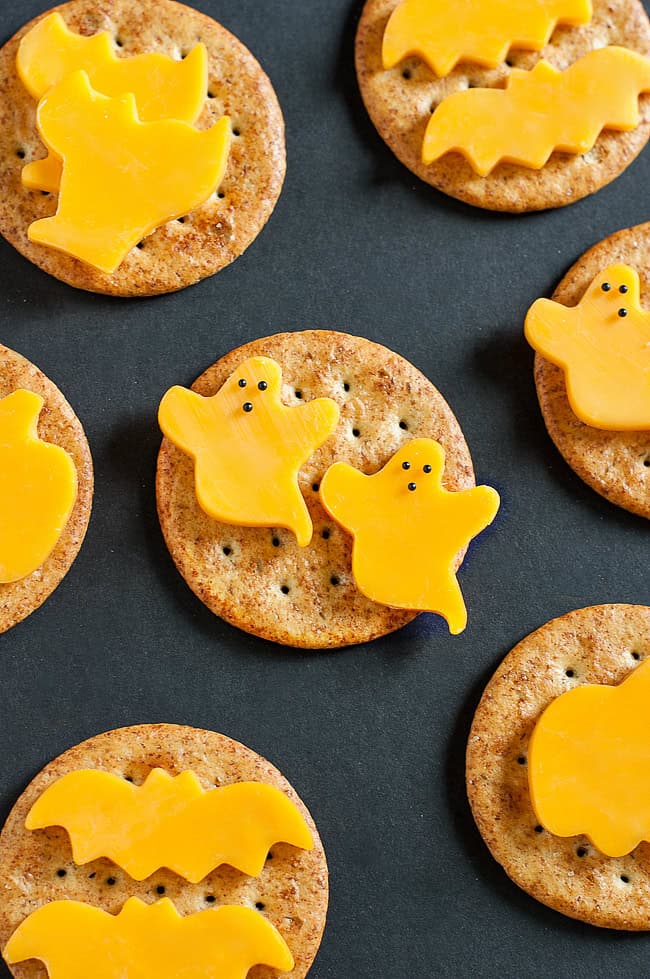 Cheese and crackers are a quick and easy snack to add to a party platter of spooky delights. What makes this recipe even better is that you can have some fun with the kids making these. All you really need is a few different Halloween cookie cutters which you can purchase from your local craft store and some delicious cheese from Shisler's Cheese House.
Cheddar would be the best cheese for this, at Shisler's Cheese House we have a range of different cheddars to suit your palette:
Now you just have to cut some thin slices of your cheese and use your cookie cutter to form the spooky shapes and then place them on your crackers! It is as easy as that! Don't throw out your outline leftovers, you can just save the cheese for a topping on a family dinner or just for a snack! Enjoy.
Halloween Cheese Board
Everyone loves a cheese board! If you are attending a more sophisticated event this Halloween but you would like to add a twist, bring a spooky Halloween board! Just cut some slices of your favorite cheese and use cookie cutters to make pumpkins and ghosts out of the cheese. Don't forget to bring the wine!
Check out our website to see all the delicious cheeses you can get for your board.
Crescent Roll Witch Hats
This recipe is something different but equally delicious. With Halloween being very much geared towards a sweet tooth, you'll be happy to know that this recipe is more on the savory side for those who love Halloween and savory foods!
Again, this recipe is super easy to make and creative!
What You Need
1 package of Crescent Rolls (original)
Shisler's Cheese House Bologna
2 types of cheese with contrasting color (Cheddar and Havarti from our store)
Basil
What To Do
1. Open and unroll one package of Crescent Rolls.
2. So hats maintain their shape, use a knife to separate segments.
3. Cut salami slices and a portion of cheddar cheese into thin strips.
4. Place bologna and cheese strips on top of the widest part of the roll.
5. Roll it up to create the hat brim.
6. Cut cheddar cheese strips and cheese squares to make the hat band and buckle.
7. Arrange cheese above the brim of the hat.
8. Lightly sprinkle basil over the entire roll.
9. Bake according to package directions.