In different traditions, it is customary to serve a cheese course before dessert or after dessert. But sometimes, you can switch out your chocolate cake and cherry pie for a delicious cheese course.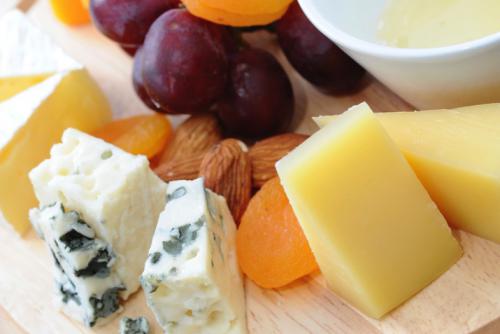 In recent years, it has become popular in some places to serve cheese in place of sugary sweets. As a dessert, cheese is an elegant, healthier option than brownies, cookies or ice-cream sundaes. With its many flavors, textures, and aromas, cheese offers a whole other world of possibilities.
Flavored Cheeses
At specialty cheese shops, like Shisler's Cheese House, you can find a number of specially flavored cheeses from sweet flavors, fruits, liqueurs, beer cheeses and even chocolate cheeses- perfect for dessert! Shisler's Cheese House has so many options for a dessert cheese which will have your senses overloading and mouth watering. Our store allows for the cheese to become any course of your meal and can be a perfect fit for dessert. One of our favorites, chocolate cheese can be paired with many foods such as muffins, pancakes, and bread. It is the best of both worlds.
Cheese Plates
If you're creating your own cheese dessert, cheese plates are a very sophisticated option, especially when entertaining guests. A proper cheese board should have around 3 to 4 cheeses that range in flavor from savory and sweet.
To make the presentation look nice and appealing, arrange fresh fruits between each section of cheese. Pears, apples, figs, berries and grapes are good pairings for most cheeses. Then embellish each plate with a sprinkling of walnuts with a side of honey or pecan sauce.
To complement your offerings, put some dark bread and some delicious dessert wines out with the cheese boards. Dessert cheeses match well with vintage Port, Moscato or Icewines. For more on how to get the perfect cheese board and the best wine pairings, take a look at these articles:
Dessert Cheese Choices
Some cheeses are actually naturally fruity and sweet in flavor which is helpful in making them traditional treats for dessert time. Putting together Dutch Gouda, creamy Havarti or French Brie and adding a few slices of fruit and wine can turn these simple cheeses into delicious, mouthwatering desserts.
For savory cheeses, it can be a little more tricky but they still make alluring dessert choices. Matured Parmesan is nutty and salty and perhaps best served with pears and figs. Or robust Italian Pecorino cut into chunks and served with honey and pears to melt in your mouth. Another option could be pairing strawberries and peaches with some Danish Blue.
If you are looking for a more casual treat, warm some slices of Finnish Juustoleipa (Bread Cheese) in the microwave for 20 seconds and serve it with honey or dip it into your coffee for a nice snack.
Easy Cheese Dessert Ideas
You may not notice it but cheese manages to find its way into many traditional desserts- from cheesecake and pies to tarts and tiramisu. So if you are not ready to fully trade in your favorite sweet treats for a cheese plate, you can enjoy the best of both in one dish.
If you don't have time to bake, however, cheeses like Ricotta and Mascarpone can be turned into mouth-watering desserts with no fuss. With them being mild and creamy cheeses, they can be easily spread or swirled with sweet complimenting add-ins. Enjoy!