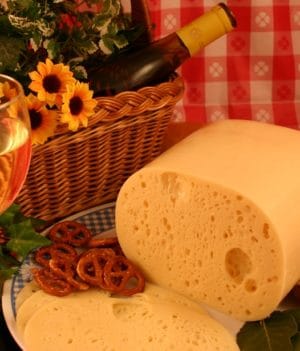 You know that we love to help you get to know all of the cheeses that we have on offer. If you always pick up Swiss Cheese then you might not have tried Lacy Swiss, thinking that it's just a variation. However, it's a great alternative and a really delicious way to eat cheese with a lower fat and sodium content.
What is Lacy Swiss Cheese?
Lacy Swiss was invented by Alpine Lace Brands in 1985 in response to the growing need for healthier alternatives.  This cheese is closely related to Swiss cheese, but the whole milk used to produce swiss cheese is replaced with low fat milk to provide a healthier alternative with a lower fat content. It gets its name from the lacy appearance of the slices, which usually have a creamy, ivory color to them. It has a delightfully light and nutty flavor. If you follow a lactose-free diet, then this cheese is naturally free of lactose.
How should I eat Lacy Swiss Cheese?
It's a great table cheese but it is also delicious on deli sandwiches or to top off hamburgers and patty melts.  It's rather light and delicate, so if you're looking to add a true Swiss flavor to a recipe, our sharper imported varieties like Jarlsberg or Gruyere may be better choices.
It melts very well, so it is a good option to use in quiches or pasta dishes when you want to add creaminess without too much fat. We also love it paired with dried fruits and nuts, so it's a great addition to any cheeseboard, especially if you want to offer a healthier option. Try it with slices of apple or pear for a refreshing afternoon snack.
What is Lacy Baby Swiss?
We also stock Lacy Baby Swiss. This is another of our local selections. Lacy Baby Swiss is a young, semi-soft cheese distinguishable by its myriad of small holes. Baby Swiss is made by substituting water for the milk's whey to slow bacterial action compared to a traditional Swiss Cheese. The Lacy version has smaller holes and a milder flavor, as well as the lower fat and sodium content found in Lacy Swiss.
What should I drink with it?
Due to their mild flavor, these cheeses very well with numerous wines.  The most popular pairings are Cabernet Sauvignon and Merlot. but Beaujolais and Pinot Noir are also great matches. If you are a white wine lover, then Chardonnay, Riesling, and Sauvignon Blanc would all be good choices. Lacy Swiss even goes well with Lager, Pale Ale, and Weiss Beer.
We hope you've enjoyed our exploration of these healthy cheeses. Perhaps you could by a few different Swiss types of cheese and compare them to see which is your favorite. We even offer a Smoked Swiss Cheese if you like a smokey taste on your cheeseboard. Pop into the store if you're nearby and we'll help you to choose a great selection.
How do you like to enjoy Lacy Swiss cheese? Let us know in the comments!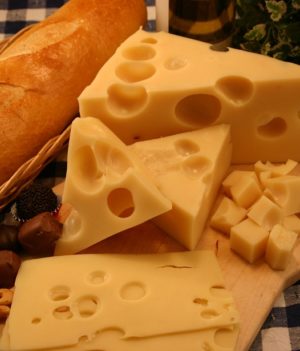 We are huge fans of Swiss cheese here at Shisler's Cheese House. We have a whole range to keep you happy and today we're giving you 5 ideas for ways to enjoy Swiss cheese.
The process of making Swiss cheese involves natural bacteria consuming the lactic acid in the cheese. This releases carbon dioxide gas, which slowly forms bubbles that become the recognizable holes in the cheese. These are often referred to as "eyes". Our Amish swiss cheese, made in Northeastern Ohio, is especially flavorful because of the longer aging process that it undergoes, at a higher temperature than younger cheeses. This produces larger eyes, which is sometimes seen as an indicator for better flavor.
The milk used in our Swiss cheese does not have preservatives added, and is from cows that have never been given hormones or antibiotics. This creates a great taste and you know exactly what you are eating.
We also offer Baby Swiss, which substitutes water for the milk's whey to slow the bacterial action. This creates smaller holes and a milder flavor. Lacy Swiss is another variety of Swiss cheese, made with low-fat milk. We even offer smoked Swiss cheese.
On Crackers
Swiss cheese is well known for its nutty, bittersweet taste. This is perfect enjoyed on your favorite crackers. Add a couple of other cheese, some grapes, and relishes, and you've got a full cheeseboard.
Paired with your favorite wine or beer
This is such a versatile cheese that you can easily find a beverage pairing for it. If you're a fan of red wines, try a Merlot or Pinot Noir. For white wine lovers, try a Chardonnay or Riesling. Swiss cheese will also pair well with lager, pale ales, and Weiss beer.
Cheese Fondue
Fondue is a decadent treat that's perfect at the end of a cold day, or to share with friends and family. Simmer 10 fl. oz. white wine in a fondue pot, before adding 10 oz. each of Swiss and Gruyere cheese. Make sure everything is melted before stirring in 2 teaspoons flour. Season with salt, pepper, and nutmeg. Serve this with cubes of your favorite bread, chopped vegetables, and cured meats.
Mac and Cheese
Add an extra punch of flavor to your favorite mac and cheese by grating in some Swiss cheese. You can even add it to breadcrumbs for an extra crunchy topping.
On French Onion Soup
A firm favorite for warming you up, French onion soup is incomplete without a topping of Swiss cheese toast. Thinly slice small pieces of your favorite bread, add grated Swiss cheese and grill before serving with your soup.
If you love Swiss cheese as much as us, why not treat yourself this to our gift box this Christmas?  You'll find a whole 4lb. Baby Swiss cheese, perfect to share with the whole family.
However you like to eat your Swiss cheese, you can find it all here at Shisler's Cheese House!