A Delicious Holiday Brunch Buffet for Everyone
The holidays are upon us, which hopefully means lots of family sleepovers!  If everyone is up and at 'em at different times of the morning, it's tough to make the perfect hot and made-to-order breakfast for everyone.  Take a look at some of these ideas for a five-star brunch experience for your guests in the comfort of your home.
Waffle Buffet
Make an array of waffle that fit right in your toaster over for reheating.  The magic is in the toppings.  Slice up some fresh fruit and cream cheese, put out some chocolate chips and Heggy's Nuts and grab some Ohio Maple Syrup.  Oh, and don't forget the Streb's Bacon!  Arrange everything on your counter or buffet before your guests awake and sit back and enjoy your company while they enjoy their brunch!
Bottomless Bloody Marys and Mimosas
If your crew is a bit later to rise due to a late night, they may be interested in a little hair of the dog.  What is brunch without some early morning libations?  Set some bubbles on ice and a bottle of vodka (I prefer Absolut Peppar for my Bloody Marys!) alongside it.  Grab your favorite Bloody Mary mix, some olives, pickles, peppers, celery, horseradish, spices, fresh juices and come glassware and arrange them in a beautiful spread for your guests to help themselves.  A fun little add-on for your Bloody Mary's- Make some meat and cheese skewers with summer sausage and spicy cheeses from Shisler's.  Your guests will love this added touch!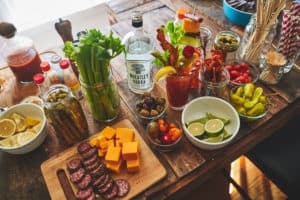 Bagel Bar
Select an assortment of sweet and savory bagels from your local bakery or try this amazing onion stuffed bagel recipe! Make some flavored cream cheeses for your guests to choose from and put together a tray of sliced onions, cucumber, tomato, strawberries, bananas and maybe even some LOX.  Stop by Shisler's for some delicious honey and Amish made jams and apple butter. Arrange your spreads in mini-mason jars and the bagels in baskets around your toaster for your guests to make their own amazing bagel brunch creations.
Oh, and again.  Don't forget the bacon!