Christmas Charcuterie Ideas
Good Morning and Happy Holidays!  It's (almost) officially Christmas week!  And since you all got your Shisler's orders in by the deadline on Sunday (Ahem.), you likely have a ton of cheeses, bologna, sausages and other snacks on the way to your doorstep.  And now, what to do with them?
If you're feeling a little less than creative this Christmas season but you still want to wow your holiday guests, we have you covered.  Check out these super beautiful, and easy, Christmas charcuterie spreads!
These ones are so simple yet they showcase the Christmas spirit in the form of snacks.
If you're looking to put in a bit more effort, this cheese ball Christmas tree is incredible sophisticated and would make a great centerpiece for any holiday table.  Just double up on your favorite cheeseball recipe and form it into a Christmas tree shape and add your favorite accoutrements to the outside.  Don't forget the fresh rosemary to give it that evergreen look.  And it will smell amazing!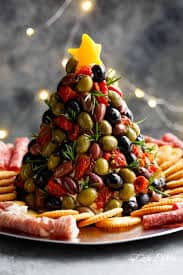 While you have your Christmas cookie cutters out, make some shapes with your cheese and meats.  Elevate any charcuterie board with shapes of stars, trees or gingerbread men.  Just slice up a variety of meats and cheeses into 1/4 inch thick pieces and use the cookie cutters to make the shapes.  Get the kids to help as well…Oh, and then you can snack on the scraps 🙂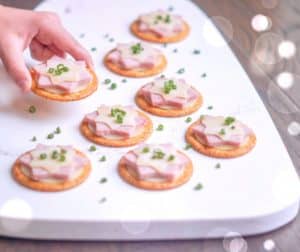 Still looking for a bit more creative inspiration?  Check out this YouTube video from Aldi: