Online Shopping Deadlines
Happy Friday!  If you have been following along, you know that our ordering deadline for Christmas this year is creeping up quickly.  The deadline for guaranteed order delivery by Christmas is DECEMBER 13.  That's less than ten days away folks!
COVID-19 is getting its last laugh (hopefully!) on 2020 by holding up the holiday mail.  We use FedEx for all of our orders because we want to make sure our customers receive their high quality, gourmet snacks in a timely manner with everything in the package still fresh and delicious.  Unfortunately, with high quality comes a high price tag.  So the shipping is a little spendy…Which doesn't matter so much when it is quick!
But, this year, FedEx is not guaranteeing their delivery dates.  In a statement issued on December 2, 2020, they reiterate the fact that all delivery signature services continue to be suspended as well as money back guarantees.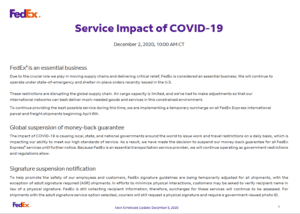 So, what does this mean?  For us, it simply means that we are requiring all of our loyal and valued customers to get their shopping done and orders placed by December 13 in order for us to guarantee delivery by the holiday.  If you miss the deadline, it isn't a total deal breaker.  Based on area of the country you live in, the following map outlines the regular delivery time for FedEx from our store.
So, with the current delays, use this map as a guide but add 3 days just to be safe.  We try to have all of our orders turned around within 24 hours.  But, given that this is our busiest time of year (THANK YOU!), maybe give us 48 hours.  Let's say you live in Texas and you place an order on Monday the 7th.  We have it dropped off with FedEx by Wednesday the 9th.  They say, during normal times, the order would be at your door by Thursday.  I would say estimate around Saturday or Monday for actual delivery.  So, it's about a week turnaround on orders with current delays.  You can see all of FedEx's COVID updates here.
In essence, by cutting off our "guaranteed" holiday delivery on Sunday the 13th, we are hopefully over delivering and under promising.  This is all to give you, our customer, the security of knowing that your Troyer's Trail and Guggisberg Swiss are ready to be on your snack tables by Christmas Day.  Get your holiday shopping done online today to ensure a pre-holiday delivery!
However, if you DO get to your shopping last minute, a Shisler's gift certificate is the way to go!  We provide you with the gift certificate code immediately after check out.  So you can email the recipient with their no contact Christmas cheer right up until the last minute.  They make great stocking stuffers or gifts for your co-workers, mail man, favorite grocery store clerk or distant cousin 🙂