Every now and then you just want something a little different to satisfy your cravings. Perhaps you're planning a meal with your significant other or maybe you're just in the mood for dessert. There really is no better plate to took into than Coeur a la Crème with delicious strawberries smothering it. The name Coeur a la Crème literally translates from French to "Heart of the cream", that's how you know it's gonna be good!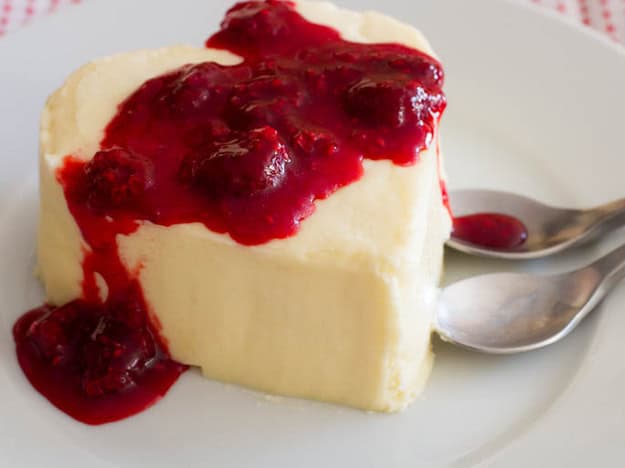 Although there are many different variations of this particular dessert, this has got to be one of the best. It not only satisfies your sweet tooth, but it is satisfying for us cheese lovers too!
If you want to get all romantic with it, you can use a heart shaped mold to really top off this dessert.
Recipe
What You Need
– 1 tbsp granulated sugar
– 1 tbsp heavy cream
– 1 cup fromage blanc
– 2 egg whites, beaten
What To Do
Firstly, combine the sugar, cream, and cheese. Then fold in the egg whites. You now spoon the mixture into a mold lined with a butter muslin and allow it to set in the fridge for 6-10 hours.
Once it is set, gently pull the butter muslin up to remove heat from the mold.
It is all up to you what to serve it with. From experience, enjoying it topped with strawberries and syrup or even melted chocolate can leave your mouth watering!
In different traditions, it is customary to serve a cheese course before dessert or after dessert. But sometimes, you can switch out your chocolate cake and cherry pie for a delicious cheese course.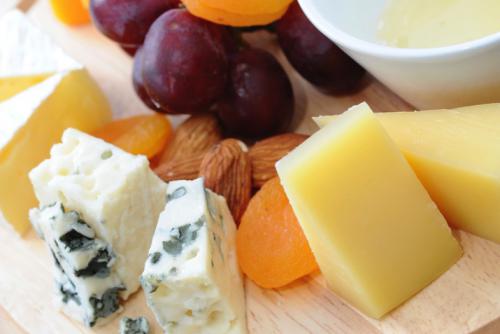 In recent years, it has become popular in some places to serve cheese in place of sugary sweets. As a dessert, cheese is an elegant, healthier option than brownies, cookies or ice-cream sundaes. With its many flavors, textures, and aromas, cheese offers a whole other world of possibilities.
Flavored Cheeses
At specialty cheese shops, like Shisler's Cheese House, you can find a number of specially flavored cheeses from sweet flavors, fruits, liqueurs, beer cheeses and even chocolate cheeses- perfect for dessert! Shisler's Cheese House has so many options for a dessert cheese which will have your senses overloading and mouth watering. Our store allows for the cheese to become any course of your meal and can be a perfect fit for dessert. One of our favorites, chocolate cheese can be paired with many foods such as muffins, pancakes, and bread. It is the best of both worlds.
Cheese Plates
If you're creating your own cheese dessert, cheese plates are a very sophisticated option, especially when entertaining guests. A proper cheese board should have around 3 to 4 cheeses that range in flavor from savory and sweet.
To make the presentation look nice and appealing, arrange fresh fruits between each section of cheese. Pears, apples, figs, berries and grapes are good pairings for most cheeses. Then embellish each plate with a sprinkling of walnuts with a side of honey or pecan sauce.
To complement your offerings, put some dark bread and some delicious dessert wines out with the cheese boards. Dessert cheeses match well with vintage Port, Moscato or Icewines. For more on how to get the perfect cheese board and the best wine pairings, take a look at these articles:
Dessert Cheese Choices
Some cheeses are actually naturally fruity and sweet in flavor which is helpful in making them traditional treats for dessert time. Putting together Dutch Gouda, creamy Havarti or French Brie and adding a few slices of fruit and wine can turn these simple cheeses into delicious, mouthwatering desserts.
For savory cheeses, it can be a little more tricky but they still make alluring dessert choices. Matured Parmesan is nutty and salty and perhaps best served with pears and figs. Or robust Italian Pecorino cut into chunks and served with honey and pears to melt in your mouth. Another option could be pairing strawberries and peaches with some Danish Blue.
If you are looking for a more casual treat, warm some slices of Finnish Juustoleipa (Bread Cheese) in the microwave for 20 seconds and serve it with honey or dip it into your coffee for a nice snack.
Easy Cheese Dessert Ideas
You may not notice it but cheese manages to find its way into many traditional desserts- from cheesecake and pies to tarts and tiramisu. So if you are not ready to fully trade in your favorite sweet treats for a cheese plate, you can enjoy the best of both in one dish.
If you don't have time to bake, however, cheeses like Ricotta and Mascarpone can be turned into mouth-watering desserts with no fuss. With them being mild and creamy cheeses, they can be easily spread or swirled with sweet complimenting add-ins. Enjoy!
You are at your favorite restaurant and you order something off the dessert menu. None other than universal go-to and favorite, cheesecake. Then you begin thinking to yourself, why do they call it cheesecake when the main ingredient in the cheesecake is cream cheese? Why not call it Cream Cheesecake? Well, truth be told, while some use cream cheese to make cheesecake,  many other parts of the world use actual cheese to create this one-of-a-kind dessert masterpiece. There are actual a number of cheeses that different parts of the world use to make their own version of [real] cheese cake.
Cream Cheese
Cream cheese was first created in the 19th century across the United States. Having many styles and variance, cream cheese was first made my local dairy farmers in Philadelphia, Pennsylvania. Later, in the 19th century, William A. Lawrence, a Chester, New York dairyman bought a Neufchâtel factory. Neufchâtel is a softer cheese that is native from France for centuries. Lawrence, however, decided to take an additional step by adding more cream during the Neufchâtel-making process causing the cheese to become richer and heavier. He termed this "cream cheese", and how fitting the name was. The majority of cheese cakes across North America are made with the base of some type of cream cheese giving "typical" cheese cake that rich, creamy texture.
Sour Cream 
Seriously?? While sour cream is not a cheese, it is a dairy byproduct of fermenting cream. Because of its smoothness and creaminess, it is often added to the cream cheese base that is used in cheese cake to make it creamier and thicker. Yet, other renditions of the dessert may feature a strictly-cream cheese base with a sweet, sour cream topping, usually in plain form or with lemon shards adding an extra bite or or layer of flavor.
Quark
Across various parts regions of Europe, quark is the go-to ingredient when making cheese cake. Because it is native to parts of Europe, cheese cake made from quark is often termed "German-style" or "Bavarian" cheesecake. Like Sour Cream, quark is made from the fermentation of milk. It has a creamy and yet a bit crumbly in texture and often has curds. Unlike cottage cheese, also having curds, quark is not made with rennet (as cottage cheese is) and salt, at times.
Ricotta
Here we have the real deal. I, personally, have had cheesecake made with Ricotta and I can tell you that it is the best cheesecake I have ever had. Besides its most common use in Lasagna and Manicotti, Ricotta is used to make cheesecake. While it is made in the United States as well, it is referred to as "Ricotta Pie" here in the states. Other versions of Italian cheesecake might use Mascarpone, a very soft Italian cheese often used in Tiramisu.