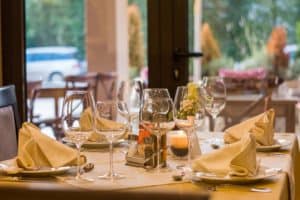 If you're anything like us, you love throwing a dinner party!
Today we're giving you our tips for hosting a fun soirée. If you've never cooked for a group, or you want to tackle a meal with several courses, read on to find out how to make it possible.
1. Plan your menu with plenty of time to spare
If you're serving several courses then you'll want to make sure that you plan ahead. Give yourself time to pick up all of your groceries. Try to plan so that you can make almost everything ahead of the party. You want to be able to spend time with your guests and enjoy their company instead of being stuck at the stove. If you can pre-make everything then you'll just need to warm, finish and garnish your dishes on the night. Make sure that you check if your guests have any dietary requirements so that you can cater to them.
2. Enlist your guest's help
Your guests are coming for a dinner party but they aren't expecting you to do everything! Ask your guests to bring along a dish or a side. You could ask someone to bring the salad course or a side dish to go with your carefully selected main. If you're happy to cook the food but need some help with the entertainment, you could ask a guest to bring along a board game or even create a quiz for you all to play.
3. Mix your guests up
Don't be afraid to mix people from different parts of your life. Sometimes it's easy to stick to the same group of friends or to only meet with family but it's fun to host diverse groups who might not have met each other before. If you think your sister might get along famously with your colleague or you want your best friend to meet your partner's best friend then get them together for a dinner party!
4. Plan drinks that add to the fun
Whilst a good bottle of wine on the table is great for a dinner party, you might want to start with a round of cocktails. You could even provide your guests with ingredients and start with a competition to make the best cocktails. If you can start with great drinks and encourage your guests to get to know each other then you have time to complete your last minute preparations.
5. Think about dishes and flatware
If you're serving several courses, you need to make sure that you have enough dishes to serve all of them without frantically washing up between each course. You could get creative with smaller dishes like ramekins or large wooden boards for sharing courses if you don't have enough traditional plates and bowls. You can also hire dishes to use for the occasion or even ask your guests to bring some along. The same goes for glasses. Don't be afraid to ask for help, but do check ahead of time so that you're prepared.
Have we inspired you to plan a dinner party? Let us know what you're planning in the comments!