We all know that fresh pasta tastes so much better than any dried pasta. But how many of us have actually tried to make it at home?
It might seem daunting, but pasta really isn't so hard to make. Today we'll show you how to make it from scratch.
Recipe – Makes enough fresh pasta for 6 people
You will need:
6 large eggs
600g '00' flour
Method – making the dough:
Put the flour onto a board or in a bowl.
Make a well in the center of the flour and crack the eggs into it.
Beat the eggs with a fork until they are smooth.
Using your hands, incorporate a little of the flour into the eggs at a time, until everything is mixed together.
Combine the dough until you have one smooth lump.
Knead the dough to develop the gluten. Stop when the pasta feels smooth and silky.
Cover the dough fully and rest it in the fridge for at half an hour.
Method – rolling the dough:
You can simply use a rolling pin to roll pieces of the dough until they are lovely and thin.
If you have a pasta machine, the best thing to do is follow the instructions that it comes with as some have different mechanisms. In general, though, this will be your basic method.
Dust your work surface with some '00' flour. Take a handful of pasta dough, press it flat and roll it through your machine on the widest setting.
Move the pasta machine down a setting and roll the dough through again.
Fold the pasta in half. Repeat steps 1 and 2 five or six times, folding each time.
Once the pasta is very smooth, roll it through all of the settings on the machine from widest down to narrowest.
If you are making tagliatelle or lasagne, rolling it until it is just slightly thicker than a playing card. For stuffed pasta including ravioli and tortellini, make it thin enough that you can clearly see your hand through it.
Cut or shape your pasta before it dries. Use a clean, damp cloth to stop it from drying out if you need to.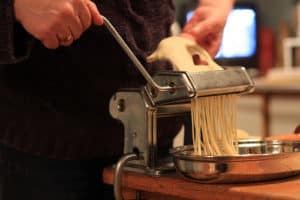 Shaping and cutting fresh pasta:
For lasagne or tagliatelle, you will simply need a sharp knife to cut the pasta to the desired shape. Your pasta machine may have attachments to cut the pasta. If you are shaping the pasta we recommend finding video instructions that will show you the quickest method. Get the family involved to get the pasta ready before it dries!
To cook your pasta:
Add pasta to a large pot of boiling salted water.
It will take 1 to 3 minutes, so watch the pot closely.
Test the pasta to ensure that it is just slightly al dente before serving.
We hope that you've enjoyed learning how to make pasta from scratch. Do you have any tips for first-time pasta makers? Let us know in the comments!
CHICKEN ALFREDO PASTA BAKE
I don't know about you, but I love a good Alfredo. It's rich, it's oh so yummy. And why shouldn't we love it? It has all the goodness of butter, cream and Parmesan. Creamy. Cheesy. Yummy. So today we're taking good old Alfredo sauce and making a chicken pasta bake. And we'll add more cheese plus other stuff to make a great summer pasta casserole.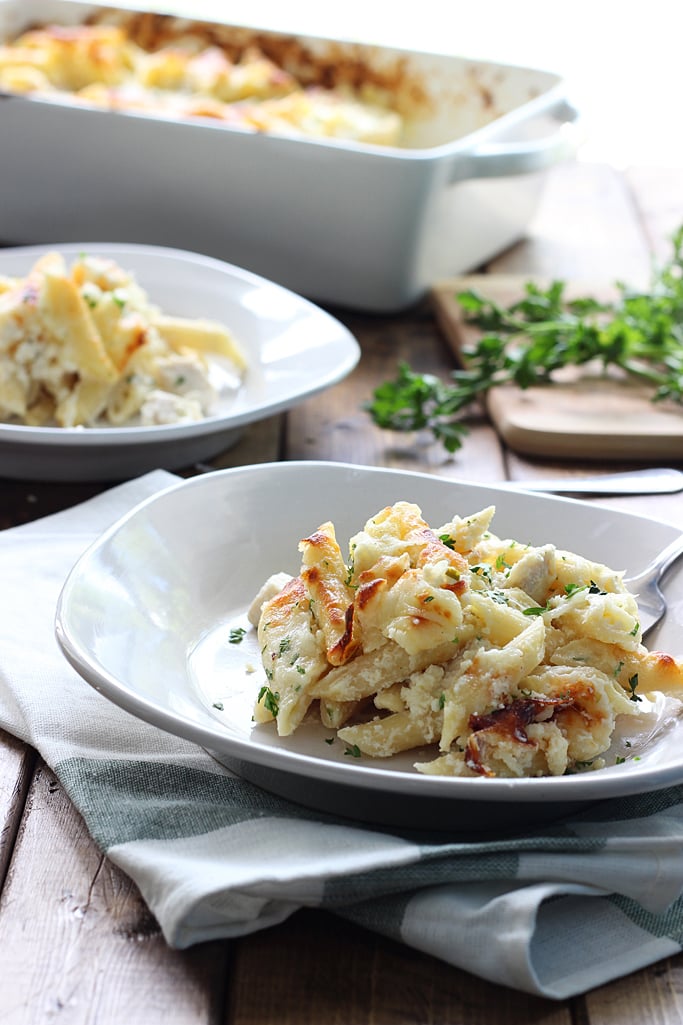 So if you're wanting cheese, this is your dish! This makes a huge serving to go around and it heats up well. It'll make that wet squishy sound when you mix it all up, a sign of tons of creamy cheesy power. It'll give you long strands of cheese when you dish a serving. The kind that you'll want to run your finger along to break. And it'll more than satisfy your cheese craving.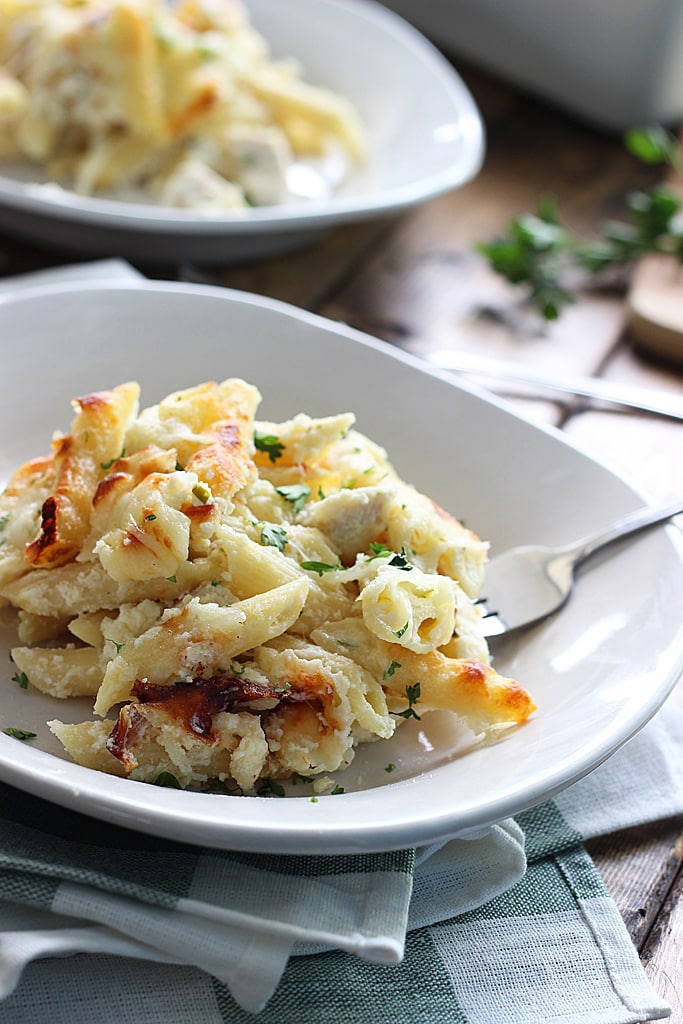 The great thing about this is how you can customize it to save you time. The best Alfredo sauce from scratch but you can use store-bought sauce. If you don't like poached chicken, grill it. Or buy some rotisserie chicken and chop it up. And you can practically use any kind of pasta you want. Generally, penne is deal for bakes but there's ziti and rigatoni.
Make sure to cook the pasta until the point just before it turns al dente. Then rinse it under cold water to stop the cooking process. Because if it continues cooking in the cheese sauce in the oven, it'll get slightly mushy and mushy pasta is no fun…. to avoid this, finish off the al dente process in the oven. However, if you don't mind or even like mushy pasta, then keep on cooking that pasta until it's al dente, your choice…
There's a lot of ricotta to go around, as you can see. So if you're not big on it, you can halve the ricotta and egg portion before mixing it in with everything. Some people like it, some people don't, again, your choice…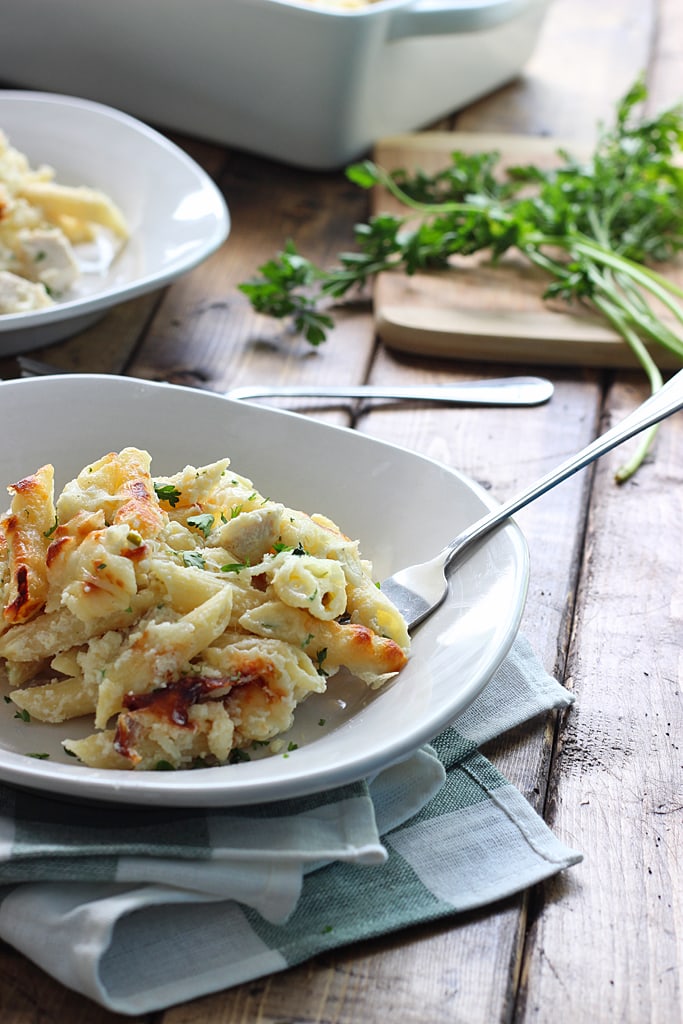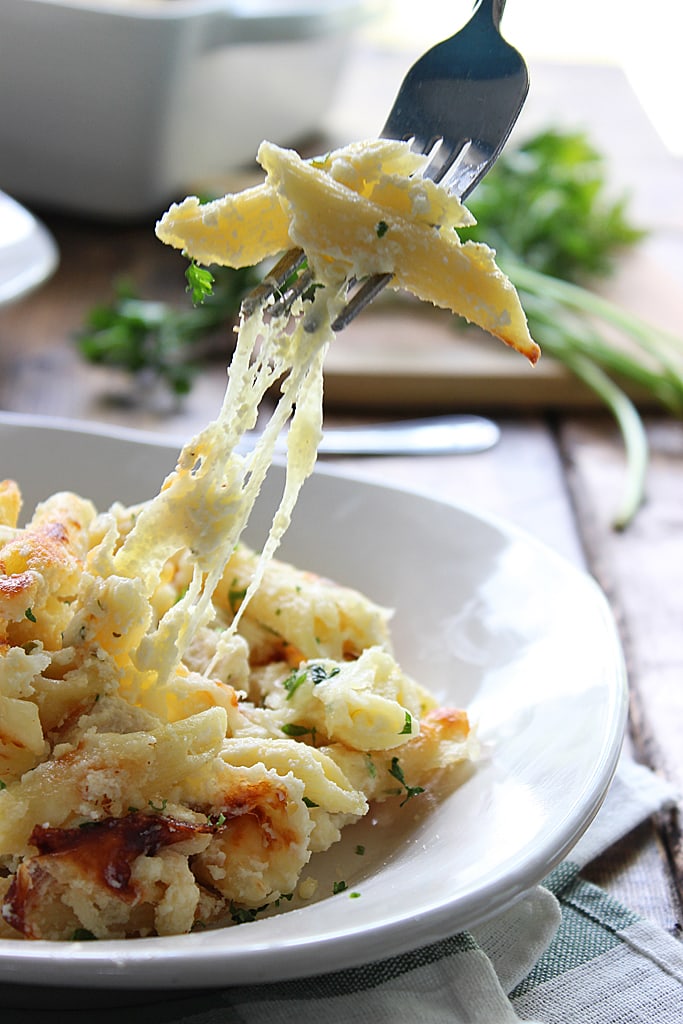 So really, if you're looking for a fairly quick, but delicious meal idea for lunch or dinner, this one's for you, as the amount of time it takes from start to eat is just under and hour…. not bad at all… Or if you're a family of four and you want something for two days, here you go. And if you have a huge family, have at it. This can serve up to ten servings. The cheese is not stingy!
Author: The Cooking Jar
Serves: 8-10
INGREDIENTS
16 oz. penne/ziti/rigatoni pasta
2 cups Alfredo sauce
8 oz. sour cream
3 cups poached/grilled/rotisserie chicken, cubed
15 oz. ricotta cheese
1 teaspoon garlic, minced
2 eggs, beaten
¼ cup Parmesan cheese, shredded
1 tablespoon parsley, chopped
Salt and pepper to taste
2 cups mozzarella cheese, shredded
INSTRUCTIONS
Cook the pasta till just before al dente
Drain and rinse pasta under cold water to stop the cooking process
If you're making Alfredo sauce from scratch, see notes
Mix pasta with the Alfredo sauce, sour cream and chicken
Combine ricotta, garlic, eggs, Parmesan and parsley and mix throughly
Season the pasta mix with salt and pepper to taste
Add the ricotta mixture to the pasta and stir to combine
Top with a thick layer of mozzarella cheese
Bake in a 9×13 casserole dish at 350 degrees F for 30 minutes or until bubbly
Broil at 450 degrees F for 2-3 minutes or until the cheese starts to brown
Serve hot