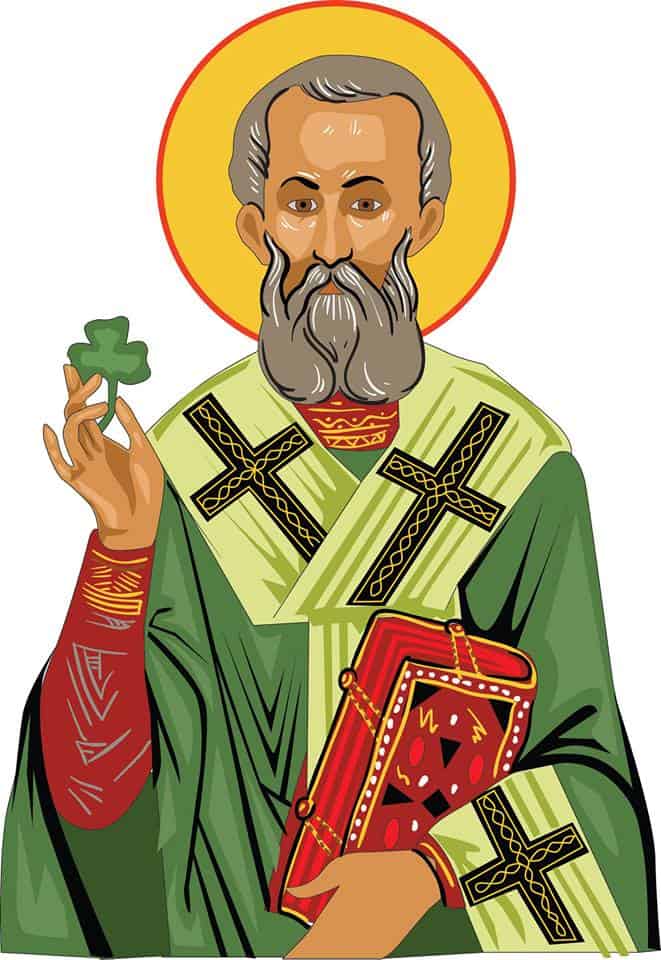 "It is sometimes said that everyone is Irish on St. Patrick's Day. People all over the world celebrate St. Patrick's Day, especially places with large Irish communities. Every year on March 17th, millions gather to honor the Irish patron saint, St. Patrick. The celebrations are marked by green clothing, parades and parties."  ~ Laurie Triefeldt
The Man
St. Patrick, the patron saint of Ireland, was born around A.D. 385. His name was Maewyn Succat,
the son of wealthy Romans living in Britain. Maewyn was kidnapped at the age of 16 by Celtic raiders and sold into slavery in Hibernia (Ireland). He worked on a lonely mountainside as a Shepherd. It was during this time that he began to think about religion and have visions. After six years, he escaped to a monastery in France, where he was educated and later ordained as a priest.
He changed his name to Patricius and returned Ireland as a missionary in A.D. 432.  In addition to converting pagans to Christianity, Patrick established schools and introduced the Roman alphabet and Latin literature to Ireland.  St. Patrick's Day is traditionally a day for spiritual renewal and special prayers for missionaries around the world.
The Myth
One of the most famous legends told about St. Patrick is that he banished all the snakes from Ireland. While it is true that there are no snakes in Ireland, St. Patrick had little to do with it. "Driving the snakes from Ireland" is a metaphor for ending pagan practices.
Food Traditions
Besides drinking green beer and other beverages, St. Patrick's Day also features traditional
Irish food.  Some people serve an Irish breakfast of sausage, black or white pudding, fried eggs and fried tomatoes.  The most famous St. Patrick's Day meal is corned beef with cabbage, carrots and potatoes,. Shepherd's pie, and soda bread are also popular holiday options.
The Shamrock
The shamrock as a symbol for St. Patrick's Day comes from the story of St. Patrick using it to illustrate the Holy Trinity. Belonging to genus Trifolium, this three-leafed plant was sacred to the Irish pagans as a symbol of spring. The shamrock is probably at the root of the green color theme of St. Patrick's Day.
According to tradition, four-leaf clovers (which are very difficult to find) bring good luck, especially if
found accidentally.
The Celebrations
St. Patrick's Day is a religious holiday; so many Irish attend mass before the parties begin.  St. Patrick's Day was first celebrated in the United States in 1737, organized by the Charitable Irish Society of Boston.
The first St. Patrick's Day parade took place in New York City in 1762. Today, the New York parade is the largest St. Patrick's Day parade, with more than 150,000 participants.  Parade observers are supposed to wear green, or they risk being pinched.
Some cities paint their roads green. Chicago dyes its river green for the festivities. The White House fountain is also dyed green.  In some places, the celebration includes the planting of peas. (Their color is right, and time of year is perfect pea-planting.)
Because all things Irish are associated with St. Patrick's Day, the elusive leprechaun has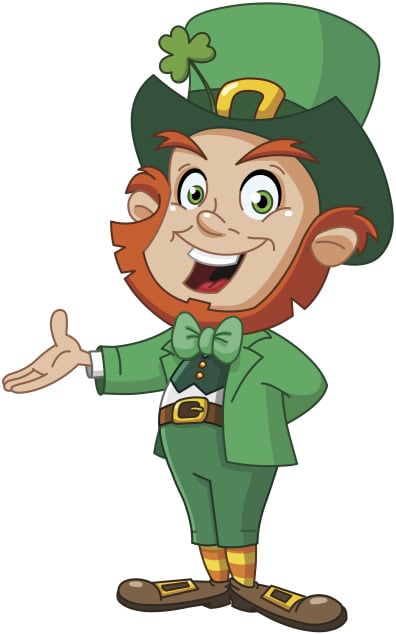 also joined the fray.  Leprechauns are small Irish fairies, about two feet tall. They carry a big stick called a shillelagh. According to legend, these little shoemakers can be found by following the sound of their hammering.  Following a leprechaun may lead you to his pot of gold.
Whatever your tradition, we wish you a happy and healthy St Pattys Day!
"May the roof above us never fall in, and may the friends beneath it never fall aout" ~ St. Patrick's Day Toast