Enjoy this Easter Sunday with a delicious, traditional Easter meal. A sweet-hot plum-glazed traditionally baked ham. Classic creamy casserole of scalloped potatoes and tender Asparagus Amandine to round out this deliciously pleasing family meal. Sliced strawberries and spiced pecans to create a wonderfully colorful Baby Blue Salad- a holiday favorite! Hope you're not too full for dessert because you would not want to miss out on this irresistible coconut cake!
Image Source: thespruce.com/
Is your mouth watering? Find out how to create this perfect Easter meal for your family, below! (Serves 8)
Sweet-Hot Plum-Glazed Ham

Image Source: pinterest.com/pin/547468898422365369/
What You Need
1 cup plum preserves
1/2 cup orange juice
2 tablespoons lime juice
1 tablespoon yellow mustardH
1 tablespoon honey
2 teaspoons minced fresh ginger
1/2 teaspoon dried crushed red pepper
1 (7-lb.) smoked fully cooked, bone-in ham
Garnishes: pineapple, kiwifruit, green onions, black sesame seeds
What To Do
1. Firstly, stir together the first 7 ingredients on the list, in a saucepan over medium-high heat, bring them to a boil, while stirring constantly. After bringing to a boil, reduce heat to medium-low, continuing to stir. After preserves are melted and the mixture is blended, pour half of mixture into a microwave-safe bowl.
2. Trim excess fat on ham to 1/8- inch thickness. Place ham on a wire rack in aluminum foil-lined roasting pan. Brush ham with a portion of plum preserve mixture from the saucepan.
3. Bake ham uncovered at 350 degrees on lower oven rack for 1 hour and 30 minutes, basting with remaining plum preserve mixture in saucepan, every 30 minutes. Loosely cover with aluminum foil, and bake for 1 hour and 45 minutes or until thermometer registers 140 degrees, basting every 30 minutes. Let stand for 15 minutes before slicing. Garnish as desired.
4. Microwave the other plum preserve in the bowl on high for 1 minute and serve ham in with the warm mixture.
Classic Parmesan Scalloped Potatoes

Image Source: oprah.com/food/scalloped-potatoes
What You Need
1/4 cup butter
2 pounds Yukon gold potatoes, peeled and thinly sliced
3 cups whipping cream
2 garlic cloves, chopped
1 1/2 teaspoons salt
1/4 teaspoon freshly ground pepper
1/4 cup fresh flat-leaf parsley, chopped
1/2 cup (2 oz.) grated Parmesan cheese
What To Do
1. Melt butter in a large dutch oven over medium-high heat. Stir in potatoes and the next 5 ingredients on the list and bring to a boil. Reduce heat to medium- low, and cook, stirring gently for 15 minutes.
2. Spoon mixture into a lightly greased 13 x 9-inch baking dish and sprinkle with cheese.
3. Bake at 400 degrees for 25 to 30 minutes. Remove to a wire rack and let stand for 10 minutes before serving.
Asparagus Amandine

Image Source: closetcooking.com/2007/06/asparagus-amandine.html
What You Need
2 pounds fresh asparagus
2 tablespoons butter
1/4 cup sliced almonds
2 tablespoons diced red bell pepper
1 tablespoon fresh lemon juice
1/2 teaspoon salt
1/2 teaspoon pepper
What To Do
1. Snap off tough ends of asparagus. Cook in boiling salted water to cover in a large skillet for 3 minutes or until crisp and tender. Then drain.
2. Plunge asparagus into ice water to stop cooking, then drain.
3. Melt butter in a large skillet over medium heat, add almonds and saute for 2 to 3 minutes. Add asparagus and red bell pepper and cook for 3 to 5 minutes. Toss in lemon juice, salt, and pepper.
Baby Blue Salad With Fresh Pears

Image Source: showmetheyummy.com/pear-blue-cheese-candied-pecan-salad/
What You Need
2 (5-oz.) packages gourmet mixed salad greens, thoroughly washed
2 large Bartlett pears, cut into thin slices
1 qt. strawberries, quartered
4 ounces blue cheese, crumbled
What To Do
Place greens on 8 individual serving plates. Top evenly with pears and strawberries. Sprinkle with cheese and pecans. Serve with Balsamic Vinaigrette.
Lemon-Coconut Cake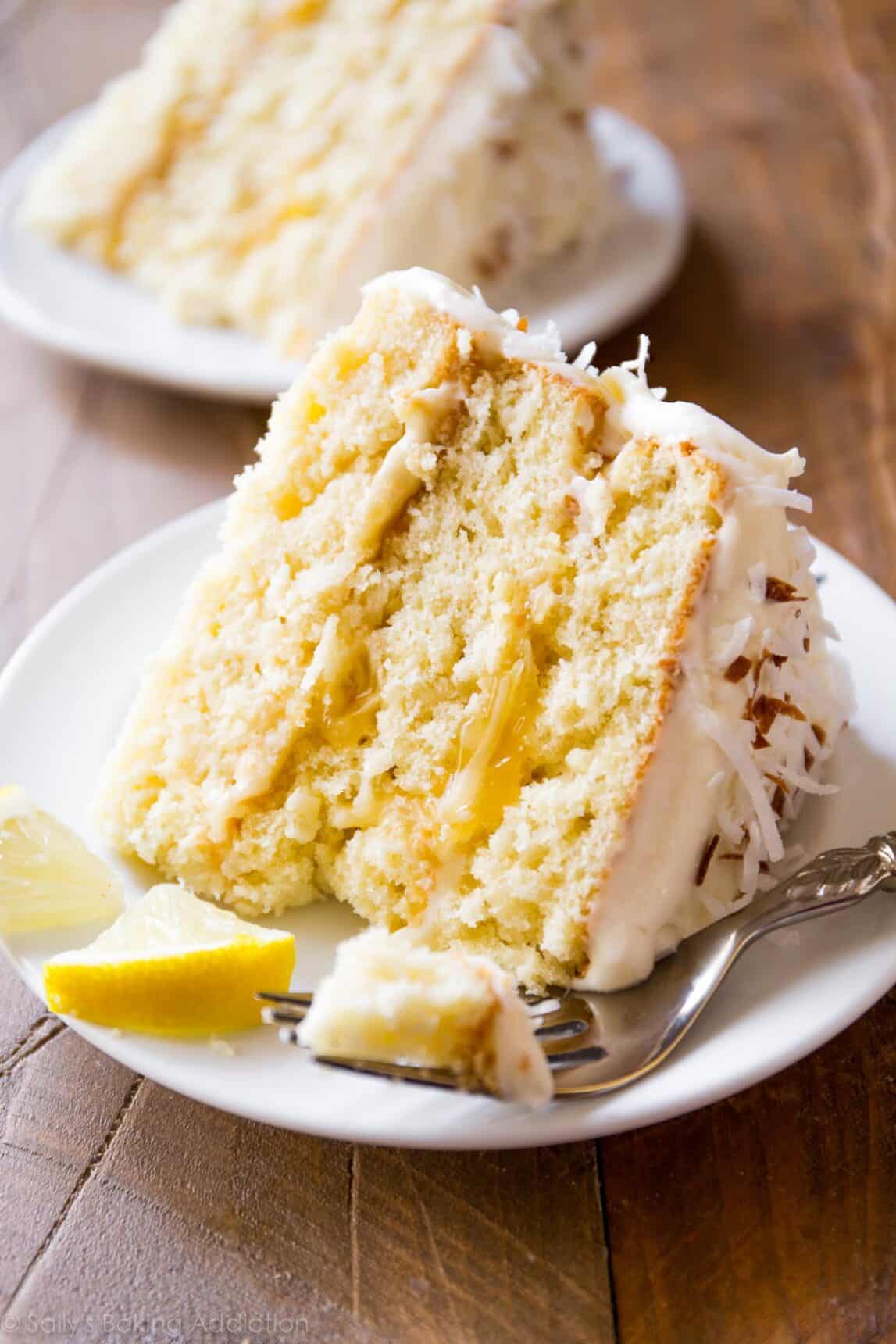 Image Source: sallysbakingaddiction.com/2016/03/05/lemon-coconut-cake/
What You Need
1 cup butter, softened
2 cups sugar
4 large eggs, separated
3 cups all-purpose flour
1 tablespoon baking powder
1 cup milk
1 teaspoon vanilla extract
Lemon Filling
Cream Cheese Frosting
2 cups sweetened flaked coconut
Garnishes: fresh rosemary sprigs, gumdrops
What To Do
1. Beat butter at medium speed with an electric mixer until fluffy; gradually add sugar, beating well. Add egg yolks, 1 at a time, beating until blended after each addition.
2. Combine flour and baking powder; add to butter mixture alternately with milk, beginning and ending with flour mixture. Beat at low speed until blended after each addition. Stir in vanilla.
3. Beat egg whites at high speed with electric mixer until stiff peaks form; fold one-third of egg whites into batter. Gently fold in remaining beaten egg whites just until blended. Spoon batter into 3 greased and floured 9-inch round cake pans.
4. Bake at 350 degrees for 18 to 20 minutes or until a wooden pick inserted in center comes out clean. Cool in pans on wire racks 10 minutes; remove from pans, and cool completely on wire racks.
5. Spread Lemon Filling between layers. Spread Cream Cheese Frosting on top and sides of cake. Sprinkle top and sides with coconut. Garnish, if desired.