Whether you enjoy dressing up in all green, enjoying the family festivities or getting absolutely wasted until the early hours, the most central part of any holiday is a great dinner – and a hearty, Irish meal is so important on St. Patrick's day.

Image Source: noexcusesbbq.com/wp-content/uploads/2012/03/IMG_1920.jpg
Corned Beef Brisket, Cabbage, Potatoes, And Carrots
This incredible dish takes a whopping 10 hours to cook- but is so worth it! Back when St. Patrick's day became a tradition, you might've found families corning their own beef, but nowadays there is absolutely nothing wrong with a delicious store-bought corned beef brisket. Like any holiday, getting up super early just to start cooking is a tradition- and this beef brisket definitely follows through on that tradition, cooking for 10 hours to ensure mouthwatering, tender, moist meat. Not only does it need to cook for 10 hours, you ideally need to let it cool for a day in its cooking liquid to ensure even more amazing flavor. Carrots, cabbage, and potatoes compliment this delicious hunk of meat perfectly, making every juicy mouthful a delight.
Champ
These mashed potatoes are definitely a dish for 'champs'. Unlike normal mashed potatoes, champs are much creamier and are scallion-studded. They are enriched with milk and butter and are seasoned with salt and pepper, with finely sliced scallions added. The flavor is rich and extra zesty.
Stout-Battered Onion Rings
Onion rings may not be traditional to Irish culture, but stout definitely rings it in. Stout-battered onion rings are rich in flavor, with hints of paprika, honey, and mustard for spice and sweetness. These aren't your typical onion rings- they are a special type, bursting with flavor, perfect for the special day of St. Patrick's Day.
Soda Bread
Soda bread is a very traditional bread of the Irish, so it makes sense to enjoy it on St. Patrick's Day! Soda bread is so dense and crumby and uses baking soda for leavening. It is also enriched with buttermilk and sweetened with honey. As opposed to the more traditional soaked raisins, using cranberries can be refreshing, along with it being studded with whiskey. If you aren't a fan of Soda Bread, another option could be nutty Irish brown bread to accompany the meal.
Irish Coffee Ice Cream With Dark Chocolate and Pecans
Image Source: seriouseats.com/recipes/assets_c/2010/12/20101221-129824-coffee-caramel-ice-cream-thumb-625xauto-129798.jpg
There's nothing that tops off a meal better than some ice cream, but even better, Irish ice cream on St. Patrick's Day! This delicious dessert is bursting with buttery caramel, roasted coffee grounds and not forgetting the generous portion of Irish Whiskey! Its flavor is creamy and sweet, with a slight bitterness and smokiness to it, really complementing the other flavors. The dessert is finished off with crunchy candied pecans and shaved dark chocolate- because who doesn't like chocolate?
One of the biggest Irish traditions has got to be the beers- from ales and lagers to delicious stouts, they are all staples to most St. Patrick's Day celebrations around the world. From Harp to Guinness, there's a notable Irish brew for every beer lover. Whether you are heading out to a parade on the day or hosting your own party, here are some 'must-know' Irish beers to enjoy on St. Patrick's Day!

Image Source: dublinsquareirishpub.com/images/beer_pints_002.png
Guinness Draught
Guinness is one of the most popular Irish beers worldwide, especially in the U.S. Its flavor is distinct with smooth aromas and deep, dark, satisfying flavors. There are different Guinness brews which are most popular to have- Guinness Draught, Extra Stout, and Foreign Extra Stout.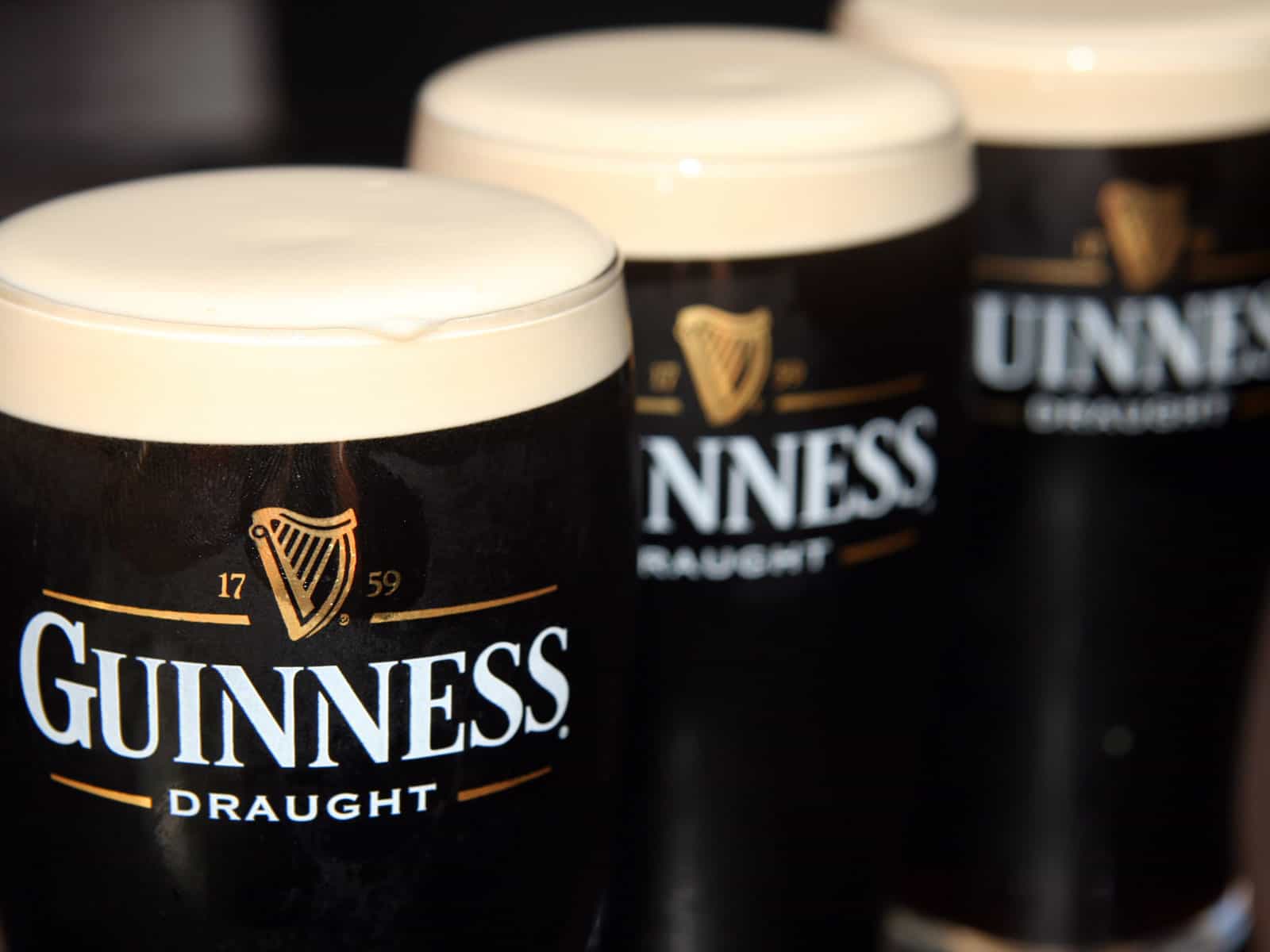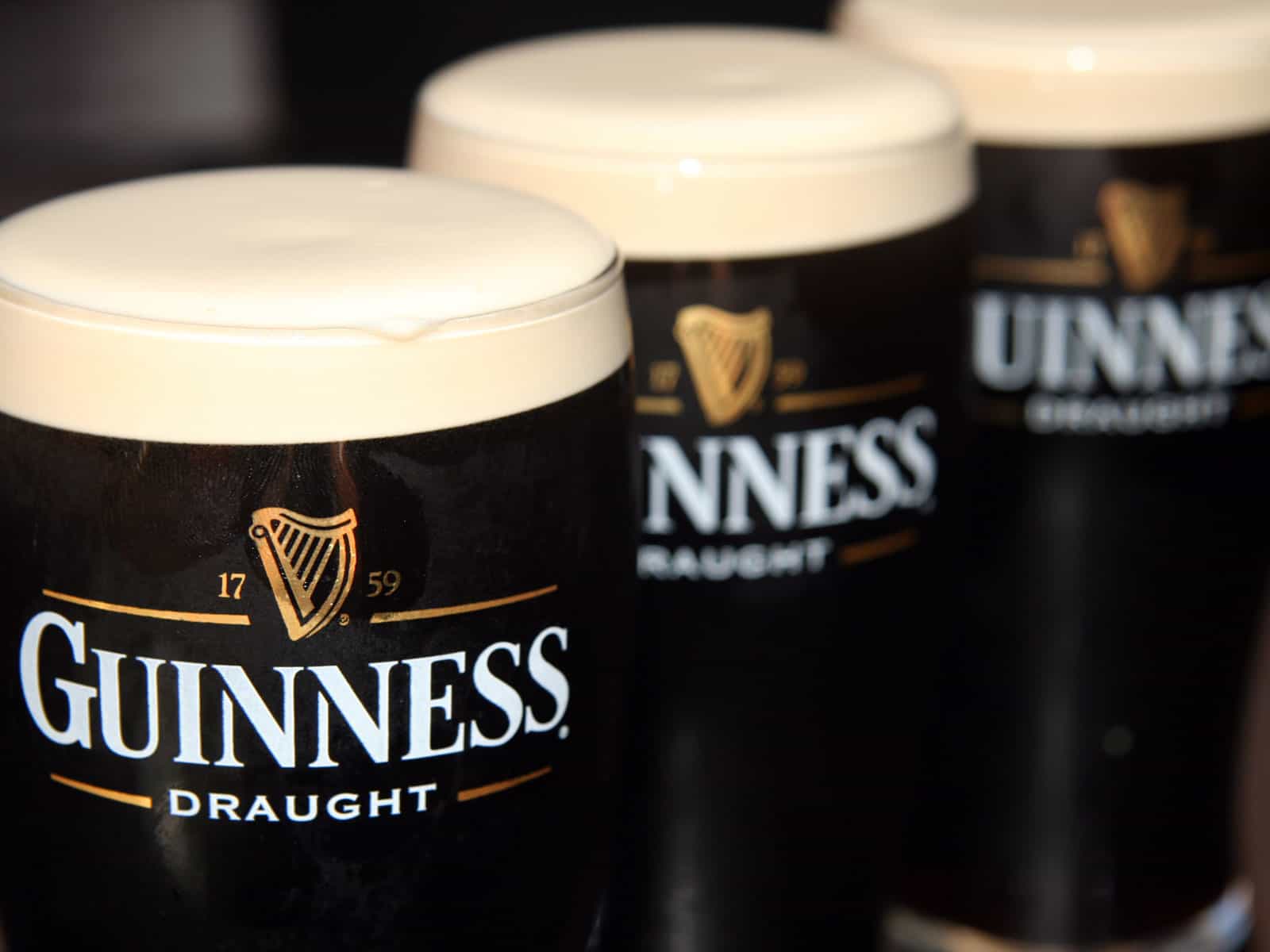 Image Source: blogs.haverford.edu/celticfringe/files/2017/02/guinness1.jpg
Smithwick's Irish Ale
Smithwick's is often referred as "Smitticks". This ale has a unique flavor to it which combines hops with deep malt, coffee, aromatic fruits and roasted barley notes.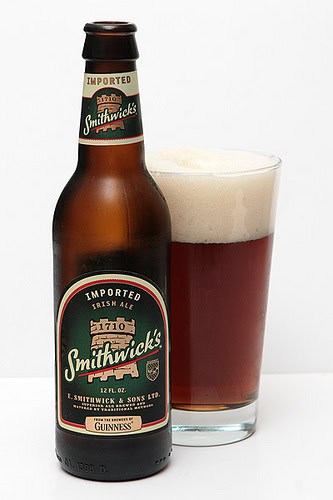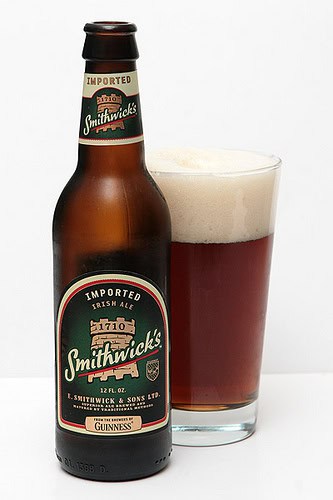 Image Source: beerandamovie.files.wordpress.com/2011/07/3498868847_cdfdc0e2ed.jpg
Harp Lager
This lightly colored lager is refreshing in flavor and has a European ring to it. It is rich in flavor and isn't like any other lager, boasting a smooth and sharp finish.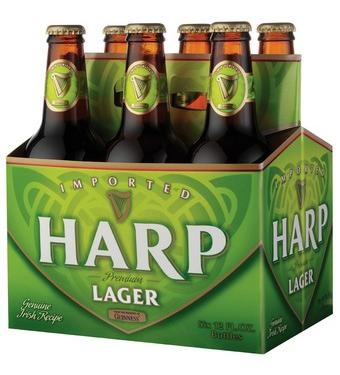 Image Source: glibeer.com/images/products/62/harp_6pk__large.jpg
Murphy's Irish Stout
This Irish Stout has become increasingly more popular over the years, particularly in the U.S. It's much more light a sweet in flavor compared to the other stouts.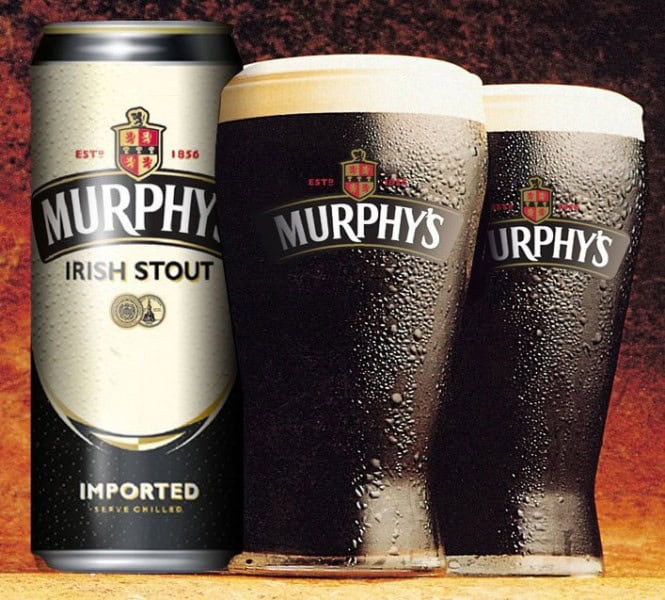 Image Source: deerparkpub.com/wp-content/uploads/2014/07/murhpys-Irish-Stout.jpg
O'Hara's Celtic Stout
Celtic Stout is a smooth, dry, Irish Stout which combines the rich flavor of coffee with traditional hops. There are also notes of tasty licorice in there!

Image Source: carlowbrewing.com/wp-content/uploads/2013/10/beers-oharas-irish-stout-main.png
Kilkenny Irish Cream Ale
With it's smooth and creamy finish, it has a base flavor which is similar to Smithwick's. However, the cream ale gives its own unique and delicious blend, nonetheless.

Image Source: cvshopfactory.com/wp-content/uploads/2016/07/Kilkenny-Irish-Cream-Ale.png
Beamish Irish Stout
This Beamish Irish Stout was formulated back in 1792 to capture the traditional taste of stout from Ireland. It has a fully rounded, malted flavor.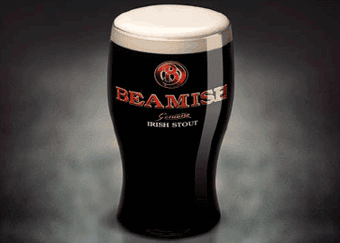 Image Source: wac.450f.edgecastcdn.net/80450F/nj1015.com/files/2013/03/Beamish-Irish-Stout.png
Murphy's Irish Red
This beer dates back all the way to 1856. It is a crisp and dry beer which is naturally red, with hints of fruit and caramel in its flavor.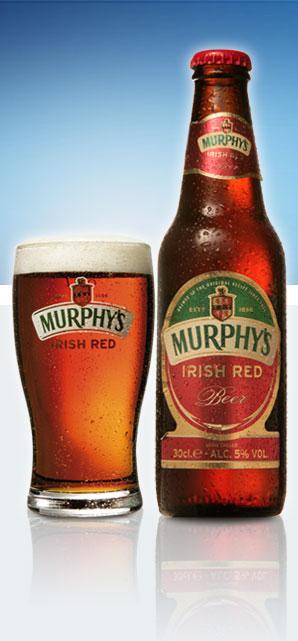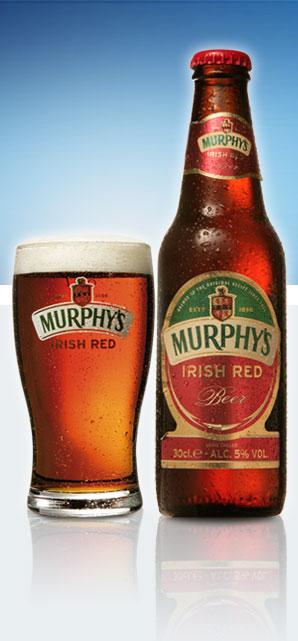 Image Source: media-verticommnetwork1.netdna-ssl.com/wines/murphys-irish-red-436361.jpg
O'Hara's Irish Wheat
This Irish Stout isn't as common, however, it is a good, tasty brew which is perfect for those lighter drinkers in need of an easy-drinking option. Including fruits such as peaches, bananas, plums mixed with traditional hops, this golden wheat ale is smooth and quenches your thirst.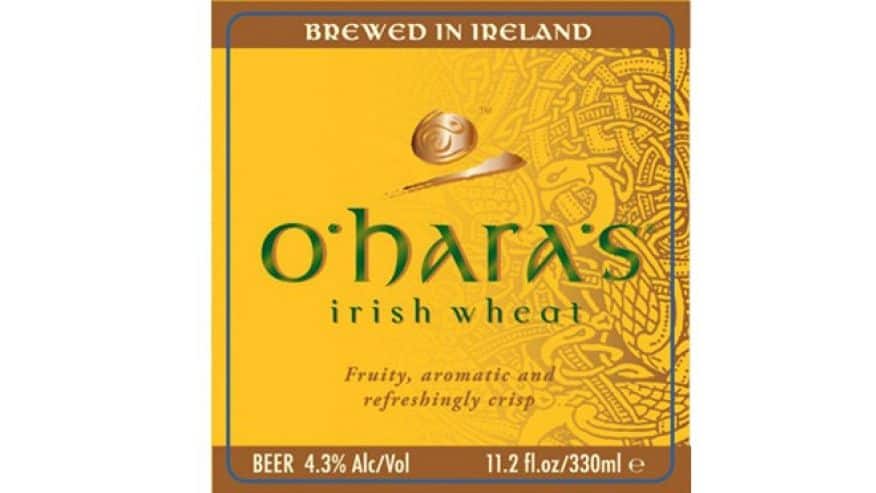 Image Source: images.foxnews.com
Porterhouse Brewing Co. Oyster Stout
Quite like its name, this stout is truly unique. Being one of Dublin's favorite aromatic beer, it is bursting with interesting blends of dark, flavorful hops, grains and strangely enough, fresh oysters!
Image Source: kelleychisholm.files.wordpress.com/2013/03/porterhouse-oyster-stout.jpg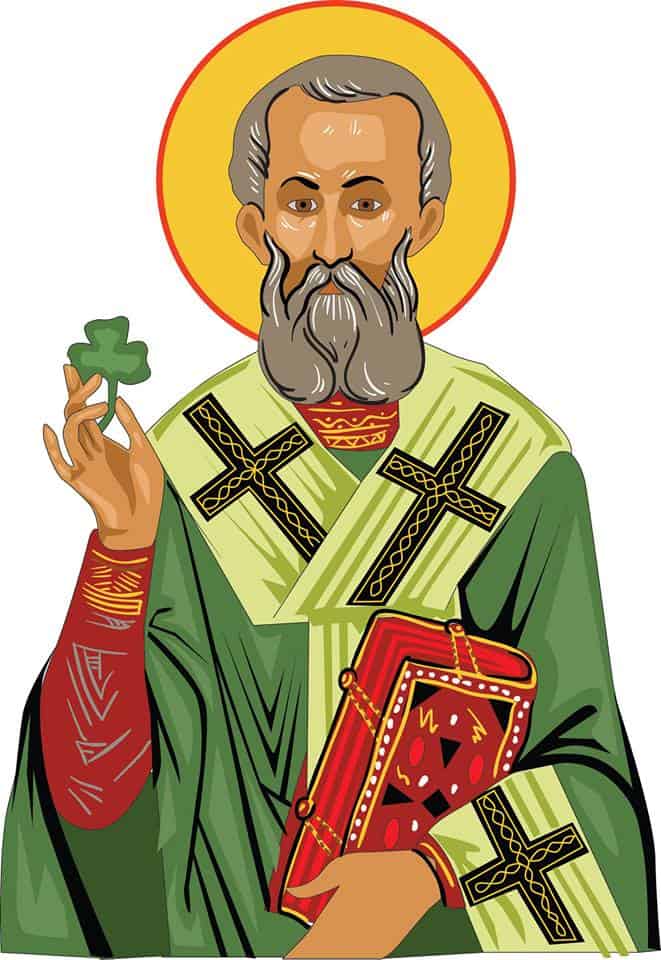 "It is sometimes said that everyone is Irish on St. Patrick's Day. People all over the world celebrate St. Patrick's Day, especially places with large Irish communities. Every year on March 17th, millions gather to honor the Irish patron saint, St. Patrick. The celebrations are marked by green clothing, parades and parties."  ~ Laurie Triefeldt
The Man
St. Patrick, the patron saint of Ireland, was born around A.D. 385. His name was Maewyn Succat,
the son of wealthy Romans living in Britain. Maewyn was kidnapped at the age of 16 by Celtic raiders and sold into slavery in Hibernia (Ireland). He worked on a lonely mountainside as a Shepherd. It was during this time that he began to think about religion and have visions. After six years, he escaped to a monastery in France, where he was educated and later ordained as a priest.
He changed his name to Patricius and returned Ireland as a missionary in A.D. 432.  In addition to converting pagans to Christianity, Patrick established schools and introduced the Roman alphabet and Latin literature to Ireland.  St. Patrick's Day is traditionally a day for spiritual renewal and special prayers for missionaries around the world.
The Myth
One of the most famous legends told about St. Patrick is that he banished all the snakes from Ireland. While it is true that there are no snakes in Ireland, St. Patrick had little to do with it. "Driving the snakes from Ireland" is a metaphor for ending pagan practices.
Food Traditions
Besides drinking green beer and other beverages, St. Patrick's Day also features traditional
Irish food.  Some people serve an Irish breakfast of sausage, black or white pudding, fried eggs and fried tomatoes.  The most famous St. Patrick's Day meal is corned beef with cabbage, carrots and potatoes,. Shepherd's pie, and soda bread are also popular holiday options.
The Shamrock
The shamrock as a symbol for St. Patrick's Day comes from the story of St. Patrick using it to illustrate the Holy Trinity. Belonging to genus Trifolium, this three-leafed plant was sacred to the Irish pagans as a symbol of spring. The shamrock is probably at the root of the green color theme of St. Patrick's Day.
According to tradition, four-leaf clovers (which are very difficult to find) bring good luck, especially if
found accidentally.
The Celebrations
St. Patrick's Day is a religious holiday; so many Irish attend mass before the parties begin.  St. Patrick's Day was first celebrated in the United States in 1737, organized by the Charitable Irish Society of Boston.
The first St. Patrick's Day parade took place in New York City in 1762. Today, the New York parade is the largest St. Patrick's Day parade, with more than 150,000 participants.  Parade observers are supposed to wear green, or they risk being pinched.
Some cities paint their roads green. Chicago dyes its river green for the festivities. The White House fountain is also dyed green.  In some places, the celebration includes the planting of peas. (Their color is right, and time of year is perfect pea-planting.)
Because all things Irish are associated with St. Patrick's Day, the elusive leprechaun has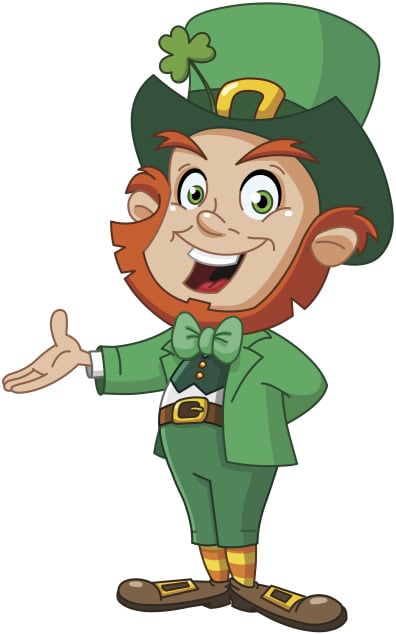 also joined the fray.  Leprechauns are small Irish fairies, about two feet tall. They carry a big stick called a shillelagh. According to legend, these little shoemakers can be found by following the sound of their hammering.  Following a leprechaun may lead you to his pot of gold.
Whatever your tradition, we wish you a happy and healthy St Pattys Day!
"May the roof above us never fall in, and may the friends beneath it never fall aout" ~ St. Patrick's Day Toast