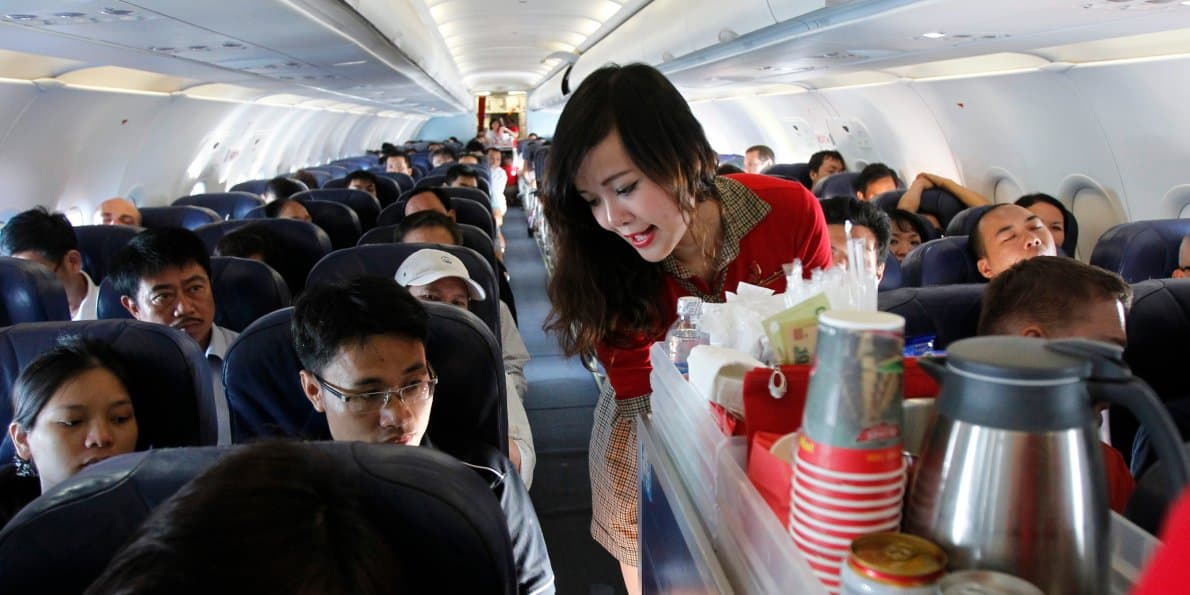 Image Source: businessinsider.com
Summer is fast approaching, this is the time to be getting ready for our summer vacations, but what better way to kick start them than with an ice cold beer? Let's really think about it- at what point does a vacation really begin? Some say it is when you finish your last day of work, some might say the morning of, but let's be real… You're not really on vacation until you're on that plane, sitting back, relaxing and cracking open that first ice cold beer of the vacation. This being said, which domestic airline really does have the best beer list?
A lot of airlines sadly only cater a good beer selection to the more premium classes on board, so in order to win, the airline must serve a great selection to every passenger in every class. It is often that when airlines are awarded for best food, best service, or best drinks, only the premium cabin is considered, which is ridiculous. The majority of people on board are sitting in coach, and they deserve a good drink just like everyone else. This is why flying with Virgin America is the way to go!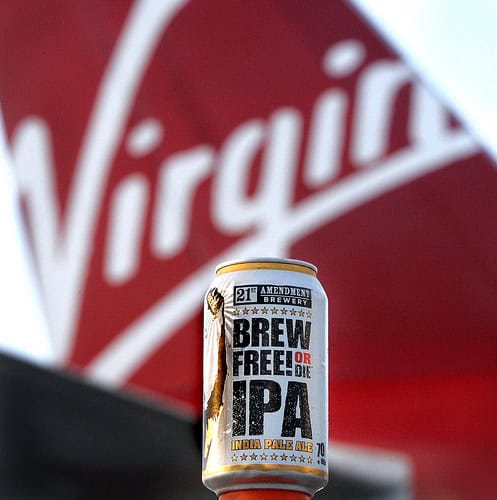 Image Source: brookstonbeerbulletin.com
For all those who already fly Virgin America, congratulations- you have the best in-flight beer list in the U.S. Alongside your staple beers Bud Light and Heineken, Virgin America serves up a wide selection of craft beers, including 21st Amendment Sneak Attack, Die IPA, and Anchor Steam. That's not even the best part! Customers in the main cabin select section, as well as first class, don't have to spend a dime on their booze because as well as soft drinks, beer, wine, and liquor are all included in their airline ticket!
Again, that's not all; Virgin America's snack list is amazing, too! Obviously, your staple nut mix and chocolate chip cookies are on the list, but if you are craving something a little more 'fancy', sea salt popcorn, veggie chips, kettle chips and even jerky sausage is available! Because who wants to drink an ice-cold beer without a salty snack on the side? Still not impressed? For those with a sweet tooth, M&Ms and Vanilla Bean Caramel Popcorn are also available! Can't decide whether you're craving sweet or salty? Dig into the mouthwatering Hail Merry Salted Brownie!
Can't find a flight with Virgin America? Don't worry, Delta comes in at No. 2. While some might say that Delta takes first place in having the best beer list, it is found that the full selections weren't always available on flights. In fact, on a lot of the trips, even though they advertised Sweetwater craft beer on board, the flight attendants stated they rarely have it on board, which is why it is only fair Delta takes second place. Jet Blue takes third places because of its offerings from Brooklyn Brewery and Harpoon.
Source: http://www.dairyinstitute.org/wp-content/uploads/2015/02/cheese2.jpg
Cheese is great anytime of the year, but as with many foods out there, cheeses can be different in taste, texture, and quality with the changing of the seasons. For example, a number of cheeses will exhibit their peak flavor and texture during the cooler/colder months of the year. These types of cheese are classified into two groups, that is (1) cheeses made from the milk of animals that is produced during peak spring and summer months, usually falling between May and October and (2) cheeses made from the milk of animals produced during peak fall and winter months, usually falling between November and March).
Not only do cheeses themselves vary fundamentally from season to season, but they can also exhibit distinct seasonal variability from region to region. This revolves around when the temperatures turn too cold for animals to remain outside. During peak spring and summer months, animals producing dairy products consume fresh grass, wild flowers, herbs and any other plants, shrubs or grasses that nature may sprout up. On the contrary, as the weather turns colder, these animals remain in sheltered environments and their diets consist mainly of dried hay or silage (grasses which are harvested and gathered at their peak state and preserved for the winter by fermentation processes). With this change in seasonal diets, particularly during the winter months, the animal still produces milk, albeit, the volume and flavors are not at their peak as they would be in spring and summer dairy production; during the spring and summer months, the milk has a distinct sweet, herbal flavor from the grasses and wild flowers the animals consume from the mountain side.
While a number of cheeses are best when aged, this is not the case for all cheeses. Non-aged cheeses are at their peak during the spring and summer months. This would include cheeses such as mozzarella, feta and chevre. Cheeses which are aged, however, can take a longer time to reach their peak flavor and texture. This means that cheeses made from animals' milk during the spring and summer months may have to wait until the following year to be able to enjoy the full value of the cheese.
Cheeses made from animals' milk in the spring and summer months which are at their peak flavor and texture by the following winter are:
Appenzeller
Comte
Gruyere
Colston Basset Stilton
Cabrales
Morbier
Raclette
Rogue River Blue
Uplands Cheese Pleasant Ridge Reserve
With the colder months of winter, come cheeses that are produced from the milk of animals whose diet consists mainly of dried hay. These cheeses will be void of many of the distinct, vibrant flavors of cheeses produced from milk produced in spring and summer. However, cheese produced from milk during winter months have a higher fat content which yields very rich cheeses. One of the most highly touted cheeses on the planet comes from winter milk from the same breed of cows that produce summer milk that makes Gruyere called, Vacherin Mont d'Or.
Because of the overall decrease in the overall production of milk during the winter months, winter milk cheeses are generally on the smaller end of the size spectrum while the aging process is over a much shorter time period.
Summer sausage is a seasoned sausage that is thoroughly cured and does not require refrigeration to remain fresh. There are many varieties of this sausage, including cervelat-style sausages such as blockwurst, thuringer and mortadella. People in many countries, especially those across Eastern Europe, have their own varieties of these summer sausages, dating to periods when meat needed to be well-preserved because refrigeration was not an option through salts and other natural preservatives. This food product is often available at butchers and in boutique shops that import special regional foods.
Despite its name, summer sausage is not necessarily made in the summer, although it can be. It is made with meat scraps, like all sausage, so it tends to be made when animals are butchered, which is often in the fall or spring. The sausage might also be made with a combination of meats for efficiency and flavor variety. Cuts are often kept lean to ensure that the sausage does not become rancid during the curing process.
Types of Ingredients
A common combination in summer sausage is beef and pork, although venison and other game meat might be used as well. Some of these sausages also traditionally contain organ meat, although this culinary tradition has waned. Salt is always used in the seasoning of summer sausage because it promotes a sound cure. Pepper, mustard seeds and sugar might be used as well in some regions. People from different areas have their own seasoning traditions, resulting in a wide range of flavors within this diverse family of cured meats.
Careful Curing
After the ingredients are thoroughly combined and forced into sausage casings, summer sausage must be cured. Cures for this sausage vary, with it generally being smoked or dried. Traditionally, air drying is accomplished in the open on large racks that take advantage of seasonal winds. Smoking is slowly done at a very low temperature to create an even, strong cure. Complete curing might take weeks or more than a month, and careful monitoring is needed to ensure that the sausages have not gone bad.
Preparation and Serving
After curing, summer sausage generally can be eaten straight, and it is often served cold. The end texture is semi-dry to moist, depending on the type of cure used. It can be heated or cooked, or it might be tossed with other foods. Some modern versions might be less extensively cured, requiring refrigeration and cooking before it can be used. The flavor of this type of sausage is more mild and less salty than true summer sausage.
Make Shisler's Cheese House your next stop and pick up some of this delicious summer sausage!