Tag:
wine and cheese pairings
Trying to find a gift for that person who has everything? Perhaps you're heading to the family for the holidays and want to take them a gift to say thank you?
We know how tricky that can be, which is why we put together our gifts boxes. No-one can resist the joy of cheeses, jams, and charcuterie. Take along a bottle of wine and you're sure to be invited back next year!
Read on to find out all about what's inside two of our favorite gift boxes and how you can pair them with the perfect wines.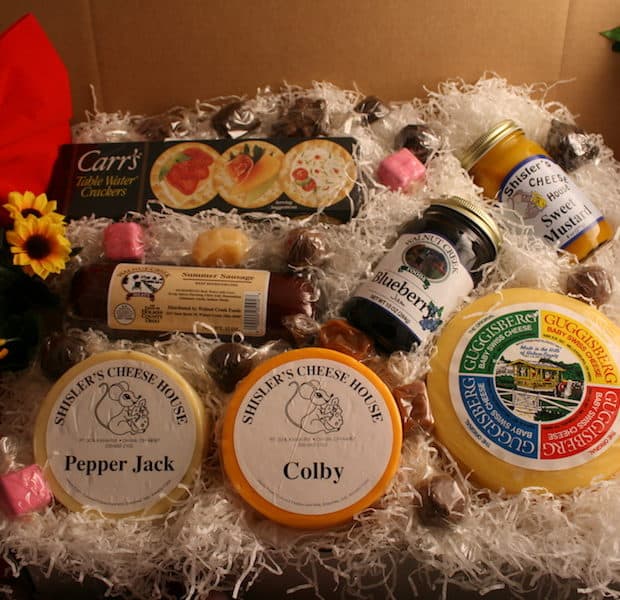 Our Amish Cheese and Goodies collection is a perfect gift for your loved ones this Christmas.
You'll find a 1Lb. Baby Swiss Wheel, a summer sausage link, a ¾ Lb. wheel each of Colby and Pepper Jack cheese, Shisler's Private Label Mustard, home style Amish jam, Carr's crackers, assorted chocolates and 6oz. REACH coffee.
Colby Cheese is very mild and creamy, so it pairs well with light, unoaked white wines such a Pinot Gris, Sauvignon Blanc or Chardonnay. For red wines, you also want to aim for something light such as a fruity pinot noir.
You might be thinking that it's impossible to pair a wine with a spicy cheese like Pepper Jack, but you'll be pleased to find that a rosé will have the sweetness and strawberry flavors to complement the cheese.
One of our other great gifts is the Troyer's Trail Bologna and Cheese box.
Inside you will find a 1Lb. Troyer's Trail Bologna ring, a ¾ Lb. wheel each of Colby and Farmer's cheese and assorted chocolates.
With Farmer's cheese, try a Riesling or a sweet dessert such as Muscat. The peach tones will sit perfectly with the mild creaminess of the cheese.
You can even find a wine to go with Bologna. We recommend a Malbec which is robust enough to sit alongside the smoky Troyer's Trail Bologna.
For the sweet-toothed person, you can also find a wine to go with the chocolates. The general rule for this will always be to find a wine that is sweeter than the chocolate. Try dark chocolate with a Merlot and milk chocolate with Sauternes.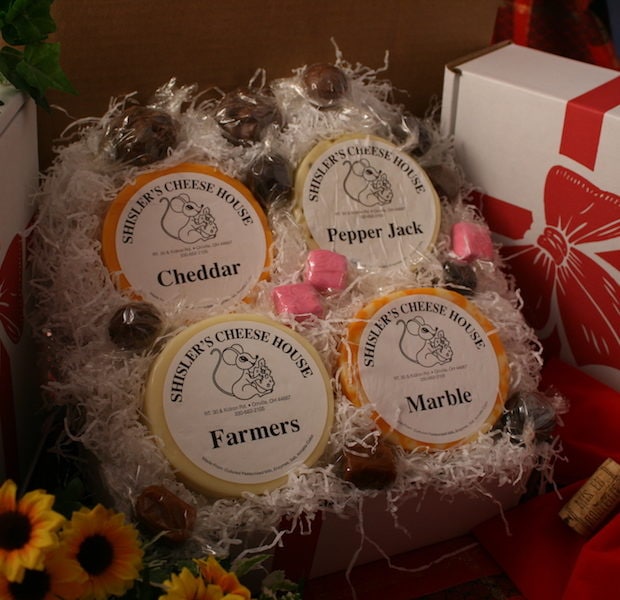 We all know someone who really loves cheese, and that's why we created the Cheese Lover's Gift Box. This contains a ¾ Lb. wheel each of Cheddar, Cojack, Farmer's Cheese and Pepper Jack, along with some assorted chocolates. You can see our wine recommendations for Farmer's Cheese and Pepper Jack above.
Cheddar is a versatile cheese so it stands up alongside lots of different wines. Some of our favorites are an oaky Chardonnay that will bring out the mellowness of the cheese or a vintage port for a real Christmas treat. If you're presenting to this to someone who isn't a wine lover, a hard cider or beer will go well with Cheddar.
Try Cojack with a Cabernet Sauvignon or Shiraz, as the slightly spicy, peppery notes of the wine will perfectly complement the mild cheese.
Don't delay, order your gift boxes today!