Thanksgiving Checklist: Everything You Need to Prepare
We know that it's a busy time of year, so we've put together a checklist to help you prepare for the festivities next week.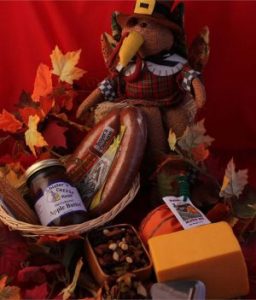 1. The Turkey
Many tables around the country will hold a turkey next Thursday. Now is also the time to make sure that you have a big enough dish to cook your turkey in. If you're brining your turkey, then check that you have a large receptacle to keep it in. You'll want to start this process up to 24 hours before you are ready to roast.
2. A Vegetarian Option
If you have guests that don't eat meat attending your dinner then you will need to prepare a vegetarian main. There are so many recipes out there these days, so have a quick search online. If you're unsure what to serve, you could even ask your guests for ideas so that you know you're serving something appropriate.
3. The Sides
You'll know which sides are family favorites! Make sure that you have all the vegetables in advance. You can also start prepping and storing them ahead of time so that everything is simple on the day. If you have family coming to stay with you, why not make an evening of doing the prep the night before over a drink? If you are making the stuffing, stock up on ingredients and dry out your bread.
 4. The Sauces
Cranberry sauce and gravy are absolute essentials, but they can both be made ahead of time and stored. You can even freeze gravy!
5. Dessert
Whether you're buying your desserts or making them, no Thanksgiving meal is complete without a sweet treat. If you need to order them then now is the time to make those last minute orders.
6. Drinks
Make sure that you have stocked up on a range of wines and beers as well as non-alcoholic options for little ones and those who don't drink. Put anything that needs to be chilled into the refrigerator ahead of time.
7. Snacks
For those moments when you get last-minute guests or you all need a snack as you settle down in front of the TV. Make this even easier by picking up our Thanksgiving Menu Collection. It includes Troyer's Trail Bologna Ring, Cheddar Cheese, Cranberry Delight Mix, Shisler's Private Label Apple Butter, Pumpkin Muffin Mix, and Uncle Ozgood's Popcorn on the Cob. It'll tick this straight off your Thanksgiving checklist without any stress at all.
8. Table settings
Whether you prefer a minimalist or plentiful style, it makes the day seem like an occasion if you set the table beautifully. Use your best dishes and flatware, light candles and create a centerpiece that will welcome your guests.
9. Prepare for house guests
If you are having house guests, prepare for their arrival. Make sure the beds have clean linens and that you've collected together any supplies that will be needed. Providing the WiFi password written down somewhere will stop people from asking you for it when you are preparing dinner, although you might want to take the opposite approach and ask people to put their phones away at the door!
10. Prepare for leftovers
Make sure that you have bread in the house for turkey sandwiches! Collect some boxes ready for guests to take away leftover treats to enjoy in the days after Thanksgiving.
We hope this helps you to prepare for a wonderful Thanksgiving!