Add Amish butter cheese to any meal or snack and enjoy its creamy richness. This is a unique type of cheese with an exotic butter flavor that melts in your mouth. Made by the Amish, this butter cheese is used by people in many ways.
Amish butter cheese is derived from butterkase, its closest ancestor. Butterkase is a buttery and creamy cheese that originates from Austria and Germany. The cheese is pale yellow in color in spite of the red or golden natural rind. Butterkase is a popular cheese with 50 percent fat content. This cheese is semi-soft in texture.
Amish butter cheese does not come with the rind like butterkase. The pale yellow cheese with its buttery, rich, creamy flavor is obtained from cow's milk. Good quality Amish butter cheese is made from milk collected from cows that are not on artificial hormones. No artificial ingredients, flavors or preservatives are added to the Amish butter cheese during the preparation process.
Most of the Amish countries including Illinois, Indiana and Ohio are authentic sources of genuine Amish butter cheese. From the Midwest region, this butter cheese is then distributed by vendors to other parts of the nation through retail stores and online.
Bite into a piece of delicious Amish butter cheese and you will find its creamy and smooth flavor mesmerizing. The cheese tastes just like havarti and is popularly used for melting in fondue recipes. Amish butter cheese is enjoyed by many as a snack. If you place an order for burgers or sandwiches in any of the Amish countries, you will find them dripping with the easy to slice, semi-soft Amish butter cheese.
If you are fond of only the best quality cheese, it is important to choose authentic Amish butter. Remember that while most of the products labeled Amish butter cheese are genuine, some of them may just refer to Amish as a method of cheese making. These do not come with the Amish guarantee even though the butter cheese is supposedly made without preservatives and uses the same hormone-free cows. This is because milk is obtained from cows owned by different people and there is no guarantee that all cows are hormone free.
Enjoy the goodness of Amish butter cheese melted, grilled or sliced. If you are a cheese lover, you will certainly enjoy its versatility and smooth flavor. This butter cheese is the perfect choice for snacks and sandwiches.
There is nothing more satisfying than biting into a slice of semi-soft, young, fresh baby Swiss cheese made from whole milk. The characteristic small holes make this cheese all the more exciting and unique.
Baby Swiss cheese is a part of the Swiss cheese family that is known all over the world as the holey cheese. You can find this cheese at retail stores and delis, mostly in Ohio. To make it convenient for you to use it in sandwiches and other recipes, this cheese is sometimes sold pre-sliced. If you want it for larger cooking projects, you can buy baby Swiss cheese in wheels.
Swiss cheese is made from cow's milk. Lactic acid in the cheese is broken down using bacteria to generate carbon dioxide which in turn results in the formation of bubbles during the process of aging. To obtain larger holes and complex flavors, the cheese is allowed to age for a longer time.
Many steps are altered during the cheese making process to make baby Swiss cheese. To obtain that exquisite, buttery rich flavor, whole milk is used to make the cheese. In order to slow down the bacterial digestion process, water is used to cut the milk. As compared to traditional Swiss cheese, baby Swiss cheese is aged for a shorter period of time to create the more mild flavor.
Bite into a bit of baby Swiss cheese and what will strike you first is its creamy, nutty and buttery flavor. This cheese is ideal to be used in a wide range of dishes and also melts quickly in the mouth. It is easier to work with this cheese as it comes with small holes and is easy to slice. The small holes make cooking with baby cheese enjoyable.
If you are planning to use this cheese for cooking purposes, it is essential choosing evenly colored ones with holes that are equally sized. The cheese should have a distinct buttery aroma and should resemble a pale straw. Before you buy the cheese, it is better to taste if the shop allows it as this is the only way to determine its quality. Otherwise, you must carefully observe for signs of cracking, mold and dampness. All these are indications that the flavor has been compromised.
Baby Swiss cheese can be layered with turkey, lettuce, ham, sliced onions and tomatoes on dark rye, light rye or wheat bread. Using this cheese you can make mouth-watering sauce for your steamed vegetables. Try the delicious French bread filled and baked until bubbly with chopped scallions and shredded baby Swiss. You can also enhance frittatas, omelets and quiches with this amazingly delicious cheese.
What's your favorite use for Baby Swiss cheese?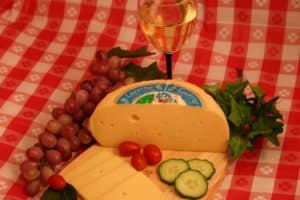 Most of us are partial to cheese and enjoy choosing from over thousand different varieties. Cheese comes in a variety of different textures, flavors and aromas. If you are very fond of cheese and are health conscious, low fat varieties such as Lucerne cheese can add nutrition and flavor to our food through the year.
Cheese is categorized into varieties based on the methods used for production, type of milk used, local preference and taste. Cheese making is an art by itself and is as delicate as wine making. There are many health benefits of including low fat cheese in our daily diet.
Cheese enhances bone health and prevents osteoporosis. Cheese is also rich in calcium and offers all related benefits. For vegetarians, cheese provides ample protein. A cube of cheese contains around 5 to 7 grams of protein.
One of the most popular low fat cheeses used by dieters is Lucerne cheese. This cheese comes with small holes and is semi-soft and young. It is low in sodium and fat and comes in a mild, smooth and light flavor. If you are cautious about your sodium intake or if you are on a strict diet, this cheese is ideal for you.
The aging process during the making of Lucerne cheese and other low fat or normal cheese breaks down the milk sugar. It is therefore low in carbohydrates and ideal for diabetics. Low fat cheese is also ideal for those who are intolerant to lactose as it contains minimal or no lactose.
You can enjoy cheese in many ways. The best way to enjoy the goodness of Lucerne cheese is to grate it over soups and salads. If you wish to enjoy mouthwatering, delicious, cheese dripping sandwiches, add in a slice to your whole wheat vegetable sandwich.
Make steamed broccoli and melt Lucerne cheese over it to enjoy a delicious snack. This low fat cheese can also be had with fruits as appetizers. You can enjoy cubes of Lucerne cheese for a snack as you do not have to worry about the fat content.
Lucerne cheese comes with 17% fat calories, 38% protein calories and 45% carbohydrate calories. Add in a generous quantity of low fat cheese like Lucerne cheese in your diet and complement this with regular exercise and you are on your way to a healthy and fit lifestyle. You can find recipes for mouthwatering dishes using Lucerne cheese. Be sure to try them all.
In addition to Lucerne cheese, we also have other healthy cheeses including Farmer's Cheese, Lacy Swiss, Lacy Baby Swiss, and several varieties of yogurt cheese.  Check out our skinny alternatives section for more healthy yet delicious alternatives.
Please tell us your favorite use for Lucerne Cheese by commenting in the box below.
NUTRITIONAL FACTS:
Serving Size 1 Oz. (28g) Servings Per Container 32 Calories 90
Total Fat 7g (9%)
Saturated Fat 4.5g (23%)
Trans Fat 0g
Cholesterol 15mg (5%)
Sodium 65mg (3%)
Total Carbohydrate <1g (0%)
Dietary Fiber 0g (0%)
Total Sugars 0g (0%) – Includes 0g added sugars
Protein 8g
Vitamin D <1 mcg (0%)  ::  Iron 0 mg (0%) ::  Calcium 279 mg (28%) ::  Potassium 20 mg (0%)
*Percent Daily Values (DV) are based on a 2,000 Calorie Diet