Baked Cheese Recipes: Our Top 5
Did you know that you can bake cheese? It's a delicious way to eat our favorite food, especially at this time of year when we're waiting for spring to arrive. We've put together 5 great baked cheese recipes. Read on to find out which cheeses bake best.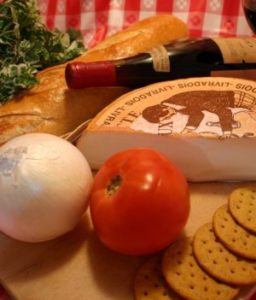 1. Camembert
Camembert is a surface-ripened cow's milk cheese. It's soft and creamy, with a pungent aroma. You'll normally buy it in a wooden box. Start by unwrapping the cheese and making sure that any stickers have been removed. Replace it into its box. Make several cuts in the top of the cheese and add some garlic cloves and rosemary. Bake at 400F for 20 minutes, or until the cheese is gooey.
Serve with baguettes and crudites for everyone to dip in the melted goodness!
2. Raclette
Whilst you can serve raclette cheese at the table using a tabletop grill, you can also easily bake it in the oven. Simply put your cheese into a skillet with a drizzle of olive oil and any flavorings that you want to add such as herbs, garlic or spices. Bake it at 400F for around 8 minutes or until it is golden and bubbling. Serve it with a fruity white wine such as Sauvignon Blanc for a real treat.
3. Feta
You might not have thought to bake feta before, but it's delicious! One of the simplest ways to bake it is to place the whole block of feta on a baking sheet, drizzle over 1tbsp of olive oil and the juice of a lemon, along with 1 crushed garlic clove and 1tsp oregano. Grind some black pepper on the top and put it in the oven at 400F for 5 minutes. It will start to brown at the edges, but no more as then it will dry out. You can serve this mixed into pasta or over roasted vegetables such as zucchinis, tomatoes, and peppers.
4. Goat's Cheese
Goat's cheese with a rind bakes very well as it melts slightly while retaining it's lovely, creamy texture. Try baking it in the oven at 400F for 5 minutes. Serve it on a salad of bitter leaves, tomatoes, and olives with a lemony dressing. A light white wine, such as a Pinot Grigio, would work well with this dish.
5. Blue Cheese
Did you know that you can bake blue cheese? Place a good wedge of cheese in a baking tray, using a knife to make a few holes around the cheese. Pop it in the oven at 400F for 10 to 15 minutes. This will create a melted blue cheese dip, perfect for slathering onto bread or pouring over a salad. You could even use it as a dip for chips!
Have you tried baking cheese? Let us know which of our baked cheese recipes is your favorite in the comments below.