Cheese of the Month: Raclette
To get 2020 off to a fun, cheesy start we have decided to introduce a Cheese of the Month blog post!
We will share with you some of our favorite cheeses to eat throughout the seasons, some ideas for eating them and even wine pairings so that you can make a party of it.
January's Cheese of the Month is…
Raclette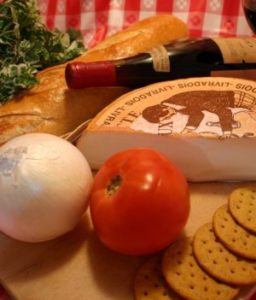 What is Raclette?
Raclette (ra-klet) is a semi-firm, salted cheese made from cow's milk. It originated in the Swiss canton of Valais, but is today also produced in the French regions of Savoie and Franche-Comté.
The term raclette derives from the French racler, meaning "to scrape". Raclette cheese is heated, either in front of a fire or by a special machine, then scraped onto diners' plates. It's the perfect cozy cheese for the colder winter months!
What is the history of Raclette?
Raclette is mentioned in medieval writings and was then known in the German-speaking part of Switzerland as Bratchäs, or "roasted cheese." Traditionally, the Swiss cow herders used to take the cheese with them into the mountains. They would cook it by the campfire and scrape it onto bread. Can you think of anything more delicious than a meal of melted cheese on the top of a mountain? We certainly can't!
Don't worry though, you don't need to climb a mountain to enjoy this incredible cheese.
There are a few options for serving raclette at home. You can invest in, or borrow, an electric table-top grill. These have small pans that make the job of melting the cheese easy and fun. Each person fills their small pan, known as a coupelles, with cheese and melts it before adding it to their plate.
If you have a fire pit outside, and don't mind standing in the cold, or an indoor open fireplace, then you can actually heat the cheese next to this, just like the cowherds! Scrape the rind off the cheese and put it on a heatproof plate or stone. Then place the cut edge next to the flames until it is soft and gooey. Using oven gloves, carefully pick up the cheese and use a knife or spatula to scrape the gooey layer to push melted cheese over boiled potatoes. Do this on a big serving dish if you are serving guests and then everyone can help themselves to this.
Alternatively, you can use your oven. Cut the cheese into fairly thick slices (around 3/4 inch) and arrange the slices in a baking tray on top of boiled potatoes. Pop the whole thing in the oven and bake until the cheese is completely melted.
However you've melted your cheese, you should now have a plate of cheese and potatoes. The traditional accompaniments are fresh bread, cornichons, and small pickled onions, as well as a good seasoning with salt and pepper. You can serve yours in your own way, though! Try it with meats, other cheeses and a variety of chopped vegetables, especially if you're looking to make this into the whole meal.
Serve this all with a glass of Sauvignon Blanc, Pinot Noir or a light wheat ale.
Have you tried raclette? What's your favorite way to serve it? Let us know in the comments below!