World's Most Bizarre Chocolates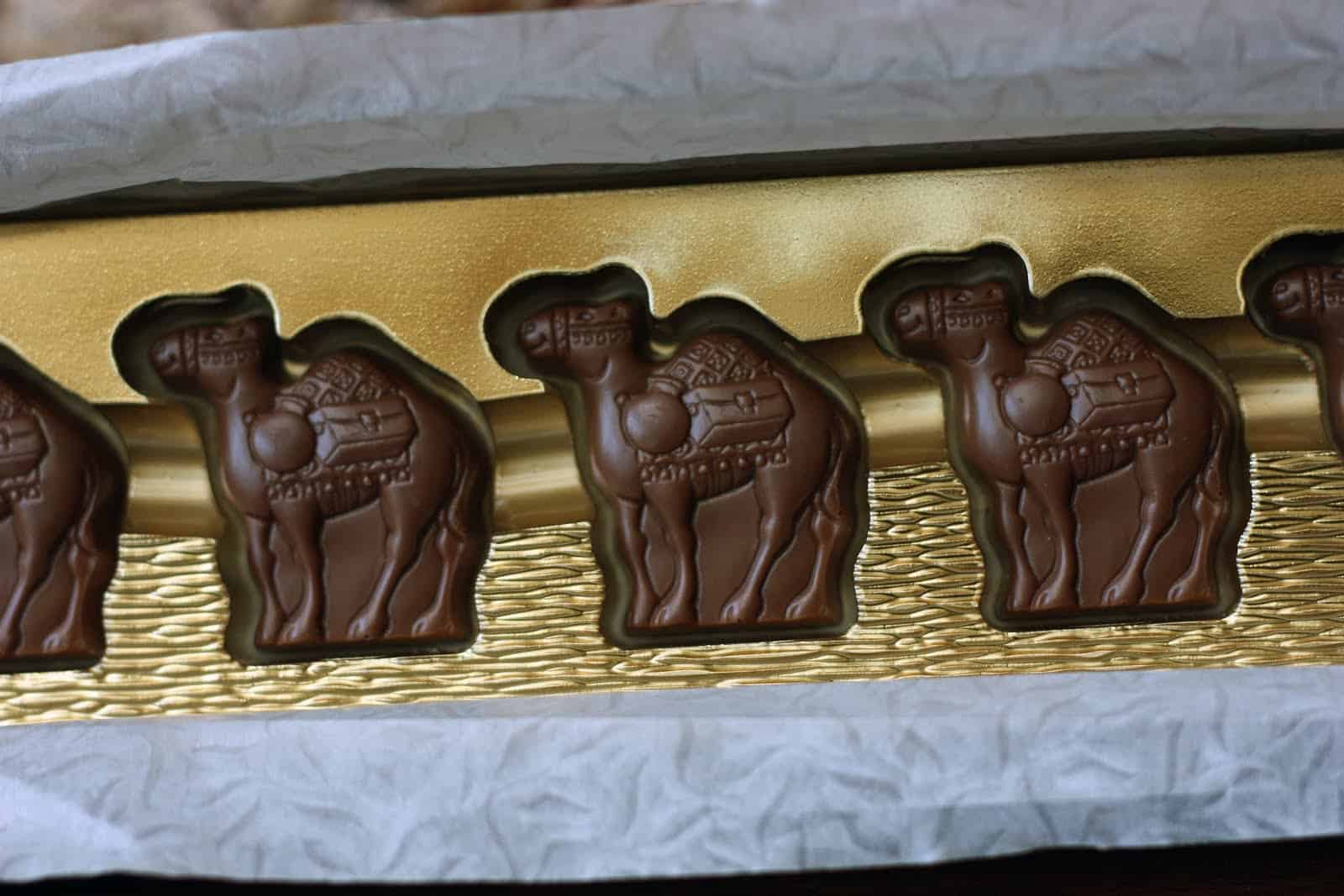 Image Source: 1.bp.blogspot.com/_q23uW6lOIPE/TRcZzbr6ghI/AAAAAAAAACo/YVOT3z6_mzo/s1600/camel%20close-up.jpg
Plum Liqueur Chocolate
These chocolates are from Japan but are also available in Korea, China, Thailand, and Taiwan. Sadly, they do not ship to the U.S. and the only way to purchase them is at the annual New York Chocolate Show. Each of these beautifully hand-decorated truffles is made with ganache which contains Japenese plum Liqueur (Umeshu). However, the liqueur is actually made from unripe apricots that are soaked in sugar and shochu, which is a semi-strong distilled Japenese spirit.
Havana Tobacco Chocolate
Although it is illegal to bring these chocolates into the U.S., they originate from Burges and Antwerp in Belgium but are also available in upscale restaurants in Germany, Holland and other areas in Belgium. A self-proclaimed shock-o-latier Dominique Persoone crafts around 60 bizarre varieties of truffles, but his most illicit have got to be the Havana. It is so illicit because it is crafted with real cigar leaves which are marinated in rum and cognac. The flavor leaves a very peppery feeling in your throat, simulating the sensation of actually smoking a cigar.
Pig's Blood Chocolate
A chocolate shop in Portland, Oregon, took inspiration from blood sausage, which is popular in Western Europe and Asia. The owner, who is a former sous chef, only makes this 'special' chocolate for holidays such as Halloween and Valentine's Day. This bizarre creation is made with cinnamon, smoked Spanish paprika, and blood. It is then enrobed in Felchlin 72 percent Ecuadoran chocolate and dusted with more paprika. It is no surprise that this chocolate is one of the least popular flavors available at the chocolate shop, but nonetheless, it still receives special orders.
Cucumber Vodka Chocolate
Well, this is one way to get in your '5-A-Day'. This exotic, handmade truffle is crafted with traditional French methods. The boldly flavored white chocolate ganache is infused with cucumber purée, mint, and vodka. It is then covered in dark chocolate and leaves a slight tingle on the tongue, because of the alcohol. This chocolate is only available for six months out of the year starting from April because fresh ingredients are insisted by L'Artisan du Chocolat.
Absinthe Chocolate
For all those who like to party hard, Absinthe Chocolate is available in New York, in a shop on the Lower East Side. This chocolate which was once an underground experiment, flourished into a product that people buy and enjoy, after the absinthe ban in the U.S. was lifted. This interesting chocolate consists of a Callebaut bittersweet chocolate ganache with pear, anise seed, fennel, and commercially brewed absinthe.
Shiitake Mushroom Chocolate
This ganache contains dried mushrooms and earthy Peruvian dark chocolate. It is hand dipped in 70 percent Colombian chocolate. Shiitake is from Asian cuisine for umami. It usually has a savory taste but in this chocolate, it lends a subtle, warm flavor. The truffles are created with a personal and direct touch due to Fair Trade certification being expensive for small farmers. This ensures that the cacao is improved and the farmers earn a fair wage. The truffles are available in the Midwest or online.
French Toast Chocolate
Inspired by today's comfort foods such as tortilla, chips, french toast and ramen, Komforte Chockolates created French Toast Chocolate. It contains a wide variety of ingredients which gives it, its butter flavor- 33 percent milk chocolate, cinnamon, bagel chips, nutmeg, and molasses. It is considered a specialty chocolate and is available in specialty store across the country and online.
Gouda Cheese Chocolate
For all you cheese and chocolate lovers, Japan has found a way to formulate both into a Gouda Cheese Chocolate bar! Bizarre kinds of chocolate are something Japan is known for, they are a big hit with tourists, becoming popular souvenirs over the years. Soy sauce is one of the favorites for chocolate in Japan. However, one of the most difficult flavors to find is the European Cheese. This chocolate contains 58 percent Gouda by weight, which leaves a salty, smoky and sour taste.
Camel's Milk Chocolate
This chocolate was created by Dubai's ruler, Sheikh Mohammed bin Rashid al-Maktoum, and Al Nassma is the only company which produces the camel's milk chocolate. Camel's milk chocolate is literally considered to be "liquid gold" in the Middle east because the milk has 3 times the amount of Vitamin C than cow's milk. It's also considered to be "liquid gold" because of how difficult the milk is to obtain, as camels make a fraction of the amount of milk that cows do. Its flavor is quite malted and minerally. It is available in selected countries- UAE, Oman, Japan, and online.