National Creme Brûlée Day
Today is National Creme Brûlée Day! If you haven't tried this special dessert then you are missing out on a real treat. It's one that we love here at Shisler's Cheese House. Read on to find out more about it and how to make it.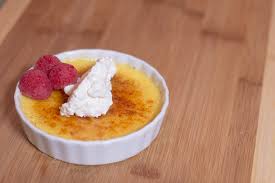 The history of National Creme Brûlée Day
During the Medieval era, Crema Catalana was regularly served in Spain and consisted of a custard topped with caramelized sugar. In the 15th century, a burnt cream dessert began to be served at Trinity College, Cambridge in England. This became a more widely made dessert in Britain in the 1600s, sometimes called Cambridge Burnt Cream or Trinity Cream. The first printed recipe for a dessert called crème brûlée appeared in the 1691 edition of the French cookbook Le Cuisinier Royal et Bourgeois.
How to make Creme Brûlée
To make 6 small ramekins of crème brûlée:
6 egg yolks
6 tablespoons white sugar
1/2 teaspoon vanilla extract
2 and 1/2 cups of heavy cream
2 tablespoons brown sugar
Whisk together the egg yolks, white sugar and vanilla extract until they are creamy.
Put the cream into a pan and heat on a low heat until small bubbles start to appear at the edge. It should not start to boil completely.
Take the cream off the heat and whisk it into the egg yolks quickly.
Pour the mixture into the top pan of a double boiler and heat gently until it is thick enough to coat the back of a spoon. This should only take around 3 minutes.
Pour the mixture into small, heatproof ramekins. Place these in a baking tray. Pour a splash of water into the baking tray. This helps the custard to set without cracking or curdling.
Place the baking tray in the oven at 300F for 30 minutes.
Remove from the oven and cool to room temperature. Then refrigerate for at least one hour. If you have the time, refrigerate them overnight.
Turn on the broiler. Sprinkle a layer of brown sugar over each ramekin and then place them under the broiler to melt and caramelize the sugar. Watch it very carefully as it can burn quickly. Alternatively, if you have a cook's blow torch, you can caramelize the sugar using this.
Leave the crème brûlée to cool and return to the fridge for a short time to set the custard fully.
Once you are ready to serve, you can enjoy cracking into the sugar with a spoon and hearing the satisfying sound of your work! This is definitely an impressive dish to serve at a dinner party. Your guests will appreciate your hard work and a delicious dessert.
Variations on Creme Brûlée
There are many ways that you can add to the basic crème brûlée. Try adding raspberries, either whole or pureed, to your custard for a fruit variation. You could use spices such as cinnamon to add a new twist on the flavors. We have even tried a bay leaf crème brûlée which was interestingly rather savory!
Will you be celebrating National Creme Brûlée Day by making one at home? Let us know in the comments below!