Happy 4th of July!
Happy 4th of July to all of our wonderful customers from all of us at Shisler's Cheese House!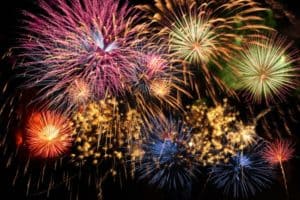 However you're celebrating, we hope that you have a safe and happy day.
We decided to put together a list of celebrations around the country, in case you were wondering how your fellow Americans were spending their day.
In Key West, Florida, the annual Key Lime Festival kicks off with a pie eating contest and the day will end with a huge fireworks display!
New York City tops the impressive fireworks with around 40,000 being set off.
In San Francisco you'll hear live music all across the city.
San Diego hosts Southern California's largest fireworks, called the Big Bay Boom!
In Boston you can hear the Boston Pops Orchestra playing  Tchaikovsky's "1812 Overture," complete with cannon fire.
And did you know…?
It's traditional in New England to eat salmon with green peas on 4th July.
There are around 15,000 fireworks displays across the country, with some cities spending millions of dollars on them.
Around 150 million hot dogs are eaten by Americans on this day alone!
The Declaration of Independence wasn't actually signed until August 2nd 1776, but it was printed on July 4th!
Have a great day everyone! Let us know how you're celebrating in the comments!