It's National Cheeseburger Day!
Today is National Cheeseburger Day! We thought it was a great time to bring you some facts about cheeseburgers and some ideas for celebrating.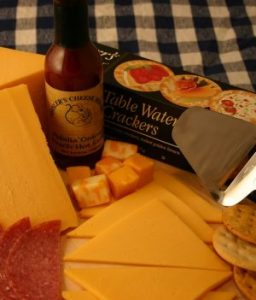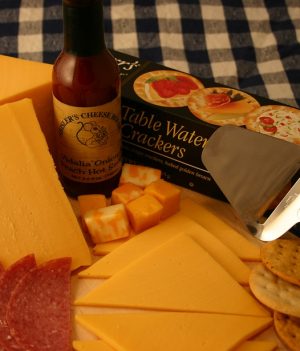 When was the cheeseburger invented?
While the exact date of the invention of the cheeseburger is unknown, it was created in 1926 by Lionel Sternberger in Pasadena, CA at his father's sandwich shop called the "Rite Spot." The invention of the burger is hotly contested, so we won't wade in on that one!
What cheese is best?
Now, this is an age-old debate: which cheese should you put on your cheeseburger?
The classic is probably American Cheese. Our Sharp American Cheese is produced in Wisconsin. American Cheese is orange, yellow, or white in color and mild in flavor, with a medium-firm consistency, and melts easily.  It has traditionally been made from a blend of cheeses, most often Colby and Cheddar. It originated when British colonists began making cheddar after they arrived in America. By 1790, American cheddars were being exported back to England and the British referred to them as "American cheese" or "Yankee cheese". Post-Revolution Americans promoted this usage to distinguish the exports of their proud new nation from European cheese.
Swiss cheese is another great choice. Our locally made Amish swiss cheese closely resembles the original Swiss Emmental Cheese and has a nutty, bittersweet taste that pairs well with beef burgers. The process of making Swiss cheese involves natural bacteria consuming the lactic acid in the cheese. This releases carbon dioxide gas, which forms bubbles that become the holes in the cheese. These are often referred to as "eyes".
For something a little more unusual that packs a flavorful punch, try adding a slice of blue cheese. These cheeses have had Penicillium cultures added, creating dark blue or blue-grey veins throughout the cheese and a sharp, salty flavor.
Our final exciting choice is to add a spicy cheese! We love our Hot Habanero Cheddar. It's a combination of vintage aged cheddar, habaneros, and jalapenos. It adds a great southwestern flavor to your burgers. Be careful though, it's a spicy one! Try a little before you pile it into your bun.
Which cheese would you pick? Have we missed out one that you love to put on your cheeseburgers?
How should you celebrate?
Get a free burger! All over the country, restaurants are offering free or discounted cheeseburgers to celebrate the day. Search for one in your city and head over!
Make cheeseburgers from scratch. You might have never done this but it's a surprisingly easy thing to make. You can find recipes for burgers from the simple to the sublime online, but at its core, it is simply beef and some seasoning, brought together into a patty. Of course, you'll want to add a slice of cheese today!
Have a cheeseburger competition. Grab your burgers and lots of different types of cheese. See who can come up with the best combination. You pick the reward!
We hope that you all have a fun National Cheeseburger Day. Let us know how you're celebrating in the comments!