How to Create a Charcuterie Board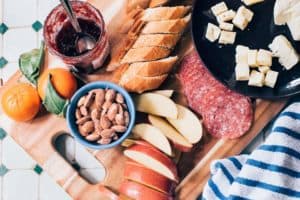 We've shown you how to create a balanced cheeseboard before, but today we want to help you create a great charcuterie board. Add a bottle of wine, and you've got a party! Read on to find out about all of our tips. We hope that it will inspire you to host your family or friends and treat them to a selection of your favorites.
Think about colors and textures
You want to make your charcuterie board as vibrant and interesting as possible. Try to include a variety of colors and textures that will entice your guests. After all, they do say that we eat with our eyes first. Arrange the board so that the colors create contrast and draw you in.
Create abundance
Try to make your board look as full as possible so that it seems like there is a real abundance of fantastic food on offer. If you're serving a small group, use a smaller board so that you can still pile the produce high. Try layering each item up so that there is enough for all of your guests. You want them to be able to try everything instead of holding back.
Include a variety of flavors
This is probably the easiest part of the process. Select some of your favorite meats, but try to think about your guests as well. Include both smoked and non-smoked meats, as well as sausage styles. Check out our selection – you're sure to find something for every palate.
4. Add seasonal fruit 
This is a great way to add color and flavor to your board. It will also give your guests a chance to experiment with different flavors. Classics would be apples or figs, but we know that you'll find something original to try.
5. Find great jams, pickles, and preserves
We love adding pots of delicious preserves to a charcuterie board. Simply serve the jar and a spoon to encourage your guests not to be shy to try them. This will look much more elegant than trying to spoon it onto the board. Check out our Jams & Jellies and Pickles & Peppers sections.
6. Try something unexpected
Everyone has seen a charcuterie board with some simple cheeses and meats, so try to add an element of surprise. You could try nuts, crackers in unusual flavors or other snacks to add crunch to the board. You could even serve some chocolate for your guests to try. Experiment with your own ideas and see what your guests love.
We hope that you have enjoyed our charcuterie board tips. As always, try out different things to find the ones that you and your family love. Remember, if you pop into the store we are always on hand to help you pick out brilliant pairings. We can also recommend wine to drink with your charcuterie and cheese.
What would be on your perfect charcuterie board? Let us know in the comments!