Smoked Meats: Recipe Ideas
We know that you are always looking for new recipe ideas and we always want to make sure that you have them. We also love to help you find new products that you can enjoy from Shisler's Cheese House. Today we're exploring our range of smoked meats from Streb Meats to show you how you might use them.
Streb Meats is a third generation family-owned company that has been famous in our area for over 70 years.  All of their meats are locally raised and hickory smoked in a real smokehouse.  Their American made quality has always been a proud addition to our top quality product lineup. Pop in today and you'll find us ready to serve you up some of their delicious creations with plenty of ideas for how to enjoy them at home. 
Streb Meats Boneless Smoked Ham
We love Streb Meats' fresh cut, fully cooked, and locally raised Boneless Smoked Ham. It's great in sandwiches, with or without cheese, and we particularly recommend adding some pickle or relish.
It's also brilliant shredded into casseroles or mixed into pasta dishes. This is one of our favorite smoked meats because it's can be used in so many different ways. You can allow it to add subtle flavor or be the star of the show.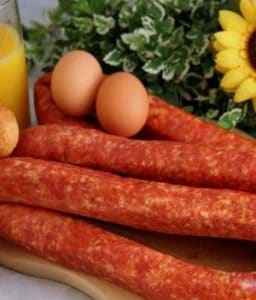 Streb Meats Fresh Smoked Sausage
Our fresh smoked sausage is another firm favorite from Streb Meats.
It's great in a fresh tomato sauce with pasta and a good grating of Parmesan. We also recommend making a breakfast skillet with potatoes, onions, garlic, and smoked sausage. This is especially delicious with a poached egg on top!
Add excitement to baked beans with some smoked sausage and a good dose of barbecue sauce. It's also delicious in lots of rice and pasta dishes.
Streb Meats Smoked Bacon
Our final choice in today's list of smoked meats is smoked bacon. Of course, there are so many ways to use bacon.
Cook up the classics like spaghetti carbonara or a quiche lorraine to get a full hit of bacon flavor. Fry up some bacon with pancakes for a weekend breakfast treat.
We also love to use it as a quick flavor boost for salads. Simply fry some slices of bacon and crumble them over your dish.
For a surprising addition to your dishes, try making bacon butter. Finely chop cooked bacon, in a food processor if you have one. Mix the pieces into some butter, add freshly ground black pepper, and then blend again until combined. Pop this in a dish or wrap it and chill for up to 3 days. Try serving it with greens, corn on the cob, or rustic stews.
To complement smoked meats, look for bold wines with spice and oakiness. A Zinfandel would work well, or for something more unusual pick up a bottle of white Rioja. For beer lovers, try an India Pale Ale.
How do you like to use smoked meats in your cooking? Let us know your ideas in the comments below!