We know that you are always looking for new recipe ideas and we always want to make sure that you have them. We also love to help you find new products that you can enjoy from Shisler's Cheese House. Today we're exploring our range of smoked meats from Streb Meats to show you how you might use them.
Streb Meats is a third generation family-owned company that has been famous in our area for over 70 years.  All of their meats are locally raised and hickory smoked in a real smokehouse.  Their American made quality has always been a proud addition to our top quality product lineup. Pop in today and you'll find us ready to serve you up some of their delicious creations with plenty of ideas for how to enjoy them at home. 
Streb Meats Boneless Smoked Ham
We love Streb Meats' fresh cut, fully cooked, and locally raised Boneless Smoked Ham. It's great in sandwiches, with or without cheese, and we particularly recommend adding some pickle or relish.
It's also brilliant shredded into casseroles or mixed into pasta dishes. This is one of our favorite smoked meats because it's can be used in so many different ways. You can allow it to add subtle flavor or be the star of the show.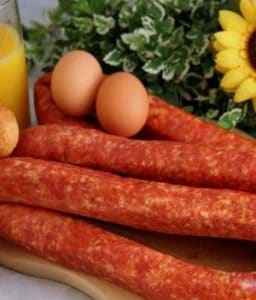 Streb Meats Fresh Smoked Sausage
Our fresh smoked sausage is another firm favorite from Streb Meats.
It's great in a fresh tomato sauce with pasta and a good grating of Parmesan. We also recommend making a breakfast skillet with potatoes, onions, garlic, and smoked sausage. This is especially delicious with a poached egg on top!
Add excitement to baked beans with some smoked sausage and a good dose of barbecue sauce. It's also delicious in lots of rice and pasta dishes.
Streb Meats Smoked Bacon
Our final choice in today's list of smoked meats is smoked bacon. Of course, there are so many ways to use bacon.
Cook up the classics like spaghetti carbonara or a quiche lorraine to get a full hit of bacon flavor. Fry up some bacon with pancakes for a weekend breakfast treat.
We also love to use it as a quick flavor boost for salads. Simply fry some slices of bacon and crumble them over your dish.
For a surprising addition to your dishes, try making bacon butter. Finely chop cooked bacon, in a food processor if you have one. Mix the pieces into some butter, add freshly ground black pepper, and then blend again until combined. Pop this in a dish or wrap it and chill for up to 3 days. Try serving it with greens, corn on the cob, or rustic stews.
To complement smoked meats, look for bold wines with spice and oakiness. A Zinfandel would work well, or for something more unusual pick up a bottle of white Rioja. For beer lovers, try an India Pale Ale.
How do you like to use smoked meats in your cooking? Let us know your ideas in the comments below!
Today we continue our exploration of cheeses of the world with a look at Romano Pecorino.

What is Romano Pecorino?
Romano Pecorino is a cheese imported from Southern Italy. It is salty and firm, making it an excellent grating cheese. The flavor of Romano Pecorino is quite distinctive, and it's an important ingredient in many south Italian dishes. It is sharper than the similar Parmesan cheese. This is one of our newer imports that we have been adding to our selection and will continue to add in the future.
The history of Romano Pecorino
Romano doesn't refer to Rome the city, but to the Romans, who were already making Romano Pecorino 2000 years ago.
Lucio Moderato Columella, who wrote De Re Rustica, says, "the milk is usually curdled with lamb or kid rennet, though one can use wild thistle blossoms, càrtame, or fig sap. The milk bucket, when it is filled, must be kept warm, though it mustn't be set by the fire, as some would, nor must it be set too far from it, and as soon as the curds form they must be transferred to baskets or molds: Indeed, it's essential that the whey be drained off and separated from the solid matter immediately. It is for this reason that the farmers don't wait for the whey to drain away a drop at a time, but put a weight on the cheese as soon as it has firmed up, thus driving out the rest of the whey. When the cheese is removed from the baskets or molds, it must be placed in a cool dark place lest it spoil, on perfectly clean boards, covered with salt to draw out its acidic fluids."
Though modern cheese makers use heaters rather than the fireplace and use calibrated molds rather than baskets, the basic process has remained the same. It is a very distinctive technique and this imparts a characteristic salty sharpness to the cheese. Romano Pecorino is made from the milk of sheep that have grazed pastures with specific combinations of grasses so that specific flavors are imparted to their milk.
It's become a popular cheese around the world, known for its fantastic flavor. Currently, about 20,000 tons of  Romano Pecorino are exported every year, 90% of which go to North America.
How should I eat it?
It doesn't melt into strings when it is cooked, making it a great addition to a cheese platter, especially with fruit. We particularly love it with apples and pears. It makes a great snack with a piece of crusty bread and a glass of red wine.
As it grates so well, it's perfect with pasta dishes, bread, or baked casserole dishes. Pop a chunk of it on the table with a fine grater for guests to add their own garnish.
It also works well in salads, curled into shavings, or grated over soups. We particularly like it with a bowl of rich tomato soup. If you are making pizza at home, you could try using Romano Pecorino in combination with Mozzarella for full flavor. It's also brilliant in dumplings.
What should I drink with it?
Romano Pecorino pairs well with light red wines such as Cabernet Sauvignon, Chianti, Merlot, and Zinfandel. For a surprising combination, pair it with cider or fruit beer.
How do you eat this cheese? Let us know in the comments below!
With Easter celebrations this week filling our houses with chocolate and delicious treats, we thought it might be useful to share some ways to use up leftover chocolate. That's if there is any left, of course!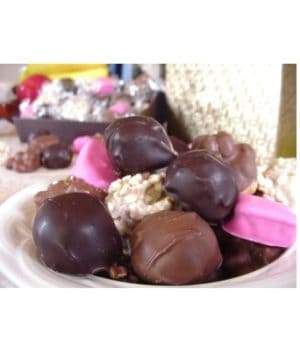 Hot Chocolate
Using real chocolate is one of the ultimate ways to make a luxurious hot chocolate. You only need a little bit to make a brilliant drink, so this is an ideal way to finish your Easter celebrations. Check out our blog post with 6 ways to make a great hot chocolate to make it extra special.
Smores
Layer up graham crackers, marshmallow, and chocolate for this fireside treat. It's a quick dessert that is fun to make with the whole family.
Brownies
We can't mention chocolate recipes without mentioning brownies! You might have a favorite family recipe, but you can make it even more delicious by melting some extra chocolate to drizzle on the top once they are baked. If you have leftover candies, crush them up and add them on top as well for a colorful post-Easter bake.
Chocolate Croissants
Take some crescent rolls and roll them up with pieces of chocolate inside. Bake in the oven until the rolls are golden brown and the chocolate is melted. These make a great breakfast that will surprise your family on Monday morning.
Pancakes
Instead of the usual chocolate chips, try pieces of Easter chocolate to add sweetness to your pancakes. Our top tip is to fry one side of your pancake, then add the chocolate pieces into the batter before flipping over. This way the chocolate is well distributed, instead of being lost in the pancake batter. Stack up your pancakes with whipped cream and sprinkles for extra fun.
Ice Cream
If you have an ice cream maker, you can use up leftover chocolate to create your own chocolate flavor. Either use it melted to create a chocolate swirl or add it in chunks to create texture. For an even more simple recipe, you can make a quick sauce for store-bought ice cream by melting chocolate with a little bit of milk.
Chocolate Bark
This is probably the easiest way to use up any leftover chocolate or candy. Melt the chocolate and pour it onto a prepared tray that is lined with parchment paper. You are looking for a thin layer of chocolate. If you have milk, white, and dark chocolate, swirl them together. Then add any candies or crushed up chocolates into the melted chocolate. Let this set and then break it up into pieces.
Garnish
Chocolate can be grated to make a very quick and simple garnish for any dessert. It's easy to do but looks stunning and will impress your guests. Use a fine grater to create a dusting or use a peeler to create chocolate shavings for a more striking look.
We hope you've enjoyed our ideas for using up your leftover chocolate. What do your family do with their Easter treats? Let us know your ideas in the comments below!
In preparation for this coming Easter weekend, we decided to put together a list of Easter recipes for you to put together. Whether you're celebrating with family, gathering a group of friends, or enjoying a quiet day to yourself, you're sure to find some ideas that will make your day extra delicious.
Roasted Leg of Lamb
Of course, a roasted leg of lamb is a classic at Easter. We sometimes like to use a simple rub of lemon juice, oregano, salt, and pepper. However, you can spice things up by using a marinade of harissa, a North African chili pepper paste that will add lots of flavor to your dish. Serve it with plenty of vegetables, but especially go for spring flavors like carrots, green beans, radishes, and beets. Try making your own gravy to accompany everything.
Four Cheese Scalloped Potatoes
A great accompaniment to roast lamb and a decadent treat for your table, scalloped potatoes do take some time to put together but they are well worth the effort. Use a mandolin slicer to speed up the process. We like to add a combination of creamy cheeses to make this extra special for our Easter recipes. Add Asiago, Mozzarella, and Raclette in slices between the potatoes for layers of melted goodness, and then grate Parmesan onto the top to create a cheesy crust.
Chocolate Nest Cakes
A firm family favorite and a dish that the kids can all get involved in making. Just be prepared to clean up a little mess afterward.
Prepare a muffin tray lined with paper cake cups.
Melt some of your favorite chocolate (of course, we recommend Heggy's

).

Add in a cereal of your choice. Cornflakes or shredded wheat work really well. Ensure that the cereal is well coated in the chocolate.
Spoon the mixture into the prepared cups.
Top each nest with some mini chocolate eggs.
Leave to set and then enjoy!
Asparagus and Cheese Tart
If you're serving vegetarians this Easter, or simply want to add some lighter Easter recipes to your table, we love an asparagus and cheese tart.
Take a sheet of puff pastry and score a border around 2 cm from the edge.
In the middle, add slices of cheese. You can choose your favorite but you are looking for something that will melt well and have plenty of flavor. We recommend goats' cheese or cheddar.
Layer spears of asparagus on top and add freshly ground salt and pepper. You could also put freshly shelled peas on at this point for even more spring flavor.
Bake in the oven until the pastry has become puffed up and golden. The asparagus should be nicely roasted and the cheese melting underneath.
If you like, add arugula leaves on top.
This recipe can be served hot or cold, so it's a good choice if you want to prepare it in advance or if you are heading to a pot luck dinner.
We hope you enjoy making these Easter recipes to share with your family this weekend. However you're celebrating, we want to wish you a wonderful Easter.
The time of year for celebration is upon us again! With Easter coming up this weekend, we have put together a list of delicious Easter gifts that you can buy right here at Shisler's Cheese House. Read on to find out all about our gift options and how to make this Easter extra special.
Our Easter gift baskets are perfect for sharing with loved ones. You can purchase them online or in store. We can even deliver them straight to your family and friends to make gift giving as easy as possible. Inside you will find Marble Cheese, Dried Fruit Chips, Yogurt Pretzels, Heggy's Chocolates, Wild Maple Walnut Syrup, and Muddy Trail Mix.
We created this mix of treats to make sure that everyone will love our gift basket. There's chocolate for those with a sweet tooth and marble cheese for savory lovers, with dried fruit and trail mix to keep your energy up after all of the Easter fun. 
If you're looking to give a chocolate gift, then you need to look no further than Heggy's Solid Chocolate Bunnies. These are a real treat with 20 oz of chocolate. They are available in both milk and white chocolate, so you can pick one up for everyone in the family.
If you are looking for some more grown-up chocolate options, check out our whole chocolate section. You'll find dozens of products that will cater to every taste. Grab some Brazilian coconut or chocolate truffles for those friends that always want to try something new. You could take some Heggy's milk chocolate turtles into work and share some Easter joy with your colleagues, but they're certainly popular with the children as well! We offer sugar-free treats for anyone with a restricted diet.
We also have a range of other gift baskets for every taste. Pick from a simple selection of cheeses all the way up to a huge selection of locally sourced delicious treats. If you have your own Easter gifts in mind, we can create a custom basket for you. Custom baskets can include anything currently available on the website. This is perfect if you know someone who would prefer cheese and pickles to chocolate, even at Easter. You could create a box full of dark chocolate treats or even pick our healthier options such as our sugar-free chocolates. Call us today for a quote!
If you are ordering online, please check our shipping policy to ensure that your gifts will reach you in time. If you can, pop into the store. We love to meet our customers face to face and help you find the perfect Easter gifts.
We want to wish all of you a fantastic Easter weekend. How will you be celebrating? Let us know in the comments!
We absolutely love jam here at Shisler's Cheese House. It's great for spreading on toast, eating in sandwiches or incorporating into your baking.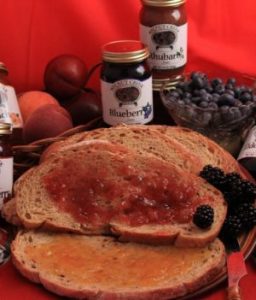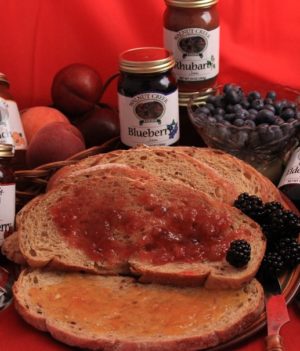 Today we thought we would introduce you to the basic jam making technique. You'll need:
Jars to store your finished product
An equal weight of fruit and granulated sugar – some great fruit choices include strawberries, raspberries, cherries, or peaches. You can even combine fruits to try out new flavors. Just be sure to weigh all of the fruit together to get the right weight for the sugar.
A large pan
Start by sterilizing your jars. You can do this in a variety of ways, but the easiest is to wash your jars thoroughly in soapy water, rinse them, and then place them into an oven on a very low heat to dry them out.
Put the fruit and sugar into your pan on a very low heat and stir until all the sugar is dissolved.
Bring the fruit mixture up to a rapid, rolling boil and cook for 3-5 minutes. As your jam approaches the setting point, it will begin to thicken and start to boil more slowly.
To test if the jam has reached setting point, remove the pan from the heat. Spoon a little of the fruit onto a cold plate, leave it to cool for a few minutes, and then push your finger or a spoon into the jam. If the jam wrinkles, it is ready. If not, return the pan to the heat and cook the jam for a minute or two more before testing it again.
Once the jam reaches its setting point, carefully spoon it into the prepared jars and put the lids on while the jam is still hot. It will thicken as it cools and the jar should seal. If it doesn't, then the jam should be eaten within a couple of weeks.
If the jar is sealed, it can be kept for around six months. Once opened, pop it into the fridge to keep it fresh.
If you don't feel like making your own, then we have a whole range of jams and jellies ready for you to enjoy. Our homestyle jams from Walnut Creek come in Cherry, Blueberry, Black Raspberry, Rhubarb, Strawberry, Red Raspberry, Strawberry Rhubarb, Peach, Strawberry Kiwi, Apricot, Blackberry, Boysenberry, and Elderberry Jelly. With that many flavors, we know that you'll find one that you love! We also stock a Private Label Old Fashioned Apple Butter, made from the best locally grown apples and locally produced Amish butter. 
If you prefer savory treats, we offer a Hot Pepper Jelly and our Private Label Tomato Jam. The tomato is a local tradition, made from ripe locally grown flavorful tomatoes.  We suggest serving it with our well-aged Canadian Cheddar, but there are many uses. It's incredible in a BLT or served on cornbread, eggs, and roasted potatoes. The Hot Pepper Jelly is also great with cheese or ham.
How do you make jam? What's your favorite flavor? Let us know in the comments below!
For three generations we at Shisler's Cheese House have prided ourselves on providing the best examples of local fare to tourists and locals alike. Troyer's Trail Bologna is one of the best examples of local fare we can recommend. Our Trail Bologna comes from the fourth generation of the Troyer family, so don't be fooled by imitators!
What is Troyer's Trail Bologna?
Chunky bologna, made with coarse cuts of meat. Trail Bologna originates from the Troyer family in the tiny town of Trail, Ohio.  One of the best flavors of Amish Country! Enjoy the smoky taste of Trail Bologna.
Trail Bologna was named after Trail, a village in Ohio that is too small to have a zip code of its own! The Troyer family has been making their quality wood-smoked Trail Bologna here for four generations, starting in 1912, when Michael Troyer created a unique blend of special seasonings to make his now famous all-beef Trail Bologna. The family continues the tradition of excellence to this day by making literally tons of savory treats daily.
How should I eat it?
Troyer's Trail Bologna great served as part of a cheese and charcuterie board. It is usually thinly sliced and served with cubes of cheese. We recommend that it is best enjoyed with Swiss Cheese, Baby Swiss Cheese, Cheddar Cheese, or Hot Pepper Cheese for those with a more daring palate. You can, of course, enjoy it in sandwiches or wraps as well. If you want a real treat, make a Swiss cheese and bologna sandwich and pour yourself a glass of Malbec! Troyer's themselves recommend a salad of lettuce, spinach, plenty of tomatoes, onions, and croutons along with some shredded Swiss and Troyer's, paired with French dressing. A brilliant lunch!
Troyer's recently added Trail Bologna infused with cheddar cheese or with hot pepper cheese to their product offering.  We are proud to carry both. When warmed, the cheese melts, creating an extra delicious treat.
Can I give it as a gift?
Yes! We think this is a great gift for someone that you want to share some local flavor with or anyone who has lived in Ohio. As it's so popular, we offer it in several of our gift boxes.
Our classic combination box includes a 2 Lb. Baby Swiss Wheel, Troyer's Trail Bologna Ring, 8 Oz. Colby Cheese, Shisler's Private Label Mustard, Carr's Crackers, and Assorted Chocolates.
You can also try it with a simple cheese selection, which includes a 1 Lb. Troyer's Trail Bologna Ring, 3/4 Lb. Wheel of Colby, 3/4 Lb. Wheel of Farmers, and Assorted Chocolates.
For more extravagant gifts that include Troyer's Trail Bologna, try the Amish Country Sampler Gift Box or our recent addition, the Shisler's Cheese House Deluxe Gift Box. If you would like to create a hamper of your own choosing, simply get in touch and we'll do what we can to help.
Have you tried Troyer's Trail Bologna? How do you like to eat it? Let us know in the comments below!
You are probably quite familiar with being offered a grating of parmesan over your pasta or pizza, but today we thought we would tell you a little more about this very popular cheese. Read on to find out everything you might want to know!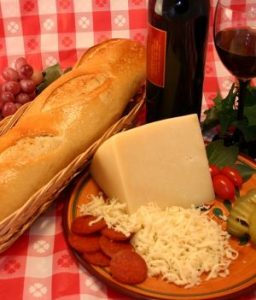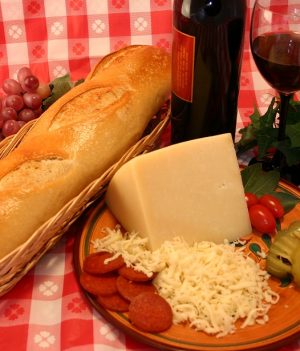 What is Parmesan?
Parmesan Cheese is a hard, dry cheese, which has a complex, sharp, nutty flavor and a somewhat grainy texture. It is made from unpasteurized cow's milk. Starter whey, containing thermophilic lactic acid bacteria, and rennet is added to separate the curds. These are then compacted and placed into molds. The wheels are placed into brine baths for up to 25 days where they absorb the salt. After brining, each cheese is aged for 12 months.
The history of Parmesan Cheese
Parmigiano Reggiano cheese gets its name from the Italian regions of production: Parma, Reggio Emilia, Modena, Bologna, and Mantova. It originated in the Middle Ages, at least 700 years ago. It was first made by monks in Reggio Emilia, with production spreading to the Parma and Modena regions. With the exception of new production equipment and technology, the basic process to make the cheese has changed very little in the hundreds of years since.
A Parmesan Consortium was created in 1934 which regulates the production of authentic Parmesan Cheese and inspects all of the cheese produced by nearly 800 cheese producers. Parmigiano Reggiano is a Protected Designation of Origin (PDO) cheese in the European Union, which legally requires the cheese to be produced in certain regions of northern Italy in order to be labeled as Parmigiano Reggiano. Outside of Europe, the phrase "Parmesan Cheese" may be used to refer to any hard grating cheese.
How should I eat it?
As you know, Parmesan Cheese is wonderful grated. It is ideal for adding flavor to pasta or risotto It can be sprinkled into soup, shredded over a green salad, mixed into in pesto or Alfredo sauce, or served with meats such as veal and chicken.
Chunks of the rind may also be simmered into soups or sauces to add flavor. Try this the next time you make a marinara sauce or a minestrone soup and you're sure to be surprised by the difference it makes. The rinds can also be roasted as an unusual cheesy snack.
You can even try Parmesan Cheese on its own as a table cheese and you will discover that it is rich and full of flavor. Try it cut into chunks and drizzled with thick balsamic vinegar for a really special treat.
What should I drink with it?
Parmesan is an ideal cheese for enjoying with a glass of red wine because it has a strong flavor and dry texture. We would particularly recommend it with Sangiovese, Syrah or Merlot. An Italian wine is nearly always a good choice to pair with Italian cheese.
You will also find it in our Scotch Collection, as the salty cheese stands up well next to the smokey flavors of whisky.
How do you like to eat Parmesan? Let us know in the comments below!
We love to help you try out new ingredients here at Shisler's Cheese House. Today, we are exploring wasabi. If you haven't tried this spicy ingredient, read on to find out everything you need to know about it and some ways that you can enjoy it today.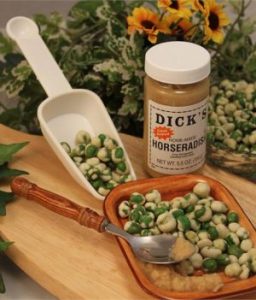 What is Wasabi?
Wasabi is part of the Brassicaceae family, which also includes horseradish and mustard. It has a taste similar to hot horseradish. The root is pale green in color, and is usually either grated and served fresh, or dried and made into a powder or paste. It is one of the condiments used in Japanese food, particularly sushi and sashimi. If you enjoy going to sushi restaurants, then you have probably seen the light green paste in small pots alongside the soy sauce. In shops, it is often sold in thin tubes.
How is it eaten?
It is often served alongside sushi and sashimi. The best way to eat it is to simply add a small amount to each piece with your chopstick. Be careful not to add too much at first, as it is a natural product and can vary greatly in its spiciness! Some sushi will have wasabi as part of its preparation, so you may not need to add any at all.
It can also be used to make dressings and marinades for meats, vegetables, and salads. This is another time to use it sparingly as you are looking for gentle heat rather than unbearable spice. We love it mixed into mayonnaise to serve with seafood or tempura vegetables for a creamy yet spicy dressing. You can even try mixing it with a little oil and roasting potatoes in it for a punchy side dish.
We offer Wasabi Roasted Peas, a fun snack that has a crunchy texture and packs a punch in terms of flavor. They can even be crushed in a blender to make a spicy crust for chicken or salmon.
Are there alternatives to wasabi?
Because of its cost and availability, wasabi is sometimes replaced with horseradish in Western cooking. We stock Woeber's Horseradish, through Walnut Creek Foods. Dick's Homemade Horseradish, made in Ohio without any fancy ingredients, is a must-have to give a kick to your favorite recipes. You could also try Dick's Homemade Horseradish Mustard to add spice to hot dogs, hamburgers, or anything else that you would eat with mustard.
If you're really here because you are all about the cheese, then we have both Horseradish Cheese and Smoked Horseradish Cheese. We recommend rolling these into thin slices with prosciutto or thinly sliced smoked ham for a delicious snack.
What are the health benefits?
Wasabi and horseradish are both known to have health benefits. It has been used to treat bronchitis, sinus problems, and urinary tract infections. The compounds found in horseradish have also been shown to kill certain bacterial strains.
We hope that you have learned something about wasabi today! Have you tried it? How do you like to eat it? Let us know in the comments!