You know how it is. Sometimes you just need some quick baking to get you through the week. Whether it's for packed lunches or unexpected guests, we have the perfect solution for you: our baking mixes.
We offer a wide range of quick baking mixes. You can take them home and get them in the oven before anyone can even say "I'm hungry!"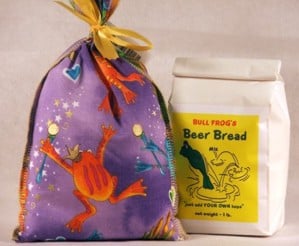 Bread Baking Mixes
Bread becomes quick and easy to make at home. Everything you need comes in a beautiful bag. You'll have bread on the table in no time. We stock beer bread, cheezy beer bread, golden cornbread and red hot cornbread baking mixes. There's something for everyone's taste!
If you have guests coming at the last minute or you're just pressed for time, you can turn this bread into a whole meal. Blend up a quick soup or even put out lots of cheese, pickles, and crackers. Let people help themselves and they're sure to be happy. Everyone will be impressed that you have made your own bread. You don't have to tell them it's from a mix if you want to keep it as our secret!
Cheezy Biscuits Baking Mix
Another savory choice is our cheezy biscuits baking mix, which is sure to wow a crowd or even keep the kids happy after school. Of course, we would serve cheezy biscuits with some cheese, but if that's too much for you then they are great with some delicious rolled Amish butter. Ours is produced locally. Butterfat is one of the byproducts of cheese making. Because there are abundant amounts available from the local cheese artisans, Northern Ohio is a production hub for fresh Amish butter as well. It is made using milk from hormone-free cows and no preservatives are added. The taste is incredible. We stock it in both salted and unsalted varieties.
Muffin Mixes
For the sweet tooth, we have a great range of muffin mixes. These include strawberry, apple cinnamon, chocolate chip, pumpkin raspberry and "bran"ana.
Every sweet craving will be satisfied by these. You can take them to bake sales or serve them for an afternoon snack.
We hope that you enjoy our recommendations for baking mixes. Most of all, we hope that you have fun baking this week! Which are you going to try? Let us know in the comments!