You know how it is. Sometimes you just need some quick baking to get you through the week. Whether it's for packed lunches or unexpected guests, we have the perfect solution for you: our baking mixes.
We offer a wide range of quick baking mixes. You can take them home and get them in the oven before anyone can even say "I'm hungry!"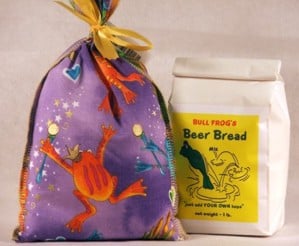 Bread Baking Mixes
Bread becomes quick and easy to make at home. Everything you need comes in a beautiful bag. You'll have bread on the table in no time. We stock beer bread, cheezy beer bread, golden cornbread and red hot cornbread baking mixes. There's something for everyone's taste!
If you have guests coming at the last minute or you're just pressed for time, you can turn this bread into a whole meal. Blend up a quick soup or even put out lots of cheese, pickles, and crackers. Let people help themselves and they're sure to be happy. Everyone will be impressed that you have made your own bread. You don't have to tell them it's from a mix if you want to keep it as our secret!
Cheezy Biscuits Baking Mix
Another savory choice is our cheezy biscuits baking mix, which is sure to wow a crowd or even keep the kids happy after school. Of course, we would serve cheezy biscuits with some cheese, but if that's too much for you then they are great with some delicious rolled Amish butter. Ours is produced locally. Butterfat is one of the byproducts of cheese making. Because there are abundant amounts available from the local cheese artisans, Northern Ohio is a production hub for fresh Amish butter as well. It is made using milk from hormone-free cows and no preservatives are added. The taste is incredible. We stock it in both salted and unsalted varieties.
Muffin Mixes
For the sweet tooth, we have a great range of muffin mixes. These include strawberry, apple cinnamon, chocolate chip, pumpkin raspberry and "bran"ana.
Every sweet craving will be satisfied by these. You can take them to bake sales or serve them for an afternoon snack.
We hope that you enjoy our recommendations for baking mixes. Most of all, we hope that you have fun baking this week! Which are you going to try? Let us know in the comments!
We all love bread. It's perfect for breakfast, lunch and dinner. Of course, our preference is to eat it with cheese. Today, we're going to show you three ways to make your own bread.
1. Make it completely from scratch
If you've never made bread before, you'll find that it's much easier than you think. All you need is flour, salt, yeast, some kind of fat, and water. You can change various elements of this, but we'll show you how to make a simple white bread.
You will need:
500g/18oz strong white bread flour, plus a little extra for dusting
2 tsp salt
7g/ 1/4oz sachet of dried yeast
3tbsp olive oil or melted butter
300ml/10 fluid oz water
A mixing bowl
A loaf tin
1. Mix the flour, salt and yeast together in a bowl.
2. Make a well in the centre and pour in the water and oil/melted butter a little at a time.
3. Mix everything together until you have a dough. You may not need all of the liquid to achieve this, but likewise, if it is a little stiff you can add more water.
4. Knead the dough for 10 minutes until you have a silky, smooth dough. There are lots of videos available online if you haven't kneaded a dough before.
5. Put the dough into an oiled bowl and leave it to rise for one hour. It should double in size.
6. "Knock back" the dough. This involves pushing the air out of it and kneading it again briefly.
7. Shape the dough into your loaf tin. If you don't have a loaf tin, line a baking sheet with parchment and form the dough into a ball. In both cases, leave it to prove for another hour.
8. Bake at 420F for 25 – 30 minutes until it is golden brown and the loaf sounds hollow when you tap the bottom.
9. Cool on a wire rack.
You'll want to dig in straight away, but allow it to cool slightly so that it is easier to slice.
2. Use a bread maker
A bread maker essentially involves putting the ingredients above into the bread maker and letting it do the work. They will usually come with lots of recipes so that you can make different types of bread as well as preparing pizza dough or cakes that you can then bake in the oven.
Often, you can even set a bread maker so that it makes bread overnight and you wake up to the smell of freshly baked dough in the morning.
3. Use a pre-made mix
These are available in lots of supermarkets. Usually, you simply add water, knead the dough and put it in the oven. This is a quick way to make bread but we would recommend making it from scratch if you have time. It only takes a little longer but the taste is incredible.
Once you've conquered the technique, you can start changing your creations. Try wholemeal, multigrain or even add herbs and spices.
Now all you have to do is decide how you want to eat your bread. Slather it with butter, add some cheese, dip it in soup: the choice is yours!