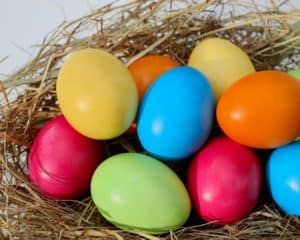 Earlier this week, we shared with you our Easter gift ideas including fantastic Easter baskets and beautiful chocolate bunnies. Today, we're here to help you with your Easter lunch or dinner. Serve up these simple, but fun, dishes and you're sure to create a day to remember. After all, coming together with family and friends is all about creating memories. We've given you an idea for an appetizer, entree, dessert and a cake, so read on to find out everything that you need to know.
Deviled Eggs
We all know that it isn't Easter without eggs. Deviled eggs make a great starter or canape. They can be prepared in advance so that your guests can enjoy them whilst you finish preparing your meal. This is especially great if you will be at church in the morning and then preparing lunch. It often feels like everyone has a family recipe for deviled eggs, but the basic is to hard boil eggs, mix the yolks with mayonnaise, vinegar, mustard, salt and pepper, and disperse this onto the egg whites. Sprinkle them with paprika and serve. If you have a special trick, then let us know in the comments!
Roasted Leg of Lamb
This is a classic at Easter. Use a simple rub of lemon juice, oregano, salt and pepper. Roast your lamb with some garlic cloves that can be used to make delicious gravy. Serve it with plenty of vegetables, but especially go for spring flavors like carrots, green beans, radishes and beets.
Scalloped Potatoes
A great side dish, especially when it's spring and heavier potato dishes like mash seem too much. Use fresh cream for an extra decadent dish. You can even mix in some gruyere for a twist on the classic.
Jello Bunny
This retro option is one to make if you have children attending your party. Grab a bunny shaped jello mould and fill it with your favourite flavor of jello. Leave it to set. Make a separate bowl of green jello. When the time comes to serve, chop the green jello up and lay it on a platter to look like grass. Turn the bunny out onto the grass and serve.
Simnel Cake
This is a traditional cake made in Britain to celebrate Easter. You might not have tried it before but it's delightful and fairly unchallenging to prepare ahead of time. It is a light fruit cake, packed with dried fruit and a layer of almond paste in the middle. It is topped with a marzipan layer and eleven marzipan balls, which each represent the disciples. The top is briefly grilled to give it a toasted, nutty flavour. You can try making this at home or it may be stocked in some stores that sell British goods.
We hope that you have enjoyed our Easter ideas. We want to take the opportunity to wish all of our customers a very Happy Easter. As always, we are grateful to have you. We'd love to hear how you will be celebrating Easter in the comments.