Love Cheese? Then You'll Love These Cheese Desserts!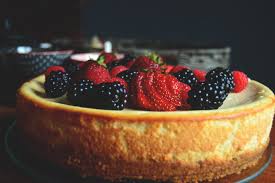 If you love cheese as much as we do, then you're probably already eating it at breakfast, lunch, and dinner. But have you tried cheese desserts? Read on to find out how you can add cheese to every course of your meal for delicious fun.
1. Cheesecake
This is the classic. When you saw 'cheese desserts' your mind probably went straight to cheesecake. It's a classic for a reason; delicious, easy to make, and a crowd pleaser, cheesecake has a place in all of our hearts. Try experimenting with different biscuits for your base, add flavors to the cheese or even create a glaze to go on the top. The possibilities really are endless!
2. Fritters
Soft cheeses like ricotta make delicious fritters. Combine it with orange and honey in this recipe to create a sweet treat. You can even keep the leftovers and serve them for breakfast!
3. Cake with Goat's Cheese Frosting
You've tried cream cheese frosting on carrot cake, but you can take this to the next level with an apple cake and goat's cheese frosting. Apple is often combined with cheese because it has just the right acidity and this cake is no exception. Try the recipe here.
4. Dessert Pizza
We love pizza and we love dessert, but have you combined the two?
Try topping puff pastry with a spreadable cheese like mascarpone and delicious fruits like peaches or raspberries. You could even whip up a pizza dough and top it with chocolate spread and marshmallows for a rocky road style dessert pizza. You can find more inspiration here.
5. Cookies and whoopie pies
Instead of sandwiching your cookies or whoopie pies with buttercream, try mascarpone or ricotta. This works especially well with caramel flavors. Trust us, you'll be convinced!
6. Parmesan pound cake
Are you always on the hunt for a great pound cake recipe? This one is a little bit unusual, with the addition of parmesan, but you're sure to have fun asking your friends to guess what the secret ingredient is.
7. Rhubarb and ricotta
You might usually think of turning rhubarb into a pie or a cobbler. Instead, simply stew it down and then serve it with a spoonful of ricotta on top. The creaminess of the cheese cuts through the tart fruit; it's a perfect combination.
8. Strawberries and mozzarella
Fresh mozzarella pairs beautifully with the sweetness of strawberries. Stew the strawberries down and simply spoon them over mozzarella. You can add black pepper or basil to the dish, although you might find that this strays too far from the realms of dessert.
9. Apple Pies with Cheddar
Cheddar and apple is a well-known combination on a cheeseboard, but you can also use cheddar in your apple pies. There are several ways to add the cheese but our favorite is to mix some into the pastry and then grate some over the crust before it goes in the oven.
10. Dessert Grilled Cheese
Grilled cheese can be sweet or savoury. Try brioche with brie and raspberry for a great dessert. Serve it up at a party to wow your guests!
We hope you've enjoyed our list of cheese desserts! Which would you try making? Let us know in the comments?