When we think about Danish cheeses, we often think about Danish Blue, Esrom, Danbo… but, by far the most popular cheese that is exported from Denmark is Havarti.
Havarti is a semi-soft cheese, which has a creamy buttery flavor. It goes great on the cheese board with figs and sliced bread, or melted atop a sandwich. But, what else do we know about this cheese?
The Origins of Havarti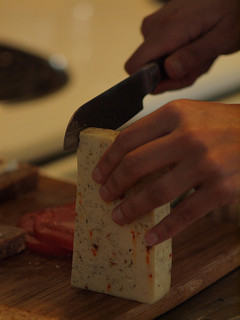 As noted above, Havarti is a Danish cheese; but the inspiration of this delicious treat comes from one woman's travels around Europe during the mid 1800s. The commonly accepted story is that Hanne Nielsen was the wife of a New Zealand farmer that was extremely interested in learning about cheesemaking; and, in addition to traveling around Europe, learning different techniques, she set up a farm where she perfected her craft. The town where she set up her experimental farm, called Havarthigaard, is located north of Copenhagen; and, during the mid 1900s, became the source of Havarti's name. (Source: Havarti Cheese Production and Uses)
What is Creamy Havarti?
Creamy Havarti (flødehavarti) is different from what would be considered the "original" Havarti, in that it is made with highly pasteurized milk, such that the whey proteins are not separated from the cheese curds; so, the end product is a lot richer and creamier.
The "original" Havarti is very similar to Swiss cheese in flavor and texture–but also, in that it is typically aged around 3 months. Creamy Havarti cannot be ripened for very long because the whey protein doesn't age very well.
The Havarti Experience
If you go to the supermarket, you will often find that there are many different kinds of Havarti. Much like chevre, this cheese is sold in varieties with fruits and/or herbs and spices, as well as original flavor. Some of the varieties you may find include cranberry, garlic, caraway, basil, coconut, and sour cream & chives; but, by far the most popular ones are dill, red pepper, and jalapeño.
Havarti is truly versatile. It is an excellent table cheese and is great on sandwiches and salads. It is a great melting cheese so, fondue and paninis should not be overlooked.
Looking for a great wine to pair with Havarti? It goes really well with just about any wine, but goes particularly well with sweet wines like Beaujolais and Riesling. If you're going pick a red wine, try to keep with lighter-bodied wines.
Wrapping up
Havarti is certainly one of my favorite cheeses–and, I think it was one of the very first cheeses I tried when I started John Eats Cheese. If you're looking to learn more about cheese or are looking for unintimidating cheese to start with on your journey of fromage exploration pick up some crackers and Creamy Havarti, and go to town.
Let us at Shisler's Cheese House help you get your taste on with our supply of Havarti!
Ask any cheese lover and he (or she) will tell you how Havarti cheese is one of the best cheeses from Denmark. This is a semi-firm, creamy cheese developed in and named after a farm. Havarti's mild flavor is similar to the Gouda or Tilsit and it comes with a lot of irregularities and small holes.
Bite onto a cube of Havarti cheese and you will be surprised at the distinctive flavor that packs a subtle punch. You can find this variety of cheese as plain blocks and flavored with cumin, caraway, dill and other spices.
The credit for creating Havarti goes to the wife of a Danish farmer. She developed this cheese at the turn of the twentieth century after exploring the cheese making art, traveling to many parts of the world. Havarti cheese was a result of her experimentations with different cheese making methods.
Just like most cheeses, Havarti making process also starts with curdling of milk by introducing rennet to it. Curds are drained by pressing into cheese molds and the cheese is then aged. Subtle flavor of this cheese comes from the fact that it is washed rind.
Bite into the flexible Havarti cheese and you will also notice a buttery, creamy flavor. Color of this cheese can be anywhere between pale to creamy yellow. You can find a lot of holes on the cube. It is imperative to allow the cheese to age if you want to enjoy its delightfully subtle and acidic flavor.
Havarti pairs excellently with wine and is often served with crackers and fruits. Many use this cheese as a replacement for strong cheeses like Emmental and Gouda in recipes that require mild cheese. You can find Havarti predominantly used on salads, on sandwiches and in fondue. If you are slim and fit and can afford to bite into the full cream, melt-in-the-mouth cheese, you can choose the enriched Havarti cheese version. If you are on a strict diet, you can enjoy the low fat version of this cheese.
If you are planning on using enriched Havarti in any of your recipes, do so sparingly after ensuring that the dish has the capacity to handle the heavy flavor. Havarti cheese is indeed one of the best cheeses from Denmark. It is commonly found in many parts of the world today. Havarti's low fat version is especially popular as it retains the very flavor, texture and essence of the enriched version. On the cheese and wine platters, you can find the herbed Havarti. If you wish for a pleasant tasting experience, you can pair your wines with enriched Havarti cheese.