Havarti: The Danish Cheese, not the Cheese Danish
When we think about Danish cheeses, we often think about Danish Blue, Esrom, Danbo… but, by far the most popular cheese that is exported from Denmark is Havarti.
Havarti is a semi-soft cheese, which has a creamy buttery flavor. It goes great on the cheese board with figs and sliced bread, or melted atop a sandwich. But, what else do we know about this cheese?
The Origins of Havarti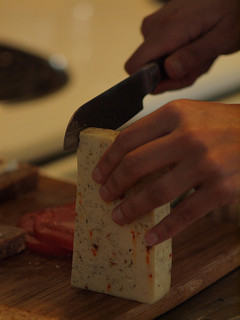 As noted above, Havarti is a Danish cheese; but the inspiration of this delicious treat comes from one woman's travels around Europe during the mid 1800s. The commonly accepted story is that Hanne Nielsen was the wife of a New Zealand farmer that was extremely interested in learning about cheesemaking; and, in addition to traveling around Europe, learning different techniques, she set up a farm where she perfected her craft. The town where she set up her experimental farm, called Havarthigaard, is located north of Copenhagen; and, during the mid 1900s, became the source of Havarti's name. (Source: Havarti Cheese Production and Uses)
What is Creamy Havarti?
Creamy Havarti (flødehavarti) is different from what would be considered the "original" Havarti, in that it is made with highly pasteurized milk, such that the whey proteins are not separated from the cheese curds; so, the end product is a lot richer and creamier.
The "original" Havarti is very similar to Swiss cheese in flavor and texture–but also, in that it is typically aged around 3 months. Creamy Havarti cannot be ripened for very long because the whey protein doesn't age very well.
The Havarti Experience
If you go to the supermarket, you will often find that there are many different kinds of Havarti. Much like chevre, this cheese is sold in varieties with fruits and/or herbs and spices, as well as original flavor. Some of the varieties you may find include cranberry, garlic, caraway, basil, coconut, and sour cream & chives; but, by far the most popular ones are dill, red pepper, and jalapeño.
Havarti is truly versatile. It is an excellent table cheese and is great on sandwiches and salads. It is a great melting cheese so, fondue and paninis should not be overlooked.
Looking for a great wine to pair with Havarti? It goes really well with just about any wine, but goes particularly well with sweet wines like Beaujolais and Riesling. If you're going pick a red wine, try to keep with lighter-bodied wines.
Wrapping up
Havarti is certainly one of my favorite cheeses–and, I think it was one of the very first cheeses I tried when I started John Eats Cheese. If you're looking to learn more about cheese or are looking for unintimidating cheese to start with on your journey of fromage exploration pick up some crackers and Creamy Havarti, and go to town.
Let us at Shisler's Cheese House help you get your taste on with our supply of Havarti!