When we think about Danish cheeses, we often think about Danish Blue, Esrom, Danbo… but, by far the most popular cheese that is exported from Denmark is Havarti.
Havarti is a semi-soft cheese, which has a creamy buttery flavor. It goes great on the cheese board with figs and sliced bread, or melted atop a sandwich. But, what else do we know about this cheese?
The Origins of Havarti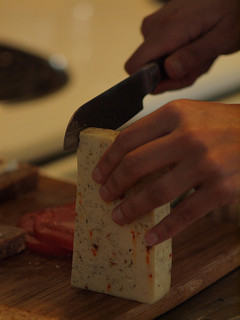 As noted above, Havarti is a Danish cheese; but the inspiration of this delicious treat comes from one woman's travels around Europe during the mid 1800s. The commonly accepted story is that Hanne Nielsen was the wife of a New Zealand farmer that was extremely interested in learning about cheesemaking; and, in addition to traveling around Europe, learning different techniques, she set up a farm where she perfected her craft. The town where she set up her experimental farm, called Havarthigaard, is located north of Copenhagen; and, during the mid 1900s, became the source of Havarti's name. (Source: Havarti Cheese Production and Uses)
What is Creamy Havarti?
Creamy Havarti (flødehavarti) is different from what would be considered the "original" Havarti, in that it is made with highly pasteurized milk, such that the whey proteins are not separated from the cheese curds; so, the end product is a lot richer and creamier.
The "original" Havarti is very similar to Swiss cheese in flavor and texture–but also, in that it is typically aged around 3 months. Creamy Havarti cannot be ripened for very long because the whey protein doesn't age very well.
The Havarti Experience
If you go to the supermarket, you will often find that there are many different kinds of Havarti. Much like chevre, this cheese is sold in varieties with fruits and/or herbs and spices, as well as original flavor. Some of the varieties you may find include cranberry, garlic, caraway, basil, coconut, and sour cream & chives; but, by far the most popular ones are dill, red pepper, and jalapeño.
Havarti is truly versatile. It is an excellent table cheese and is great on sandwiches and salads. It is a great melting cheese so, fondue and paninis should not be overlooked.
Looking for a great wine to pair with Havarti? It goes really well with just about any wine, but goes particularly well with sweet wines like Beaujolais and Riesling. If you're going pick a red wine, try to keep with lighter-bodied wines.
Wrapping up
Havarti is certainly one of my favorite cheeses–and, I think it was one of the very first cheeses I tried when I started John Eats Cheese. If you're looking to learn more about cheese or are looking for unintimidating cheese to start with on your journey of fromage exploration pick up some crackers and Creamy Havarti, and go to town.
Let us at Shisler's Cheese House help you get your taste on with our supply of Havarti!
CHICKEN ALFREDO PASTA BAKE
I don't know about you, but I love a good Alfredo. It's rich, it's oh so yummy. And why shouldn't we love it? It has all the goodness of butter, cream and Parmesan. Creamy. Cheesy. Yummy. So today we're taking good old Alfredo sauce and making a chicken pasta bake. And we'll add more cheese plus other stuff to make a great summer pasta casserole.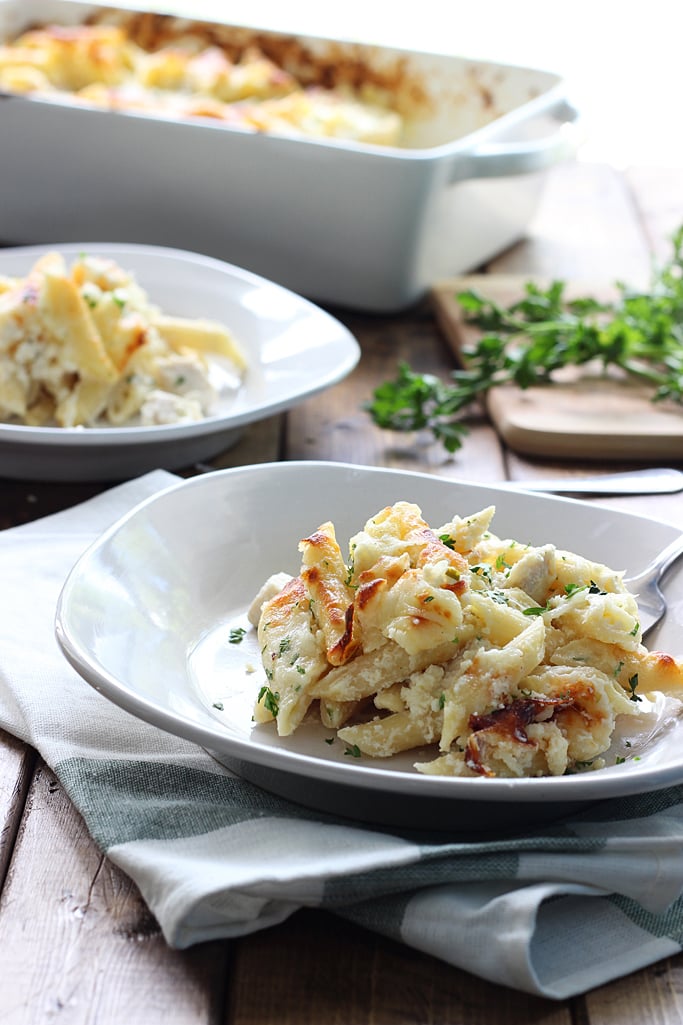 So if you're wanting cheese, this is your dish! This makes a huge serving to go around and it heats up well. It'll make that wet squishy sound when you mix it all up, a sign of tons of creamy cheesy power. It'll give you long strands of cheese when you dish a serving. The kind that you'll want to run your finger along to break. And it'll more than satisfy your cheese craving.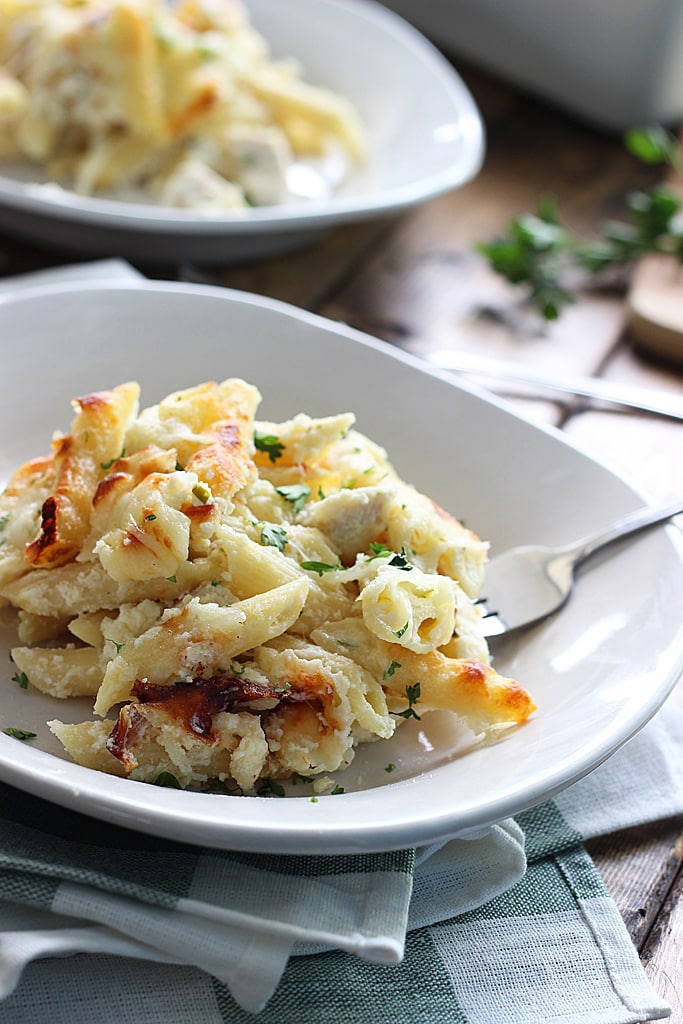 The great thing about this is how you can customize it to save you time. The best Alfredo sauce from scratch but you can use store-bought sauce. If you don't like poached chicken, grill it. Or buy some rotisserie chicken and chop it up. And you can practically use any kind of pasta you want. Generally, penne is deal for bakes but there's ziti and rigatoni.
Make sure to cook the pasta until the point just before it turns al dente. Then rinse it under cold water to stop the cooking process. Because if it continues cooking in the cheese sauce in the oven, it'll get slightly mushy and mushy pasta is no fun…. to avoid this, finish off the al dente process in the oven. However, if you don't mind or even like mushy pasta, then keep on cooking that pasta until it's al dente, your choice…
There's a lot of ricotta to go around, as you can see. So if you're not big on it, you can halve the ricotta and egg portion before mixing it in with everything. Some people like it, some people don't, again, your choice…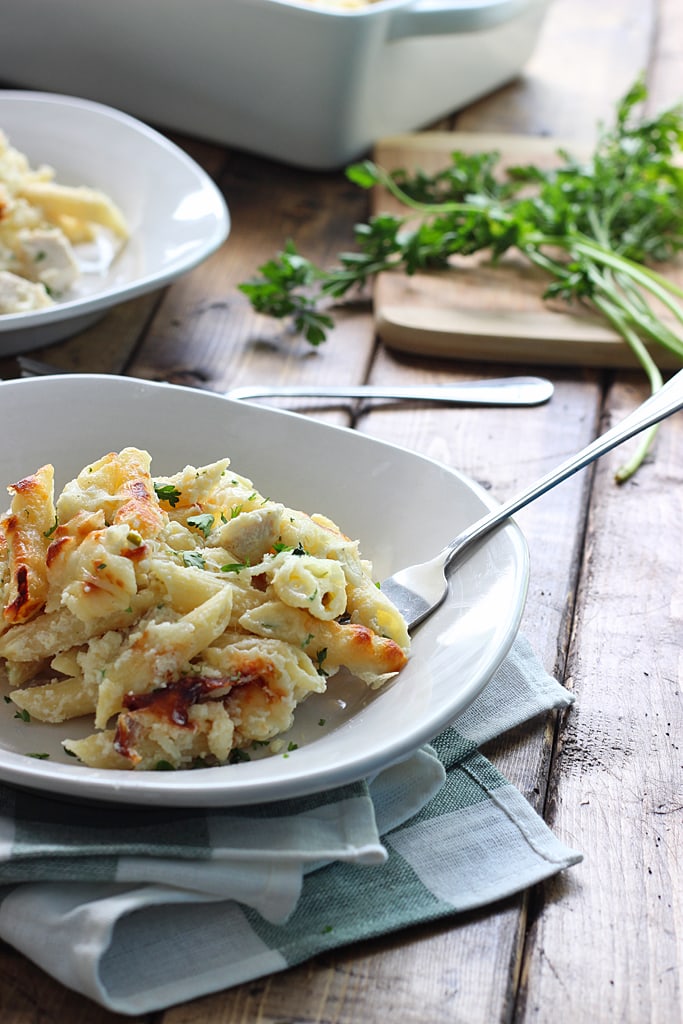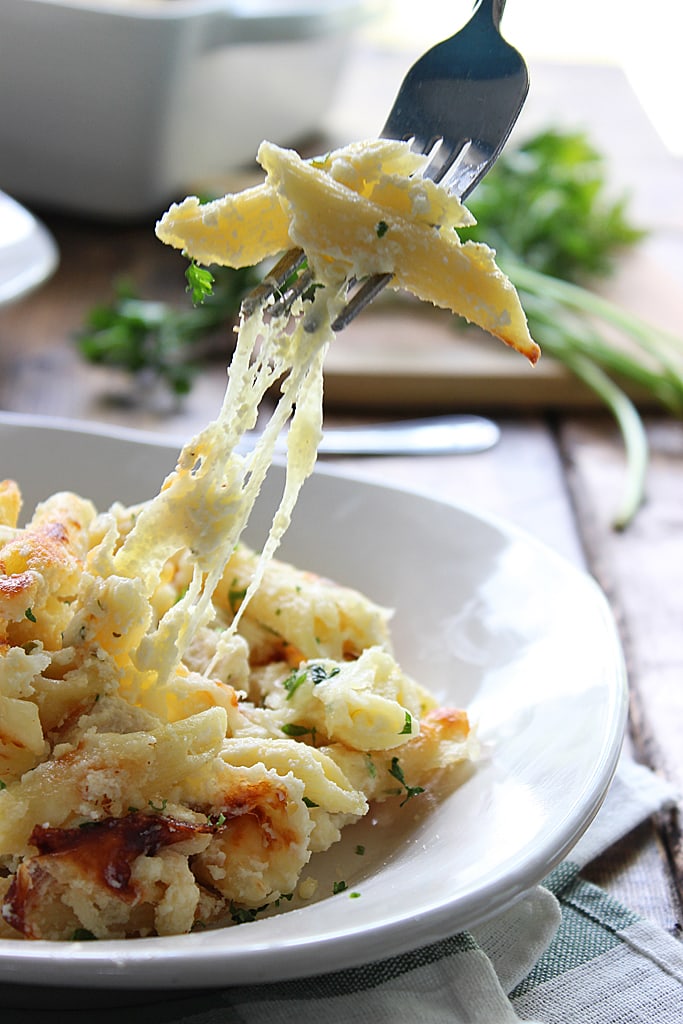 So really, if you're looking for a fairly quick, but delicious meal idea for lunch or dinner, this one's for you, as the amount of time it takes from start to eat is just under and hour…. not bad at all… Or if you're a family of four and you want something for two days, here you go. And if you have a huge family, have at it. This can serve up to ten servings. The cheese is not stingy!
Author: The Cooking Jar
Serves: 8-10
INGREDIENTS
16 oz. penne/ziti/rigatoni pasta
2 cups Alfredo sauce
8 oz. sour cream
3 cups poached/grilled/rotisserie chicken, cubed
15 oz. ricotta cheese
1 teaspoon garlic, minced
2 eggs, beaten
¼ cup Parmesan cheese, shredded
1 tablespoon parsley, chopped
Salt and pepper to taste
2 cups mozzarella cheese, shredded
INSTRUCTIONS
Cook the pasta till just before al dente
Drain and rinse pasta under cold water to stop the cooking process
If you're making Alfredo sauce from scratch, see notes
Mix pasta with the Alfredo sauce, sour cream and chicken
Combine ricotta, garlic, eggs, Parmesan and parsley and mix throughly
Season the pasta mix with salt and pepper to taste
Add the ricotta mixture to the pasta and stir to combine
Top with a thick layer of mozzarella cheese
Bake in a 9×13 casserole dish at 350 degrees F for 30 minutes or until bubbly
Broil at 450 degrees F for 2-3 minutes or until the cheese starts to brown
Serve hot
Gouda, or "How-da" as the locals say, is a Dutch cheese named after the city of Gouda in the Netherlands. If truth be told, it is one of the most popular cheeses in the world, accounting for 50 to 60 percent of the world's cheese consumption. It is a semi-hard cheese celebrated for its rich, unique flavour and smooth texture. The original cheese markets in Gouda is one of the last standing commercial cheese markets in the Netherlands. Since the name is not protected, it has become a generic classification for all cheeses produced and sold under the name Gouda.
Gouda is typically made from pasteurised cow's milk although some artisan varieties use sheep's or goat's milk to produce cheeses that are going to be aged for a long time. Boerenkaas is a typical variety of unpasteurised Gouda cheese produced by the farmers from milk of cow's grazing on the natural, low pastures of Netherlands. There are seven different types of Gouda cheese, categorized depending on age. Graskaas is young Gouda ready to be consumed within weeks of production. On the other hand, is the extra aged, Overjarig cheese which has a full-flavoured, hard, golden interior and salty flavour reminiscent of a toffee. Between the spectrums is a variety of Dutch Gouda's classified as per the texture and age – Jong, Jong belegen, Belegen, Extra belegen, and Oud. Each cheese gets increasingly firmer in texture and richer in flavour than earlier classification. The waxed rind of the cheese also changes by the age as soft, younger Dutch Gouda cheese are identified by yellow, orange, or red wax rinds white mature cheese have black wax coverings.
In America, smoother and less flavorful commercial Gouda is popular than Dutch Gouda. Artisans in Netherlands may produce Dutch Gouda using raw milk as well as pasteurized.  To enhance the flavor of the cheese, herbs, seasonings, and nuts may be blended. In Netherlands, aged Gouda is commonly used to richen soups, sauces.
Young Goudas are best paired with beer while medium cheeses taste best when paired with a fruity Riesling or Chenin Blanc. A well aged Gouda complements wines that are deeply flavored such as a rich Merlot or Shiraz. Gouda cheese may be grated, sliced, cubed or melted. It may be used as a table cheese or dessert cheese.
SMOKED GOUDA MASHED POTATOES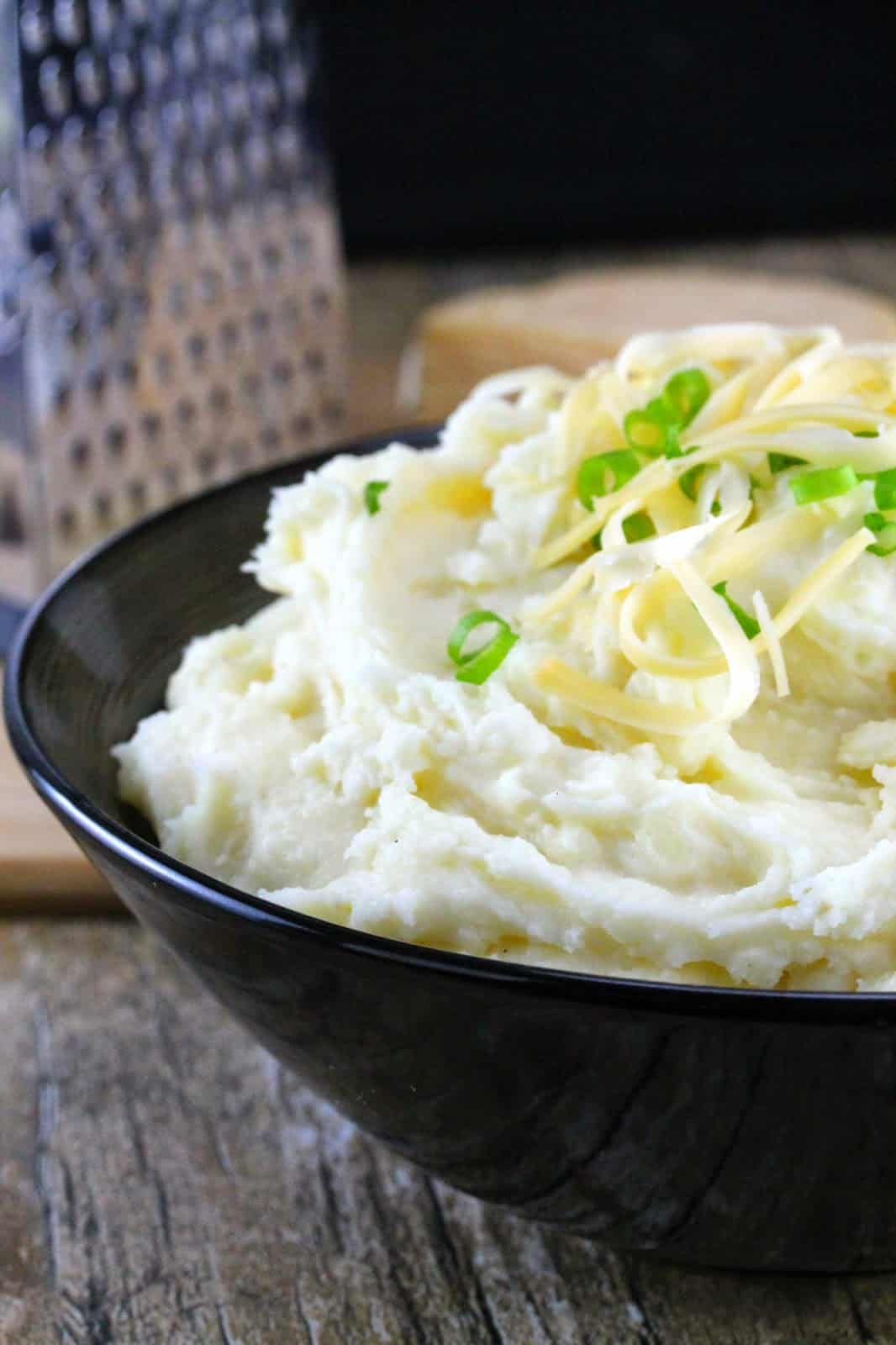 Fancying up mashed potatoes can take a plain Jane dish and make it a stand out yummy. Sorry if your name is Jane. What better to make something stand out than smoked gouda? Oh baby. It's yummy. Add 1 cup for a hint of smokey goodness, and 2 cups for a heavier handed approach. Or maybe your tastes will fall somewhere in between. This is a fabulous twist on your standard taters. Live a little, right?
Time to Make It: about 30 minutes
Yield: Serves 6 to 8
Ingredients
6 large russet potatoes
6 cups chicken broth
1/2 cup butter
4 oz cream cheese
1 tsp salt
1/2 tsp white pepper
1 to 2 cups shredded smoked Gouda Cheese
Instructions
1. Bring the chicken broth to a boil in a large stockpot. (If you need more liquid to cover your potatoes, you can add in water.)
2. Meanwhile, peel and rinse the potatoes. Cut them into bite-size pieces. Pace them in the chicken broth. Return to a boil, reduce heat to medium low, and simmer until potatoes are soft, about 10 to 15 minutes depending on the size of pieces.
3. Drain the liquid from the potatoes. Add in butter, cream cheese, salt, and pepper. Use a hand mixer to whip until smooth, or mash together with a potato masher until cheese and butter are melted.
4. Mix in the Smoked Gouda until cheese is melted. Serve hot.
Be sure you stop by Shisler's Cheese House and to grab your supply of Smoked Gouda!