When it comes to forming your cheese plate, it is always advised to have a lot of variety. In terms of variety, it can mean many things- different flavors, textures and different milk types. In many circumstances, opposites attract, especially in cheese. Opposite flavors often complement each other. The best way to form your plate is just to experiment with different cheeses, you cannot go wrong.
You may be struggling to find inspiration for what cheeses to try for your plate so here is a dictionary list of some delicious cheeses to guide you along your way and ignite your senses like never before.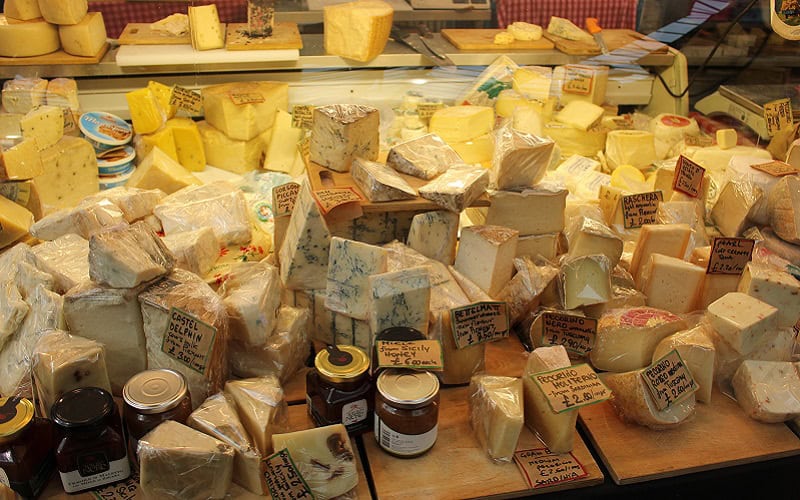 Adelegger
This cheese is made from raw cow's milk and is originally produced in the Bavarian Alps. The flavor is nutty and savory with a hint of beef broth. This is definitely not and ordinary cheese and has a texture which is quite gritty.
Bijou
This goat's milk cheese has a creamy texture. It comes from Vermont Creamery and has a strong tangy flavor. Bijou is often sold in pairs and is packed in certain packaging to ensure it keeps on aging even after leaving the creamery.
Clothbound Cheddar
Clothbound Cheddar is a crumbly cheese which dates back many years is definitely becoming more popular.With a sharp citrus flavor, there is no doubt that this cheese is a delicious winner.
Dorset
Rich in flavor, Dorset is a raw cow's milk cheese which once produced, is washed in brine and aged until it is semi-firm.
Époisses
This cheese is extremely popular, being produced originally in Burgundy, France. This stinky delight is so creamy because it is washed in brandy. The meaty, salty flavors are really what makes this cheese unique.
Fontina Val d'Aosta
This creamy, buttery delight made from cow's milk dates back to the middle ages and comes from the Italy Aosta Valley. Similar to many other Alpine kinds of cheese, it smells quite like grass even though its flavor is quite briny.
Grayson
If you're a fan of breakfast foods like bacon and eggs, this is definitely the cheese for you. Grayson is a raw cow's milk cheese which has meaty flavors and is made from a yellow paste similar to egg yolk. This cheese comes from Meadow Creek Dairy in Virginia.
Harbison
You won't need a cheese knife for this one, more like a spoon. Wrapped in bark for a unique touch, this sweet cheese boasts delicious citrus and savory flavors. As for the texture, soft and creamy enough to spread, you won't be disappointed.
Idiazabal
This cheese has an interesting background. A shepherd produced this cheese in a cabin in Spain a century ago. Made from sheep's milk, the production method is like no other. Cheese wheels in the rafters would drink up smoke creating a rustic smokiness that will make your mouth water.
Juvindale
From New York's Meadowood Farms, Juvindale is a smooth paste which is washed in local Riesling. Its flavors are very crème Fraiche like with tangy notes cutting through the meaty, fruity flavors. Juvindale is a fairly new cheese but tasty nonetheless.
Kunik
If you are looking for a rich, buttery cheese, Kunik is definitely the way to go. Made from goat's and cow's milk cream, enjoy this creamy cheese with salty notes.
Leonora
Originating from Spain, this gamy goat's milk cheese has a dense texture to it. It is quite close and compact towards the center and a lot creamier towards the rind with flavors of pepper running through it.
Manchego
Another iconic Spanish cheese is Manchego. It is made from sheep's milk and is a hard, aged cheese with flavors of toasted almond and roast mutton which will definitely keep you coming back for more!
Nuvola Di Pecora
The name of this cheese actually translates to "Sheep Cloud", which will come no surprise to find that it is made from Sheep's milk. It is an earthy, rich cheese with a spectacular neon-yellow color with gray mold. Not only is it deliciously rich, it is a rare style overall of cheese which is available in the U.S.
Ossau Iraty
Firm and buttery like a biscuit, this raw sheep's milk cheese are from the Pyrenees of Southern France. The flavor is caramelized and nutty with subtle notes of tropical fruit and mint within the sweetness.
Parmigiano Reggiano
When it comes to cheese, why settle for anything less than a high quality, delicious, raw cow's milk Parmigiano? The best way to make sure of quality is a reliable producer. For many generations, the Cravero family has crafted expert, high-quality wheels of grassy, nutty, mouth-watering cheese.
Quadrello Di Bufala
Leave behind your regular mozzarella and open up to the world of possibilities that comes along with Quadrello Di Bufala. Made from rich water buffalo milk, this cheese is brine-washed and tastes sweet and minerally.
Roquefort
One of the magnificent blue cheeses, Roquefort is rich with sheep's milk, being produced in France it lays a silken foundation for pockets of mold full of spicy, fruity flavors.
Selles-Sur-Cher
From the Loire Valley, this goat's milk cheese has ashed rind and a dense paste which is ripe with hazelnut and almond flavors. With intense mineral flavors, it may remind you of pennies or rocks you may have 'accidentally' tasted as a child.
Truffle Tremor
This is one of the finest truffle cheeses you can find. Made in Cypress Grove Chevre, the Italian black truffles are folded into a fluffy goat's milk paste of Truffle Tremor. It is very mushroom like with earthy and tangy notes.
Up In Smoke
From Oregon's River's Edge Chevre lies the very foundation of a fresh goat's cheese which is smoked and spritzed in Bourbon, maple leaves and then smoked completely. The result of this comes to a chevre whose intense smokiness is accompanied by tangy, lemony notes.
Valencay
With a unique pyramid shape which has seemingly lost its top comes an ashed goat's milk cheese which is from the Loire Valley. It is very moist with and earthy freshness to it. It's similar to the smell of your hands when you've been gardening all day.
Wilde Weide Gouda
Coming from a Dutch farmhouse, this flaky Gouda certainly exceeds expectations with its buttery and nutty, whiskey caramel flavors. The name of this cheese itself translates to "wild meadow" which makes sense because of the cows that graze all day in the meadows to provide the organic milk for this particular cheese.
X Murray's Project X
With a collaboration between Vermont's Spring Brook Farm and Manhattan mega-monger, Murray's Cheese is quite a firm raw cow's milk tomme which is crusted in fennel pollen and washed in Riesling.
Yarg
Yarg is a crumbly cheese made from cow's milk. It is wrapped in nettle leaves from Lynher Dairies in West Cornwall, England. Lacy mold then develops on the leaves while the cheese ages, which in turn gives a mushroomy quality along with the citrusy notes of this firm cheese.
Zimbro
Zimbro is a signature cheese of Portugal. It is quite like pudding and is made from sheep's milk. The cheese is quite sour and can most definitely be eaten with a spoon. Along with its unique name, it is also quite rustic and elegant. The aroma is very herbal and the flavors resemble Amaro. It is best to eat this cheese as a group as it is only sold as a whole.