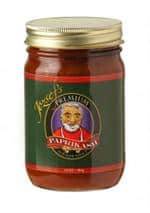 We love to answer your burning cuisine questions here at Shisler's Cheese House! If you've been browsing our site or store for something new then you might have come across paprikash sauce and wondered what it's for.
Paprikash is a Hungarian dish made with chicken. The name paprikash simply comes from the use of paprika. The meat is cooked slowly for a long time to let the flavors infuse.
It's become famous around the world and Jonathan Harker even eats it in the novel Dracula by Bram Stoker.
We stock Jozef's Premium Chicken Paprikash Sauce. This sauce allows you to cook traditional Hungarian Chicken Paprikash in half the time. It is made with Hungarian yellow peppers, onions, garlic, sea salt, olive oil, and paprika. To make paprikash, you combine the sauce with raw chicken, preferably bone-in thighs, and cook it to create your dish. You could even try it with other meats including pork, veal, or beef, for a twist on the traditional.
Jozsef was born in Budapest, Hungary into a restaurateur's family. His mother and father, Erzsebet and Janos, owned and operated Csarda, a two dining room restaurant on Balycsi Zilinski Ut, in Budapest. In 1950 the restaurant was confiscated by the Communist Regime, which came to power after the Russian occupation of Hungary. In 1956, after the collapse of the Hungarian Revolution, the Russians were searching for his father to arrest and execute him. Jozsef's family fled to Austria and eventually emigrated to the United States in 1957. His father brought with him the cookbooks and recipes from his restaurant, which Jozsef guards and cherishes to this day.
The family settled in Cleveland, Ohio where Jozsef was raised and educated. Jozsef became a prominent divorce attorney in Cleveland, but he never forgot his heritage and his love for Hungarian cuisine. Throughout the years he cooked his favorite dish, Chirke Paprikas (Chicken Paprikash), for family, friends and charitable and civic events.
In 2008, on a whim, he entered the Cleveland Paprikash Cook-Off with 30 other contestants. Jozsef's recipe won the popular vote by a landslide. He was bombarded with questions from event attendees as to where they may be able to eat or buy his chicken paprikash. One gentleman suggested that he produce a sauce so that they could make and eat it at home. At the time, Jozsef thought it was impossible since cooking chicken paprikash was a 3-5 hour process.
However, Jozsef toyed with the idea for the next two years and much to his surprise he was able to develop a formula and a manufacturing process which recreated his award-winning paprikash. We're proud to stock a sauce with such a great story and heritage.
So, will you be trying this Hungarian treat this week? Let us know in the comments!