We absolutely love jam here at Shisler's Cheese House. It's great for spreading on toast, eating in sandwiches or incorporating into your baking.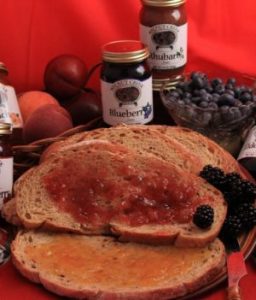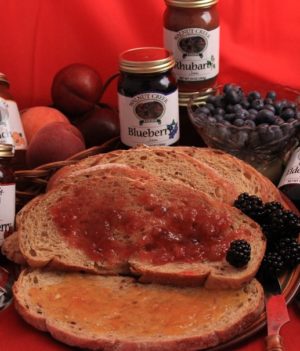 Today we thought we would introduce you to the basic jam making technique. You'll need:
Jars to store your finished product
An equal weight of fruit and granulated sugar – some great fruit choices include strawberries, raspberries, cherries, or peaches. You can even combine fruits to try out new flavors. Just be sure to weigh all of the fruit together to get the right weight for the sugar.
A large pan
Start by sterilizing your jars. You can do this in a variety of ways, but the easiest is to wash your jars thoroughly in soapy water, rinse them, and then place them into an oven on a very low heat to dry them out.
Put the fruit and sugar into your pan on a very low heat and stir until all the sugar is dissolved.
Bring the fruit mixture up to a rapid, rolling boil and cook for 3-5 minutes. As your jam approaches the setting point, it will begin to thicken and start to boil more slowly.
To test if the jam has reached setting point, remove the pan from the heat. Spoon a little of the fruit onto a cold plate, leave it to cool for a few minutes, and then push your finger or a spoon into the jam. If the jam wrinkles, it is ready. If not, return the pan to the heat and cook the jam for a minute or two more before testing it again.
Once the jam reaches its setting point, carefully spoon it into the prepared jars and put the lids on while the jam is still hot. It will thicken as it cools and the jar should seal. If it doesn't, then the jam should be eaten within a couple of weeks.
If the jar is sealed, it can be kept for around six months. Once opened, pop it into the fridge to keep it fresh.
If you don't feel like making your own, then we have a whole range of jams and jellies ready for you to enjoy. Our homestyle jams from Walnut Creek come in Cherry, Blueberry, Black Raspberry, Rhubarb, Strawberry, Red Raspberry, Strawberry Rhubarb, Peach, Strawberry Kiwi, Apricot, Blackberry, Boysenberry, and Elderberry Jelly. With that many flavors, we know that you'll find one that you love! We also stock a Private Label Old Fashioned Apple Butter, made from the best locally grown apples and locally produced Amish butter. 
If you prefer savory treats, we offer a Hot Pepper Jelly and our Private Label Tomato Jam. The tomato is a local tradition, made from ripe locally grown flavorful tomatoes.  We suggest serving it with our well-aged Canadian Cheddar, but there are many uses. It's incredible in a BLT or served on cornbread, eggs, and roasted potatoes. The Hot Pepper Jelly is also great with cheese or ham.
How do you make jam? What's your favorite flavor? Let us know in the comments below!