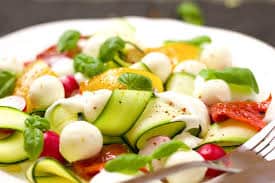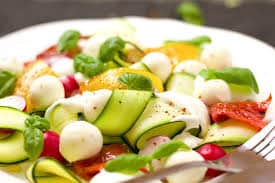 On warmer days, it always seems like time to whip up a quick salad. You might not want to be working at a hot stove, so this is a great way to get dinner on the table in the heat. Today we're going to take a look at how to construct a delicious salad that you might find in a restaurant. We know that sometimes making a salad at home can leave you disappointed, so read on to find out how to make yours a meal to remember.
1. Greens
The greens are the base of any good salad. Try to include a variety of different greens so that you get different flavors and textures into your meal. Romaine and iceberg lettuce bring crunch, compared to soft spinach or Butter lettuce. You can add pepper flavor with arugula or watercress. Lightly season your greens with salt and pepper to bring out their flavor.
2. Fresh herbs
Adding fresh herbs to a salad with instantly add extra flavor. You can work with whatever you have in the fridge or try classic flavor combinations like tomato and basil. Cilantro, parsley, and dill all work really well.
3. Color and variety
Use your other ingredients to make your salad really vibrant and enticing. Use a variety of colors to make it stand out. You'll also be getting lots of vitamins from the different vegetables. You can bring in texture by using crunchy vegetables like raw carrots and add healthy fats from avocado. Cucumber and tomato bring freshness and juice to the salad.
If you like sweetness in your salad, you can add dried fruit or sweet nuts. For extra saltiness, add a cheese like halloumi or feta.
4. Grains
One great way to add variety and texture to your plate is to include grains. Couscous, quinoa, farro, barley, and even rice are all great. They have the added benefit of taking on flavor well so your dressing will make more of an impact. They're super versatile and really good for you.
5. Protein
If you need a filling meal to keep you energized from lunch until dinner, be sure to add some protein. Beans, nuts, and seeds all work well and will add to the varied texture of your dish. You can even add some chicken or fish if you want to make it a full meal. To keep it lighter, but still filling, add a poached or boiled egg.
6. Dressing
We stock a whole range of salad dressings here at Shisler's Cheese House, so you're sure to find one that suits your salad. Our private label dressings all contain delicious Vidalia onion as well as flavors including creamy cucumber and summer tomato. We also offer a range of calorie-free dressings including ranch and raspberry vinaigrette. Dress your whole salad before plating it. This will give a much more even distribution of flavor so that every mouthful sings.
We hope that you've enjoyed our salad tips. What's your favorite? Let us know in the comments!
We love sharing recipes with our readers and customers here at Shisler's Cheese House.
Today, we are going to help you welcome in the New Year with some delicious halloumi recipes.
Last year, we shared a great recipe to make your own mouthwatering halloumi. This is surprisingly easy to make at home. If you've shied away from making your own cheese, halloumi is a great place to start. The result is a salty, slightly squeaky cheese that can be grilled or fried to perfection. If you're missing those summer cookouts, these recipes will pick you up and give you that sunny boost!
Halloumi is best cooked under the grill or in a griddle pan, to get that lovely charred effect that you would achieve on a barbecue in the summer. It can also be baked in the oven with vegetables to add to salads.
Halloumi Burger
If you're trying to cut down on the amount of meat you eat this year, halloumi can be a great alternative.
What You Need
Oil
A thick halloumi slice for each burger
1 red onion
1/2 tbsp brown sugar
1/2 tsp harissa paste/chopped chilies (optional)
Burger Buns
Salad
Sauces
Equipment
Griddle Pan
Knife
Add a small amount of oil to your griddle pan. Cut a thick slice of halloumi for each person and fry them until golden brown.
At the same time, fry up a sliced red onion over a medium heat. When this has become soft, tip in 1/2 tbsp brown sugar and 1/2 tsp of harissa paste or chopped chilies. You can leave these out if you are not a spice lover, but do add the sugar and let the onions become caramelized.
Grab your favorite type of bun – we like brioche – and layer your halloumi with the caramelized onions, salad, and your favorite sauces.
The beauty of a burger is that you can customize it to make it your own. Choose your salad; add your favorite pickles; change the spices used to your liking.
Halloumi and Watermelon Salad
This is a really refreshing recipe that is sure to brighten up even the coldest of days.
What you need
1 cup (225g) of bulgar wheat/couscous
10 medium slices of halloumi
Olive oil
1 cucumber,  halved lengthways to scoop out the seeds and then sliced
Large bunch of mint, finely chopped
Juice and zest of a lemon
2 cups (450g) watermelon chunks
Equipment
Griddle Pan
Knife
Small bowl
Lemon reamer
Salad bowl/large plate
Cook your bulgar wheat or couscous according to the packet instructions. Set this aside.
Add a small amount of oil to your griddle pan. Fry your halloumi slices until golden brown.
Mix the cucumber, mint, and lemon juice and zest with the bulgar wheat or couscous.
Transfer this to a salad bowl or a large plate. Top with the watermelon, halloumi, and a drizzle of olive oil.
We really hope that you will enjoy these recipes. Halloumi is a really diverse cheese that takes on flavor well, so you could use your favorite marinade How do you like to eat your halloumi? Let us know in the comments!
Making cheese is a simple process. Take some fresh milk and heat it up to 45-50 °C, add an acidic component like lemon juice to curdle the milk, strain the off the liquid whey and you have cheese. This process has remained unchanged since the beginning of cheese-making time.
Scientists have analyzed the residual fatty acids found in unglazed pottery discovered from around Europe. The results showed that humans have been making and consuming bovine based cheese products for more than 7,000 years. The pottery, which is perforated, is believed to have been used as a cheese sieve or strainer.
Seven thousand years ago we were beginning to smelter metal, invented the wheel and for the most part the human populace was lactose intolerant. Lactose intolerance happens when the small intestine does not make enough of the enzyme lactase. This enzyme is essential in the digesting of lactose, a naturally occurring sugar present in all dairy products.
Somehow we had discovered that the cheese-making process allows for maximum nutrient absorption from the milk while drastically reducing its lactose content, allowing the lactose intolerant populace to consume it without getting sick.
True mozzarella cheese is made from buffalo milk curds kneaded and pulled while repeatedly dipped in hot whey. They are hand shaped into tennis-ball sized bals. This process yields a cheese that has a spongy texture that easily absorbs the flavours of other ingredients.
These cheese balls are then packaged in salted whey to preserve them. Clearly I'm not speaking about the rubbery blocks of North American, factory produced mozzarella. When the mozzarella is shaped into smaller balls it's known in its singular as bocconcino or its plural as bocconcini, which translates to little mouthfuls in Italian. In essence, bocconcini are small pieces of fresh mozzarella.
Goat's milk is slowly becoming more popular in Canada, mostly due to the increase in those individuals who are lactose intolerant. Although goat's milk is not free of lactose, it does have less than cow's milk, making it easier to digest.
As well, goat's milk forms a softer curd and does not need to be homogenized, as the fat globules are small and well-emulsified, which means the cream remains suspended in the milk instead of rising to the top, as in raw cow milk, once again making goat milk easier to digest.
So what happens when we make bocconcini from goat's milk? We get a soft textured cheese that is easy to work with and has an exceptionally reduced amount of lactose, and who better to make this cheese than the Kawarthas' very own Crosswind Farm?
I suggest trying this week's recipe provided by Judy Filion, a Crosswind Farm employee and up-and-coming area chef.
Baked Bocconcini with Fig and Pear Salad
1 pound Crosswind Farm Bocconcini
1 ½ cups bread crumbs
10 roasted figs, cut in half
2 pears, cored and sliced in thin wedges
2 lbs arugula or mixed greens
¼ cup toasted almonds
Drain the bocconcini of its excess oil and liquid. Place bocconcini and bread crumbs into a plastic bag and gently massage the bread crumbs into the bocconcini. Spread the bocconcini onto a parchment lined baking sheet and let them rest in the refrigerator for 2-4 hours.
In a preheated oven, bake the bocconcini at 450°F oven until lightly browned, about 7-10 minutes. Remove cheese from oven and allow it to cool down. While the cheese is cooling prepare the remaining salad ingredients by gently grilling the figs on a barbecue or roasting them in the oven. In a medium-sized bowl toss the leaves with a bit of balsamic vinegar and olive oil. Dress the top of the salad with bocconcini, figs, pears and almonds and serve immediately.
Yields: 4-6 portions