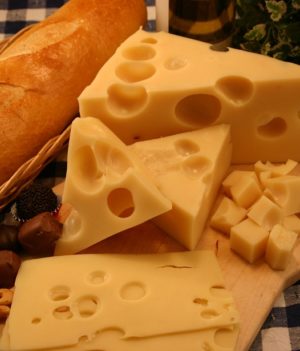 We are huge fans of Swiss cheese here at Shisler's Cheese House. We have a whole range to keep you happy and today we're giving you 5 ideas for ways to enjoy Swiss cheese.
The process of making Swiss cheese involves natural bacteria consuming the lactic acid in the cheese. This releases carbon dioxide gas, which slowly forms bubbles that become the recognizable holes in the cheese. These are often referred to as "eyes". Our Amish swiss cheese, made in Northeastern Ohio, is especially flavorful because of the longer aging process that it undergoes, at a higher temperature than younger cheeses. This produces larger eyes, which is sometimes seen as an indicator for better flavor.
The milk used in our Swiss cheese does not have preservatives added, and is from cows that have never been given hormones or antibiotics. This creates a great taste and you know exactly what you are eating.
We also offer Baby Swiss, which substitutes water for the milk's whey to slow the bacterial action. This creates smaller holes and a milder flavor. Lacy Swiss is another variety of Swiss cheese, made with low-fat milk. We even offer smoked Swiss cheese.
On Crackers
Swiss cheese is well known for its nutty, bittersweet taste. This is perfect enjoyed on your favorite crackers. Add a couple of other cheese, some grapes, and relishes, and you've got a full cheeseboard.
Paired with your favorite wine or beer
This is such a versatile cheese that you can easily find a beverage pairing for it. If you're a fan of red wines, try a Merlot or Pinot Noir. For white wine lovers, try a Chardonnay or Riesling. Swiss cheese will also pair well with lager, pale ales, and Weiss beer.
Cheese Fondue
Fondue is a decadent treat that's perfect at the end of a cold day, or to share with friends and family. Simmer 10 fl. oz. white wine in a fondue pot, before adding 10 oz. each of Swiss and Gruyere cheese. Make sure everything is melted before stirring in 2 teaspoons flour. Season with salt, pepper, and nutmeg. Serve this with cubes of your favorite bread, chopped vegetables, and cured meats.
Mac and Cheese
Add an extra punch of flavor to your favorite mac and cheese by grating in some Swiss cheese. You can even add it to breadcrumbs for an extra crunchy topping.
On French Onion Soup
A firm favorite for warming you up, French onion soup is incomplete without a topping of Swiss cheese toast. Thinly slice small pieces of your favorite bread, add grated Swiss cheese and grill before serving with your soup.
If you love Swiss cheese as much as us, why not treat yourself this to our gift box this Christmas?  You'll find a whole 4lb. Baby Swiss cheese, perfect to share with the whole family.
However you like to eat your Swiss cheese, you can find it all here at Shisler's Cheese House!
Here is a wonderful recipe with Amish Country Swiss Cheese as the principle element   While there are many cheeses on the market that fall under the broad title of "Swiss Cheese", including almost anything with holes at your local grocery store, we have found that the proper cheese will make or break the recipe.  The mass-produced cheeses found at most grocery stores typically use chemicals to speed the aging process.  But those chemicals of leave a metallic aftertaste to the cheese, which can negatively alter the taste of the pie.  For anyone desiring a bolder flavor, trying substituting the Swiss cheese with Emmentaler or adding some sharp swiss into the mixture.
Ingredients
For the Crust:
1 ½ cups sifted cake flour
1 ½ teaspoon salt
With fingertips, work it until crumbly:
1/4 lb. butter or margarine (½  cup)
Slowly add, stirring with fork:
For the filling:
Fry until crisp:
Into bowl break:
then add:
2 cups of cream
3/4 teaspoon of salt
Pinch of nutmeg
Heavy pinch of sugar
Pepper to taste
Preparation
Crust:
Shape the mixture into a ball and roll it in wax paper; chill it in the refrigerator, about 1/2 hour or until it's easy to roll.  Preheat the oven to 425°F.  On a floured board, roll the dough into a large circle about 14 inches in diameter and fit it into 11" pie plate.  Make a fluted edge as shown. Aerate the crust well with a fork. Place it in the refrigerator for about 30 minutes.
Filling:
Beat the mixture thoroughly  with an egg beater. Take the piecrust from the refrigerator and rub the inside with 1 tablespoon of butter. Sprinkle the bacon bits, and then the grated cheese evenly in the bottom of the piecrust. Pour the cream mixture evenly over all.
Bake for 15 min., then reduce the oven temperature to 300°F, bake for 40 minutes longer or until a knife inserted into the center comes out clean.
Serve hot, cut into pie wedges.
[youtube=http://www.youtube.com/watch?v=6zyzyiNzOqA&feature=player_profilepage]
[youtube=http://www.youtube.com/watch?v=_hjYzEMf4ZY]
Here is a video demonstrating the difference in the Amish Cheesemaking process.  Video footage courtesy of one of our principal local cheese suppliers, Guggisberg Cheese. Here are links to the cheeses described in this video:
Swiss Cheese
And you can find over 60 other cheeses, including several others produced by Guggisberg Cheese at: https://cheesehouse.com/cheese.aspx