Breakfast really is the most important meal of the day, especially when you're a cheese lover and starting your day off right by eating it for breakfast! There's nothing better than waking up for a long day at work or school with a delicious plate of cheddar or Parmesan molded into our favorite breakfast dishes.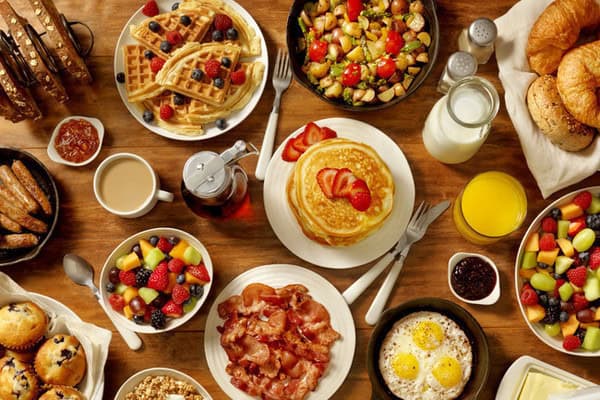 Not only is cheese delicious, but it is a good source of protein which is essential to start the day off right with, especially for growing children and adolescents. It is known that a lot of studies show that eating breakfast improves concentration, memory, problem-solving and your mood (for those who struggle to wake up!) So, that might solve your morning blues, some toasted bread with melted Gruyère to see you through to lunch.
Here are some quick and easy ways to incorporate cheese into your breakfast:
Toast And Bagels
Chicken And Brie Bagels
Divide the bagels and layer one half with the chicken and a slice of Brie. Then add a spoonful of cranberry sauce and place the two halves together again. Cook the bagels for 10 minutes at 350 degrees F.
Banana And Cheese Bagels
This one is relatively simple, it involves toasting the bagels and topping with a spoonful of cream cheese, banana and a sprinkle of cinnamon.
Stilton and Apricots On Toast
Begin by lightly toasting a bread of your choice and spreading one side with butter. Then place a slice of Stilton and canned apricot halves on top of the toasted bread and sprinkle it with a bit of sugar and grill it until the cheese melts.
Other Cheese Toppings On Toast
There are so many variations and options you could go with for this breakfast idea, here are some more unique combinations you could try on toast:
– Cherries, Pecans, Brie and sugar
– Blue cheese and fig spread
– Sharp Cheddar with a marmalade spread
– Parmesan and butter (yum!)
Eggs
Breakfast Burrito
Breakfast burritos are a classic in America, originating from Hispanic cuisine. Place scrambled eggs on top of a flour tortilla with a bit of salsa and grated Cheddar.
Greek Omelet 
Greek cuisine is very big on cheese so a Greek omelet is perfect for this breakfast guide. Chopping up a mixture of spinach leaves, garlic, red onions, and tomatoes for them to be sautéd in a skillet over medium heat until tender. You then beat the eggs with just a drop of water and pour it over the spinach mixture. The eggs will then begin to set, so use a spatula to lift the omelet and let the uncooked portion flow to be cooked. Then, once the omelet is close to being set, crumble some Feta cheese and then cook until it is set.
Southern Style Breakfast Pizza 
This unusual, but a delicious style of breakfast can be achieved by scrambling some eggs with a drop of milk and some diced green onion. You then prepare a pizza crust and place it on a baking sheet and spread it with salsa like you would a regular pizza. Then top it with scrambled eggs, cooked bacon and shredded Mexican Queso or Monterey Jack cheese. Bake at 400 degrees F for 10 minutes and enjoy.
Pita Pocket
This simple breakfast consists of scrambling a few egg whites and shredded Cheddar with chopped onions mushrooms, and peppers. You then stuff the food into toasted halves of pita bread and wrap it in foil so you can go about your travels if you need to.
Dips And Spreads
Cinnamon Cheese Spread
In a food processor or a with a blender, blend cream cheese while adding sprinkles of cinnamon, sugar and a handful of raisins or dried fruit of your choice. You can then chill it in the refrigerator and serve on pancakes or toast.
Ricotta Fruit Dip
This delicious dip is a blend of ricotta cheese with sugar, orange zest, and orange juice. You can dip it with your breakfast fruits such as melon and strawberries.
Cream Cheese Dip
Make your mouth water with cream cheese and chocolate spread mixed together to spread on toast and enjoy!
Apple butter is essentially a thicker and spicier version of applesauce, traditionally made by slow-cooking sliced or pureed apples in copper kettles for up to 12 hours or more. The apples are constantly stirred with long paddles. The heat causes the fruit's natural sugars to caramelize, thus giving apple butter its distinctive deep brown color.
The spicy flavor of this spread comes from the addition of traditional apple pie spices such as nutmeg, cloves and especially cinnamon. Commercially produced apple butter is generally available in grocery stores, but the traditional homemade variety is usually canned in jars for personal consumption or sold at local farmers' markets, craft shows and festivals.
Apple butter does not contain any dairy products, but derives its name from the buttery texture of the finished apple preserves. In fact, some people use it as a condiment or spread for sandwiches, in the same way others might use mayonnaise or mustard. The preserves are said to be especially good on ham or pork sandwiches, since many traditional Pennsylvania Dutch or German recipes combine apples and pork-based meats. Even if it is not used specifically as a sandwich spread, it is also popular as a topping for pancakes, biscuits and buttered toast.
The tradition of apple butter is thought to have been brought to the United States by Germans who settled in Pennsylvania. The so-called "Pennsylvania Dutch", a corruption of Deutsch, or German, were very pragmatic by nature, and realized they needed a way to preserve their food during the winter months. Since apples were plentiful during the fall season, they first began preserving the fruit as apple jam or applesauce. The canned applesauce did not have the shelf life they had hoped for, however, so a slow-cooking process was developed. The extra cooking time turned the applesauce into a more stable product, and the added spices also aided in the preservation process.
Duplicating the traditional apple butter making process today has proven to be a challenge, however. Some historical societies and other traditionalists still hold sessions where it is made, using volunteers to stir the pots in shifts and also maintain the fires to provide the heat. Decent apple preserves can also be made in an electric slow cooker at home. Applesauce blended to a very fine consistency can be placed in a slow cooker along with the traditional cinnamon, nutmeg, all spice and cloves. This mixture should be allowed to reduce for at least 12 hours, with a slight gap in the lid to allow steam to escape. Specific recipes for converting applesauce into butter are available in a number of cookbooks and cooking websites.
Stop by Shisler's Cheese House and pick up a jar of your own Apple Butter and let the sweet and delicious creations begin in your kitchen!