Tag:
veteran's day care package
With Veteran's Day approaching this weekend, we wanted to share our Veteran's Day Care Package with you.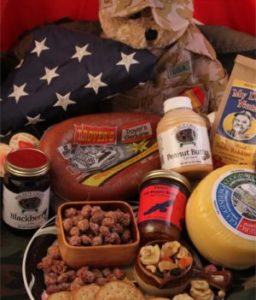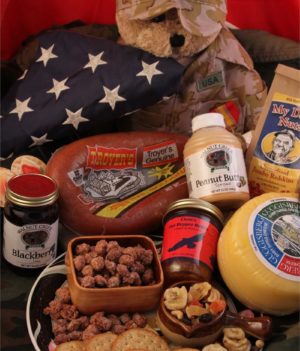 This is a great way to remind our heroes that we still appreciate all they do!  It is perfect as a gift for our veterans or as active duty military care packages.  We have included less perishable options than some of our other gift boxes, for those who wish to send a care package to military personnel stationed overseas.
There really is nothing like a little taste of home to let our men and women in uniform know they are appreciated.  We will ship to any FPO-AP address via U.S. Postal service.  We will also show our appreciation for our men and women in uniform by donating a portion of the proceeds from every package sold to The Wounded Warrior Project.
The Veteran's Day Care Package Includes:
Baby Swiss Cheese Wheel (2 Lbs.)
Trail Bologna Ring or Beef Jerky (In non-perishable option)
Clem's Hot Pepper Relish – delicious with cheese and crackers!
Banana Split Mix – cranberries, banana chips, almonds, chocolate covered peanuts, chocolate drops, pineapple tidbits, raisins, yogurt covered peanuts, peanuts, and yogurt drops all mixed together for a great trail mix
Amish Peanut Butter Spread
Amish Homestyle Jam
Carr's Crackers
We know that you love to show your appreciation and, to us, food is the perfect way to do that.
Here at Shisler's Cheese House, we also make a range of gift boxes if the Veteran's Care Package isn't quite right for you.
Our Football Season Special is perfect for sports lovers. It contains Swiss Cheese, Troyer's Trail Bologna, Pepper Jack Cheese, Shisler's Private Label Mustard, Shisler's Private Label Hot Pepper Relish, and Carr's Crackers.
The Fall Harvest Collection celebrates the best flavors of fall in Amish Country. You'll find Baby Swiss Cheese (2 Lbs.), Streb Meats Smoked Sausage (1 Lb.), Cranberry Delight (1 Lb.), Pumpkin Muffin Mix, Pumpkin Butter, and Popcorn on the Cob inside.
If you want to show your support to a beer and cheese lover, then our Beer Collection is absolutely the gift for you. It contains enough Brick, Gouda, Gruyere, and Ohio Premium Swiss Cheese to entertain 20 people. These cheeses have been chosen for their strong flavors which pair beautifully with beer. We recommend trying out a few different beers to compare the tasting experience.
Finally, our Hot Stuff Collection has everything that you might need for someone who lives spice and heat. Enjoy trying Hot Pepper Cheese, Habanero Cheese, Troyer's Trail Bologna with Hot Pepper Cheese, Shisler's Private Label Hot Pepper Relish, Shisler's Private Label Hot Jalapeno Mustard, Hot Pepper Jelly, and Carr's Crackers. Be warned, you might need a cooling glass of milk on hand.
Do get in touch if you have any questions about any of our gift boxes, but especially if you would like to get a Veteran's Day care package for a special someone to recognise their service this month.
We'd also love for you to take a look at the work of the Wounded Warrior Project and consider supporting them in their efforts.