Be the Best Trick-or-Treat Stop on the Block!
Halloween is right around the corner and a lot of you may be wondering about the safety of Trick-or-Treat in the time of COVID-19*.  Well, like with everything in 2020, its going to require a little inventiveness and imagination.  But there are a lot of creative alternatives to the traditional door to door candy collecting to keep this time honored tradition safe and (maybe even more) fun!
The CDC does NOT necessarily say that Trick-or-Treating is an unsafe activity.  People are likely pretty well distanced and outside.  Also, EVERYONE wears a mask LOL.  However, they do issue some words of wisdom in regards to keeping this holiday, and your loved ones, safe.
The first of these warnings is to avoid direct contact with Trick-or-Treaters.  Here are some exciting ways to make your house the most fun (and safe) stop on the block!
*Disclaimer- Maybe COVID isn't a worry in your neighborhood.  But some of these will still be a great way to entertain the kiddos!
A Halloween Pumpkin Hunt
Similar to an Easter Egg hunt, hide the candies in your yard in these cute little plastic pumpkins.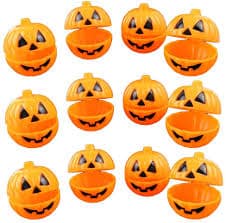 For later in the evening, you could use these glow in the dark eggs.  The kids get a bonus glow stick with their candy!
Post a sign in your yard inviting the kids to search for a treat (and, of course, only take one!).  This is also a great way to keep your home in the "spirit" of the season if you will be away the evening of Trick-or Treating in your neighborhood.
A Spooky, Soaring Ghost that "Delivers"
I have seen these amazing candy delivery pulley systems in action.  And they are SO cool! And they might include a treat for mom and dad 😉
They take a little effort to get setup but you will be sure to wow your neighbors with your inventiveness.  See how this one was built to create one of your own.
A Kid-Designed Candy Chute
A father-daughter team in Cincinnati designed a super amazing social distancing alternative to the direct candy hand off.  It's so easy to make and customize and literally keeps your visitors "six feet away!"
Step up to the Mound
Dress yourself up like a baseball player and pitch candy from your porch!  If you want to take it a step further, put a home plate in your yard with some whiffle ball bats and let the kids swing at their treats.
If you choose to go the more traditional route and simply put a bowl out for the kiddos to grab their own candy, set up a hand sanitizing station with a Happy Halloween sign next to it!
The city of Orrville has scheduled Trick-or-Treat for Tuesday, October 31 from 6PM-8PM.  If you wish to participate, just switch on your porch light!  For information about Trick-or-Treat schedules in the surrounding areas, refer to this article from Fox 8.
We hope that you will enjoy implementing some of these entertaining candy distribution alternatives!  And, don't forget to shop the delicious candy selection at Shisler's!