Butterscotch Caramels: Baking Ideas
Today we've put together a selection of brilliant baking ideas for you to try out with Heggy's Butterscotch Caramels.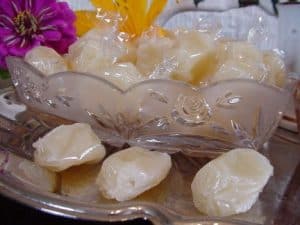 Shisler's Cheese House has been in existence for over fifty years and we spent thirty of them trying to get local distribution rights for Heggy's Chocolates.  They are one of the few candy companies that match our tradition of excellence, and because of that they have always had a strict distribution strategy. We had to wait until a local competitor retired to get the distribution rights in our area and in the ten-year partnership we have built, we have become their second largest distributor. Now we are, of course, aiming for number one. We absolutely love their quality candies and we know that you will too.
Butterscotch Caramels: Cookies
We like to make a simple oatmeal cookie dough and then pop a butterscotch caramel in the middle of each cookie before they go into the oven. This allows the caramels to melt and create an incredible flavor along with a chewy texture that it sure to have you going back for more. You can even add broken up pretzel pieces for extra crunch and a fabulous sweet and salty contrast.
If you want to make something really visually impressive, make a simple cookie dough and cut out your chosen shape. Place the cookies on baking paper and cut out a shape from the middle of the cookie. Put a caramel in the hole and bake the cookies. The caramel will melt and create a window!
Butterscotch Caramels: Blondies
You might love brownies, but do you ever make blondies? Blondies have less cocoa than a brownie and instead focus on brown sugar to create a fudgey baked treat. We like to push butterscotch caramels into the pan before baking so that they create pockets of caramel for you to find in the blondies.
Butterscotch Caramels as a sauce
Melting down butterscotch caramels is a quick and easy way to make a delicious butterscotch sauce when you don't have time to make one from scratch. This is a great way to create a quick and simple dessert. Simply drizzle over ice cream, fresh fruit, or even cake for a perfect caramel finish.
Of course, you can still always enjoy your butterscotch caramels straight from the wrapper. We certainly won't judge you for it; they are delicious! How do you like to eat them? Let us know in the comments!