What is a Master Cheesemaker?
Did you know that you can become a Master Cheesemaker?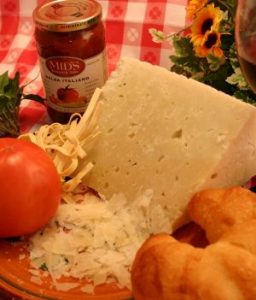 Wisconsin is the only state with a Master Cheesemaker program outside of Europe. It has been running for 25 years. To qualify to take part, you must have held a cheesemaker's license for a minimum of 10 years and be making cheese in Wisconsin. In fact, getting a license itself is a serious undertaking as you need to complete 240 hours of apprenticeship as well as five university modules. It can take between one and three years to get your cheesemaking license. The Master Cheesemaker Program takes 2 years and 8 months and consists of several modules as well as a final exam.
Each Master Cheesemaker learns about artisan cheese making and quality control, and can choose from modules on topics including Dairy Chemistry, Buttermakers, and Milk Pasteurization. Graduates earn the right to use the Master Mark on their products.
There are currently 90 master cheesemakers, all of whom have developed their skills to become masters. Each cheesemaker receives their certification for specific cheeses that they have worked hard to perfect.
Our Wisconsin cheeses
We stock several cheeses from Wisconsin, including Beer Cheese, Sharp American Cheese, and Limburger. Beer Cheese is a semi-soft combination of Limburger Cheese and Brick Cheese. It has a very strong smell and taste and is often enjoyed with raw onion and a glass of beer. Limburger cheese is a similarly acquired taste. The cheese is aged for at least three months when it becomes spreadable. Its salty taste is traditionally eaten with rye bread, slices of onion and strong black coffee or lager.
We also get our Brick Cheese from Wisconsin. The process for making Brick Cheese was derived from white American Cheddar, but it is cultured at a slightly higher temperature which results in a marginally higher fat content and a slightly altered protein structure. The resultant cheese has a slightly softer taste and a distinctly sharper finish. We love to use it in place of Cheddar in cooking or simply serve it on a cheeseboard.
Have you tried cheese from a Master Cheesemaker? Let us know in the comments!