Uses for Pretzels That You Might Not Have Thought Of!
We love to find new ways for you to indulge in our favorite treats here at Shisler's Cheese House, and today is no exception. We're going to explore some uses for pretzels that you might not have thought of. That's right, they're not just for dipping and snacking!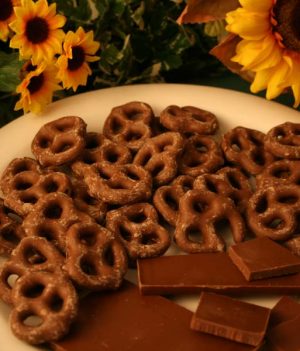 We stock a huge range of pretzels, including favorites such as our Gourmet Chocolate Covered Pretzels. These have been made with love by Stefanelli's Candies in Erie, PA since 1929 and we are now proud to offer them to you here in Ohio's Amish Country! You'll also find peanut butter, honey mustard, and yogurt pretzels amongst a wide range of others.
Uses for Pretzels: Breakfast
If you're making your own granola bars at home, or even just a good batch of granola for hearty morning breakfasts, why not add a handful of crushed pretzels to the mix? They can add both texture and flavor. The saltiness will contrast with your chosen sweet ingredients to create the perfect mix.
Uses for Pretzels: Snacks
Of course, pretzels are a snack in themselves, but they can also be elevated to a whole new level with just a few moments of effort. Crush up salty pretzels and roll a ball of cream cheese in them for a quick and easy game night dip. Combine them with other treats to create a sweet or savory trail mix. You can even add a pretzel on top of your favorite sweet drinks; hot chocolates and milkshakes with plenty of whipped cream are our favorites.
Uses for Pretzels: Dinner
Savory pretzels make a great crunchy topping for a variety of dishes including chicken, pasta or even schnitzel. Crush them up using a rolling pin and sprinkle them anywhere that you might use breadcrumbs. Just be sure that you haven't chosen chocolate pretzels!
Uses for Pretzels: Baking
This is where pretzels really can be used anywhere! They're great crushed into the crust for a cheesecake or sprinkled on top of cupcakes. Combine them with popcorn and melted chocolate to make clusters for movie night. Chop them into your cookie dough for extra crunch. Add them to your s'mores for another layer of fun.
If you are not in the mood for baking yourself, then why not pick up some Heggy's White Chocolate Pretzel Delights? These are a combination of fresh ground pretzels mixed with a white creamy coating so that you can enjoy a treat without the need to cook.
We hope that you've enjoyed our new uses for pretzels. How do you like to eat them? Let us know in the comments below!