Hiking? The Snacks to Take Along With You
As the weather warms up, we know that some of you will be heading into the outdoors for some hiking. Whether you're tackling a gentle walk or your nearest mountain, we've got the snacks to keep you fueled up.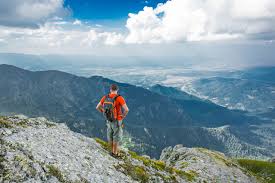 1. Trail Mix
The clue is absolutely in the name. When you're on the trail, eat trail mix.
Our original trail mix is packed with nuts and dried fruit. Our diet trail mix is great if you're hiking to get fit. Buggy trail mix has butter toffee peanuts, honey roasted sesame sticks, cheddar crackers, pretzel nuggets, and wheat crackers. They're sure to keep you walking even when the going gets tough.
We also offer a banana split mix which contains cranberries, banana chips, almonds, chocolate covered peanuts, chocolate drops, pineapple tidbits, raisins, yogurt covered peanuts, peanuts, and yogurt drops. You could also try Mikey's Mix which is packed with nuts and chocolate treats in case you need an extra incentive to keep hiking.
If you've got time, you could try making your own trail mix. Check out our gourmet foods section and pick your favorite things to mix up.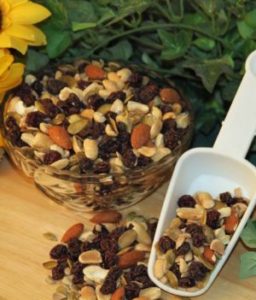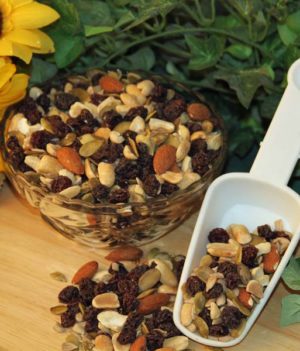 2. Dried Fruit
Dried fruit is a great source of energy while you're hiking. We especially love dried strawberries, kiwi, banana chips, and pineapple.
We also offer Think Fruit Dried Fruit Snacks in a variety of flavors, packaged up and ready for you to take out on the trail.
3. Jerky
Jerky is full of protein which makes it perfect for hiking. Try our Uncle Mike's Beef Jerky, which we offer in Mild, Hot or Teriyaki flavor. It's easy to pack and pull out as you're walking.
4. Nuts
We have a great range of nuts including peanuts, pistachios, and cashews. They're a healthy source of protein and fats. You can even create your own mixes of them or take along sachets of nut butter to snack on.
5. Energy bars
There are loads of different energy bars out there, but most of them are great for keeping you on the go. Take your favorites along with you hiking and remember to pack a few for your friends as well.
We hope that these ideas will help you to plan your next hiking trip. Remember to take plenty of water along with you to keep hydrated. Make sure that you plan your route and take along a map to keep you safe. Appropriate footwear, layers and waterproof clothing will keep you warm and dry – we know that the weather can be unpredictable sometimes!
Where is your favorite hiking spot? What snacks do you like to take along? Let us know in the comments!